Protesters Call Oregon Governor 'Dictator Clown,' Demand Entry to Capitol During COVID Relief Talks
Protesters descended on Oregon's state Capitol in Salem on Monday, attempting to get into the building as legislators participated in a special session for COVID-19 relief.
Governor Kate Brown asked lawmakers to come together to address relief for landlords and tenants, legalizing to-go cocktails to help bars and restaurants who have had their businesses restricted and an eviction ban that's set to expire on January 1. A group of protesters gathered outside the Capitol building, saying they had a right to have their voices heard during the special session, while officers were guarding the doors.
"Avoid the area. Streets in the vicinity will be closed as needed," the Salem Police Department posted on Twitter.
Newsweek reached out to the Salem Police Department for comment but did not receive a response in time for publication.
Salem Statesman reporter Claire Withycombe posted a photo on Twitter from inside the Capitol that showed officers with batons standing multiple rows deep in front of the door. A protester standing across from the officers held a banner that said Oregonian's demanded the arrest of Brown, who they called a "dictator clown."
In a subsequent tweet, Withycombe said people made it into the anteroom and were pounding on the walls and doors and chanting "let us in."
Senators are limiting the amount of time they spend in the Capitol together in a single day because of the new coronavirus outbreak. Senate President Peter Courtney told KOIN a special session is the "hardest of all sessions" and is only made more difficult by the pandemic.
Given the time constraint brought on by the pandemic, a list of a dozen items was narrowed down to just four bills. Along with continuing the eviction moratorium and legalizing to-go cocktails, the bills would provide $200 million in relief for landlords and tenants, protections for schools from COVID-related lawsuits and a transfer of $600 million to the state's emergency fund for COVID-19 and wildfire-response and recovery.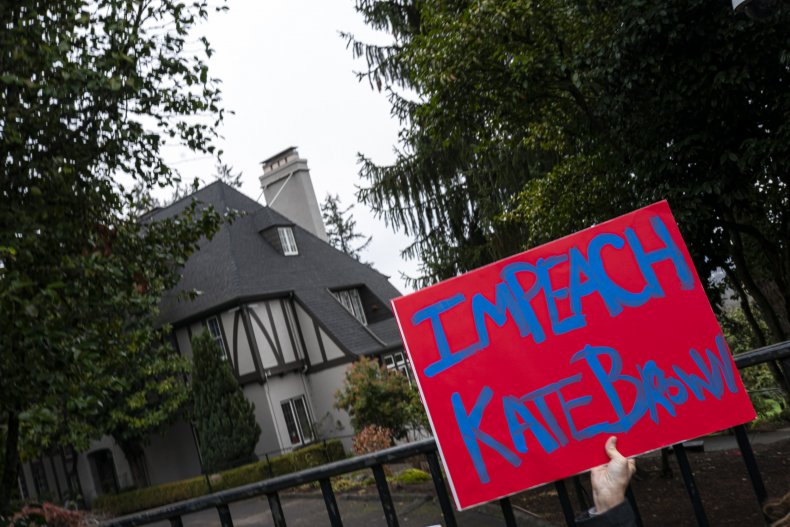 Oregon is using a county-by-county basis for restrictions, with areas that are higher risk facing more restrictions. On Friday, 29 Oregon counties were put in the "extreme risk" category, meaning social gatherings were limited to six people, retail stores and businesses were limited to 550 percent capacity and restaurants were still limited to outdoor dining only.
Brown announced the forthcoming changes earlier in the week and Stan Pulliam, mayor of Sandy, Oregon, openly called for businesses to defy lockdown measures. In an open letter to Brown, he said people are "simply unable to continue drowning in arbitrary rules" that were bankrupting businesses, causing depression and anxiety and disconnecting children from their friends and teachers.
"If you discover a mouse in your house, you don't burn it down to solve the problem. You find a way to safely remove the mouse without destroying everything else you value," Pulliam wrote. "Governor Brown, we are opening."
On January 1, members of Pulliam's coalition in the "extreme risk" category will adhere to the requirements for the "high risk" category, one category below. Under that category, restaurants are able to open for limited indoor dining and gyms and entertainment establishments may reopen at a limited capacity.
At least one protester on Monday carried a "don't tread on me" flag, a saying that dates back to the American Revolution and has become a staple of anti-lockdown protests. Some carried firearms and the Oregon State Police declared it an "unlawful assembly."