Despite Stimulus Deal, Mitch McConnell and Nancy Pelosi Under Partisan Fire Over Delay
The partisan blame game continues over who is at fault for delay in securing a further COVID-19 relief package despite a deal having been struck.
Senate Majority Leader Mitch McConnell (R-KY) and House Speaker Nancy Pelosi (D-CA) remain under fire from political opponents, with the new package agreed upon almost nine months since the last was signed.
Since the CARES Act, Democrats in the House twice passed proposals—in the form of the HEROES Act then an updated version—though these were rejected in the Senate.
Republican proposals of so-called skinny deals also failed to gain traction, prior to the roughly $900 billion compromise agreement being reached.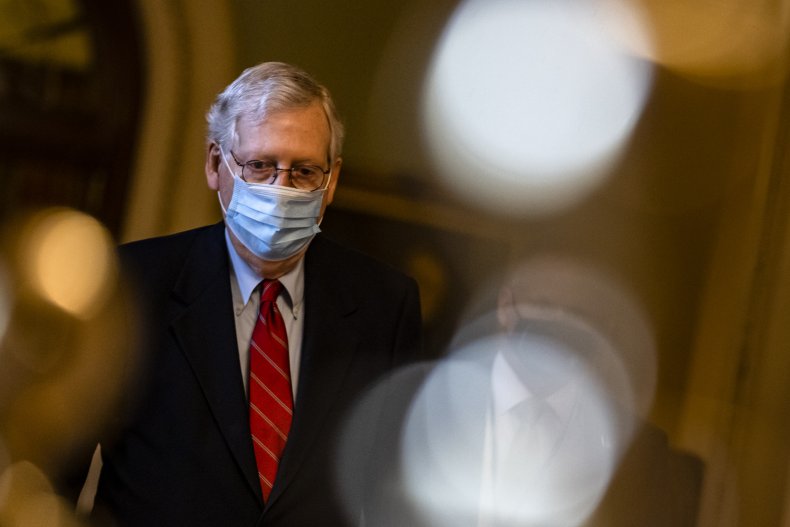 McConnell has long been a focus of Democrat ire, with his stance on stimulus raising hackles over the last year with a previous call for "pause" on further assistance proving controversial with his political foes.
As McConnell welcomed the latest agreement, Democratic lawmakers responded with criticism of the delay.
"Let's not forget that this is the same Mitch McConnell who has been holding up relief for 8 months while millions fall into poverty," Rep. Barbara Lee (D-CA) tweeted in response to McConnell's remarks on the deal.
Rep. Jim McGovern (D-MA) replied to McConnell, writing: "Maybe sit this one out since you're literally the reason it took so long?"
Meanwhile, Republican lawmakers suggested they would have backed a deal akin to the latest agreed "months ago," blaming Pelosi having rejected earlier Republican offers for the delay.
Pelosi previously spoke of a desire to "crush the virus," and said earlier Republican offers would not do so. Despite accepting this latest deal, she and House Minority Leader Chuck Schumer (D-NY) expressed their desire for further relief in the future as the pandemic and its fallout rolls on.
House Minority Leader Kevin McCarthy (R-CA) suggested Pelosi was the "only reason" for the delay.
"This COVID relief is good news for thousands of small businesses and workers who have hung on. But the truth is Congress could have done this deal months ago," he tweeted.
"Nancy Pelosi is the only reason it didn't happen sooner. While Americans lost paychecks, she continued to collect hers."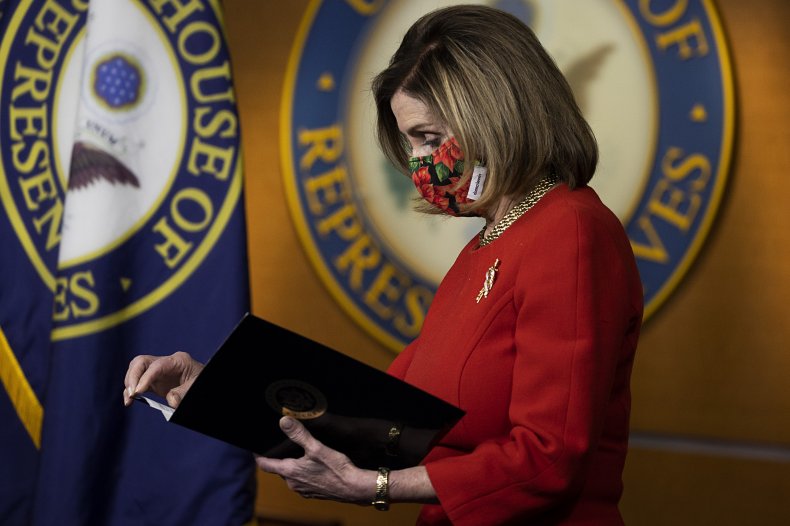 Rep. Steve Scalise (R-LA) expressed a similar sentiment, suggesting Democrats held up stimulus to hamper President Donald Trump's re-election bid.
"This same deal could've been done months ago," Scalise wrote. "But Pelosi held it up to deny Trump a win before the election."
Trump previously made similar claims prior to November 3.
Pelosi and McConnell both previously received criticism over the delay as talks long failed to secure an agreement.
The House Speaker saw some of that come from lawmakers within her own party who pushed her to accept a deal earlier as she held out for a more substantial package.
Newsweek has contacted McConnell and Pelosi for comment.