Oregon Superintendent Tells Parents How to Avoid Mask Mandate for Their Kids
A superintendent from Oregon has shared how parents can excuse their children from wearing face coverings, following the mask mandate in the state.
Earlier in August, the Beaver State introduced a mask requirement, or face shield, to be worn in all indoor spaces, including K-12 schools.
In response, Superintendent Marc Thielman of the Alsea School District shared information with parents claiming they can cite federal disability law to allow their kids to circumvent the new rules, The Associated Press (AP) reported.
He is quoted to have come up with the workaround after facing "huge, huge pushback" from parents. Thielman is said to have told concerned moms and dads they can apply for an exemption for their children under federal disability law.
Mask and vaccination rules vary across the country, with various states introducing increased measures in a bid to curb the spread of the highly transmissible Delta variant. There are, however, exemptions often granted under certain medical, religious or philosophical grounds.
AP quoted the educator as saying he wasn't anti-mask, but was concerned about parental fears that the coverings can cause anxiety and headaches in students. He claimed this could impair their ability to learn, and qualify for an exemption under Section 504 of the Rehabilitation Act of 1973.
Students in Thielman's district were meant to head back to classrooms on Monday, but the first day has been pushed back by a week to August 30 after an elementary staff member tested positive for COVID-19.
In a statement shared on Facebook on Friday, Thielman said: "This new Delta-COVID strain is creating new challenges, but I am very confident that Alsea is up for the challenge.
"Delaying our school year one week will serve to slow the spread of this virus and help remind all of us that the Pandemic is still very real. Please work with your student(s) on refreshing their COVID protocols and continue to monitor your kiddo's for symptoms. Prevention is the first line of defense and we all have the opportunity to do our part."
Referring to COVID-19, Thielman, who is planning on running for governor in 2022, told AP: "The majority of my parents are skeptical and are no longer believing what they're told. I've got a majority of my parents saying, 'Are there any options?'"
Although the strategy he put forward to parents may not be that straightforward as Laurie VanderPloeg, an associate executive director at the Council for Exceptional Children, warned federal law requires children to undergo formal testing to establish whether they could be exempt from the mask rule, AP stated.
Oregon Governor Kate Brown was shocked at Thielman's suggestion, airing her disdain in a recent letter to school staff, AP reported. The Democratic politician reportedly wrote she was appalled that the superintendent was "instructing students to lie" to get out of wearing a mask.
Brown announced on August 19 that health care workers and school staff will need to be fully vaccinated by October 18, or six weeks after full Food and Drug Administration (FDA) approval, whichever is later.
"Our kids need to be in the classroom full-time, five days a week, and we have to do everything we can to make that happen. While we are still learning about the Delta variant, we know from previous experience that when schools open with safety measures in place, the risk of transmission is low.
"That's why I've directed the Oregon Health Authority to issue a rule requiring all teachers, educators, support staff, and volunteers in K-12 schools to be fully vaccinated," she said in the statement, unveiling the new measures.
This follows the move to make "face coverings or face shields" a requirement in all indoor areas, including classrooms, which was announced on August 13.
The state is currently grappling with a surge in cases of the Delta variant, with Brown claiming Oregon was facing a "hospital crisis."
"With over 845 Oregonians hospitalized for COVID-19 and 226 in ICUs, our hospital and ICU beds are over 93 percent full. Some hospital regions are beginning the day with two ICU beds available, or none at all," she said.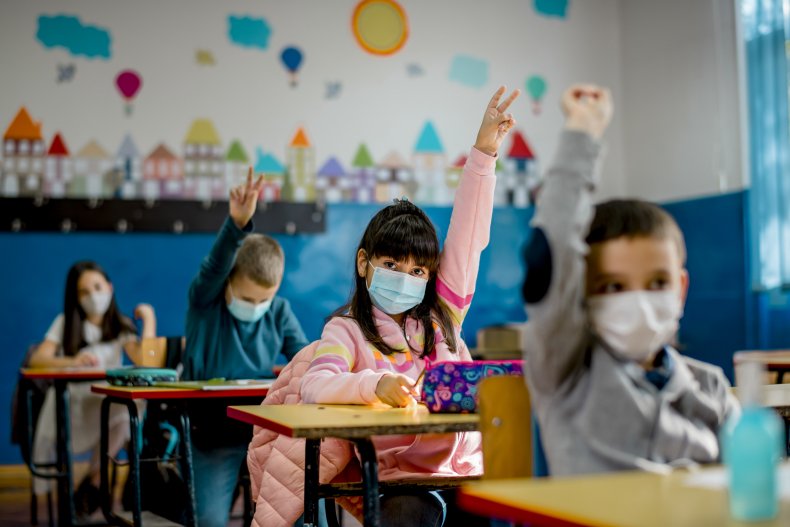 In a statement to Newsweek, Thielman said: "Contrary to some coverage, the Alsea SD is implementing Governor Brown's Mask Mandate, which includes section 6 of OAR 333-019-1015 stating, nothing in the rule supersedes rights guaranteed under ADA, Rehabilitation Act of 1973, and IDEA section 504. As per ADA policy provided by the Oregon Department of Education (ODE), we informed our parents of their right to request a 504 accommodation regarding mask mitigation if they feel that their students might qualify. This action was taken in response to sizable parent inquiry and concern about the negative impacts of masking for their child.
"As provided on the Frequently Asked Questions document on the ODE website: Examples of situations in which school personnel may reasonably conclude that a child needs or is believed to need special education or related aids and services (ADA) include: when a teacher, based on observation of or work with the student, expresses the view that an evaluation is needed; or when the parent of a child has requested an evaluation.
"Federal guidance is clear that our notification of allowed "options" under Governor Brown's Mask Mandate was commensurate with federal policy, parent/student rights, and the stated goals as defined in the Americans with Disabilities and Amendments Act of 2008. Only students with qualifying disabilities will receive an accommodation, and each request will be evaluated on a case-by-case basis.
"The Alsea School District was one of the very few public schools that stayed open all year during the 2020-2021 school year for K-12 in person instruction without a single COVID case traced back to the school as the source. This fact seems to be lost on our Governor, as we set the standard for layered mitigations and kept our staff and students safe. This new mandate allows for exceptions to masking written into OAR 333-019-1015 outlined in sections 4, 5, and 6 and I communicated these facts to my parents and notified them of their rights.
"As Superintendent, I am the leading advocate for the nearly 30% of students who qualify as disabled in our school. I am also the father of an adopted special needs daughter named Molly, who is heavily affected by Autism and Cerebral Palsy, and I can speak with authority regarding the necessity for quality supports, and accommodations for any child that needs them. In Alsea, we have built a school culture that is open and inclusive for all our amazing kids whom we have the privilege of serving."
Update 8/25/21, 2:50 a.m. ET: This article was updated with comment from Thielman.