'Moonlight' Takes Best Picture, After It Erroneously Went To 'La La Land'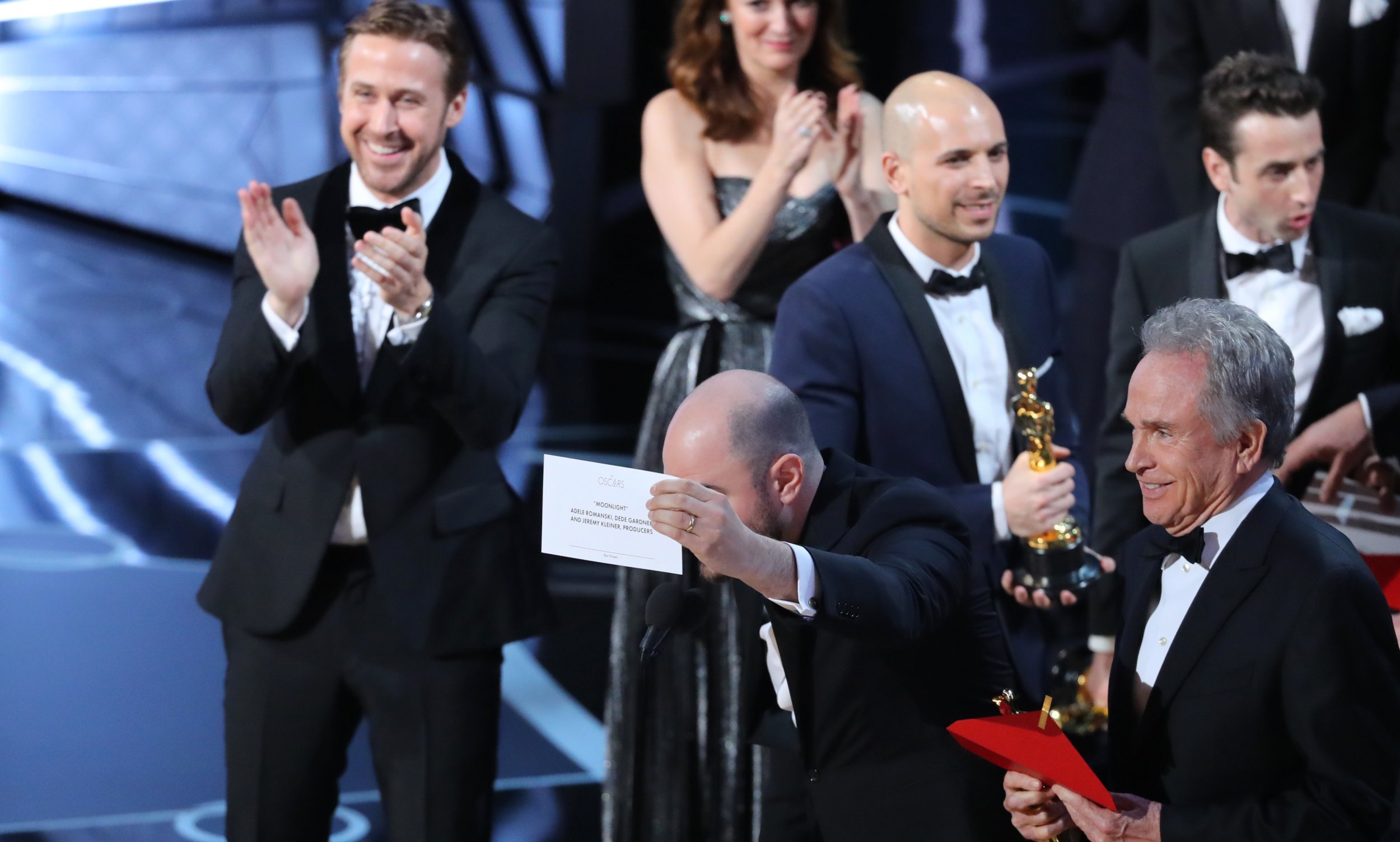 Moonlight, Barry Jenkins's mesmerizing coming-of-age film set against the Miami crack epidemic, prevailed at the 89th annual Academy Awards, winning best picture over frontrunner La La Land, after it briefly lost to La La Land.
It was a stunning reversal. Warren Beatty and Faye Dunaway announced La La Land as the winner. Then, as its cast and crew celebrated on stage and gave their speeches, a show producer walked out and broke the bad news: Beatty and Dunaway read the wrong card. Moonlight was the actual best picture.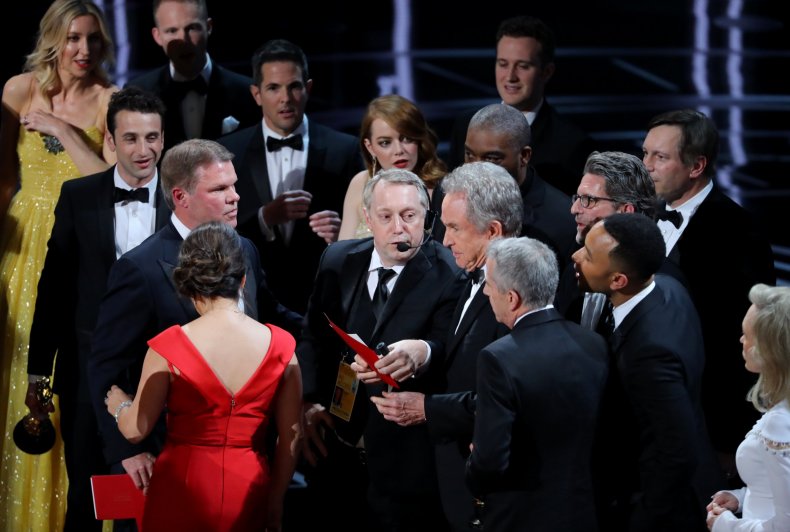 A wave of confusion and disbelief spread across the crowd. "This isn't a joke," said La La Land producer Jordan Horowitz. Indeed, it wasn't. Moonlight's cast and crew came to the stage and gave their speeches.
Related: The grand theory that explains why the cornier movie aways wins best picture
It was a lucrative night for the film, which also won best adapted screenplay for Barry Jenkins and Tarrell Alvin McCraney, and best supporting actor for Mahershala Ali. In his acceptance speech, the film's director and screenwriter Jenkins thanked the producers of La La Land for being gracious, and spoke about what it took to make Moonlight possible.
Moonlight's producer, Adele Romanski, said, "It's very humbling to be up here.... Even more than that, it's inspiring to little black boys and little black girls and other folks watching at home who feel marginalized and who take some inspiration from seeing this beautiful group of artists."
The win marks the culmination of an extraordinary rise to prominence for a deeply personal film made on a modest budget with a largely unknown cast. Moonlight explores identity and self-discovery, capturing three distinct periods in the life of a young gay black man named Chiron (portrayed at various ages by three different actors: Alex Hibbert, Ashton Sanders and Trevante Rhodes).
As Newsweek critic Tom Shone wrote in his review, Moonlight is "an intensely personal, poetic and gentle film about desire, identity and the fluid, fitful process by which we slip and stumble into ourselves." Read about why Moonlight was one of the 21 best movies of 2016 here.
Moonlight was roundly acclaimed as a moving and gorgeously shot picture, drawing almost unanimous praise in reviews and festival coverage. And now, it will also be remembered for playing a part in one of the most stunning moments in Oscars history.