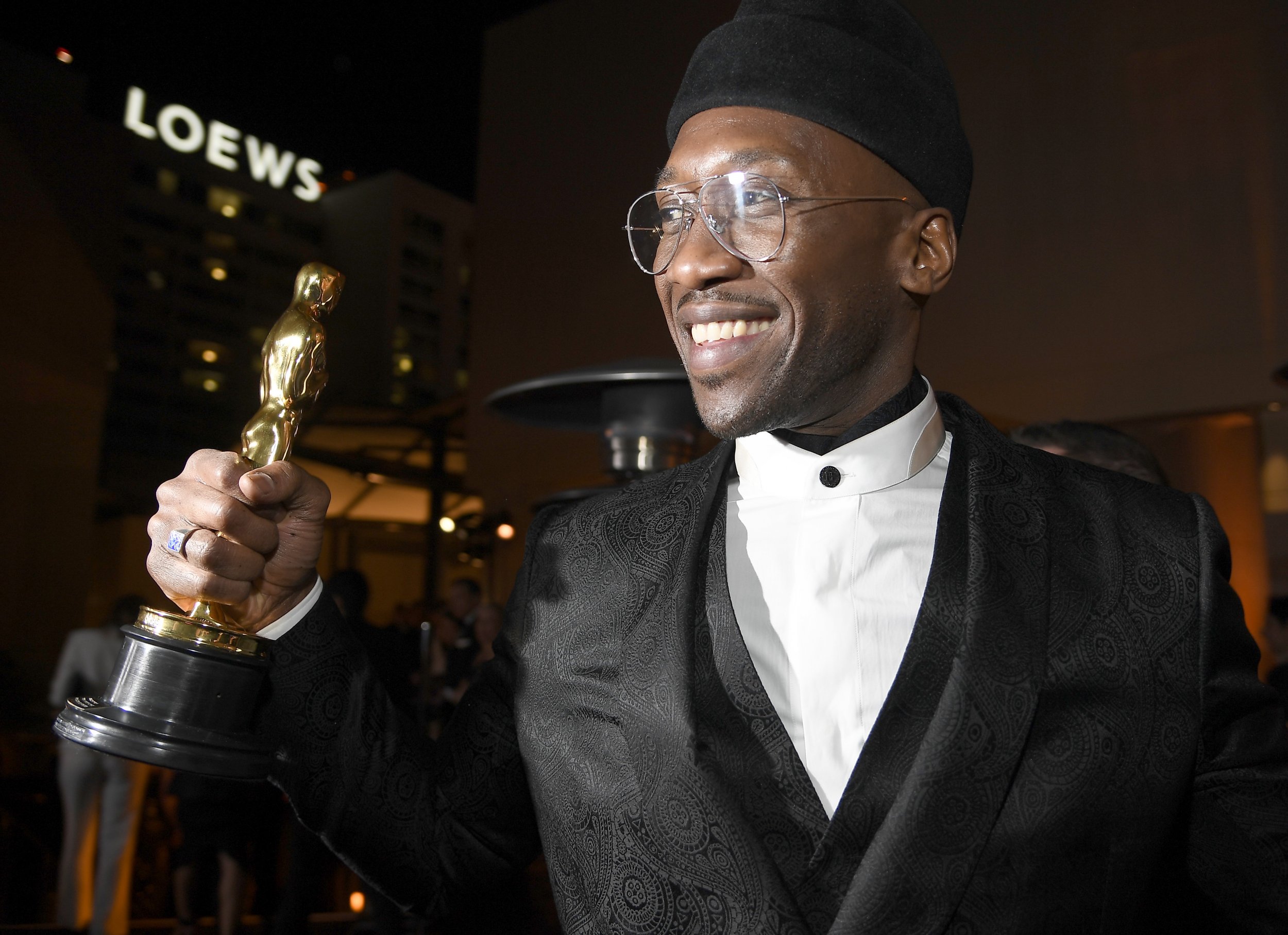 Mahershala Ali took home the Oscar for best supporting actor at the 91st Academy Awards Sunday, becoming the first black person to win the category twice.
Ali received the Oscar for his role as the legendary African-American pianist Don Shirley in Green Book, which ended up winning the Oscar for best picture. Ali's previous Oscar win came two years ago, for his supporting role in Moonlight.
Inspired by real events, Green Book—directed by Peter Farrelly—depicts the development of an unlikely friendship between Tony Lip, a tough Italian-American bouncer from the Bronx played by Viggo Mortensen, and Shirley, when Lip is hired to drive the musician on a concert tour of the Deep South in 1962.
The film's title refers to The Negro Motorist Green Book—an annual guide book published from the 1930s to 1960s that listed places to stay and eat, as well as other facilities, that would accommodate African-Americans at the time.
"I want to thank Dr. Shirley for just trying to capture his essence," Ali said in his acceptance speech. "Just trying to capture Dr. Shirley's essence pushed me to my ends, which is a reflection of the person he was and the life that he lived, and I thank him."
Ali also thanked Mortensen, who was nominated in the best actor category but lost to Rami Malek in Bohemian Rhapsody, as well as Farrelly. "I thank my partner Viggo. It was extraordinary working with you," Ali said. "Peter Farrelly, I thank you for your leadership and your guidance, and for really giving us space to work it out."
The actor saved a special mention for his grandmother, whom he credited with enabling him to reach this point in his career. "I want to dedicate this to my grandmother, who has been in my ear my entire life, telling me that if at first I don't succeed, try, try again; that I can do anything I put my mind to—always, always pushing me to think positively," Ali said. "I know that I would not be here without her, that she has gotten me over the hump every step of the way."
The other nominees in the supporting actor category were Richard E. Grant (Can You Ever Forgive Me?), Sam Elliott (A Star Is Born), Adam Driver (BlacKkKlansman) and Sam Rockwell (Vice).
Ali's win on Sunday made him the second black man, alongside Denzel Washington, to have won multiple acting Oscars. Washington won best supporting actor for Glory (1990) and best actor for Training Day (2001).
Ali won his first supporting actor Oscar for his role as a drug dealer in coming-of-age drama Moonlight, becoming the first Muslim to win an Oscar for acting. He is also well-known for his portrayal of Remy Danton in the political drama series House of Cards.
While Green Book has been well-received by audiences and critics alike—and has picked up several other notable awards—it has received criticism from some of Shirley's living relatives.
The musician's last surviving brother, Maurice Shirley, and his niece, Carol Shirley Kimble, have disputed several details in the film, telling NPR's 1A Movie Club that Green Book is "full of lies."
"Once again a depiction of a white man's version of a black man's life. To depict him and take away from him and make the story about a hero of a white man for this incredibly accomplished black man is insulting, at best," Kimble said.
The first black person to win the Oscar the best supporting actor category was Louis Gossett Jr. in 1982 for his role in An Officer and a Gentleman.
The 91st Academy Awards also featured notable wins for Marvel's Black Panther, with Ruth E. Carter becoming the first black woman to win an Oscar for best costume design, while Hannah Beachler achieved the same feat in the best production design category.
"Only three black women have won Oscars for anything other than acting. Two of them just happened tonight," New York Times reporter Kyle Buchanan tweeted. The third was Irene Cara in 1984, who won best original song for co-writing "Flashdance...What a Feeling."