Jon Ossoff Shares Attack Ad Calling David Perdue 'Empty Suit' Ahead of Georgia Runoff
Democratic Senate candidate Jon Ossoff shared an attack advert that labeled Republican Senator David Perdue an "empty suit" less than a week before the Georgia Senate runoff elections slated for January 6.
The advert unveiled by the progressive MeidasTouch political action committee on Tuesday used clips from remarks Ossoff made during a debate Perdue dodged earlier this month, and closed by calling on Georgians to vote for the Democratic challenger on Tuesday next week.
"Georgia deserves a senator who shows up," the 74-second PAC spot said. "Not an empty suit."
Earlier in the advert, Ossoff could be heard arguing that Perdue was an "absent" senator who was failing to help Americans despite his position in Congress.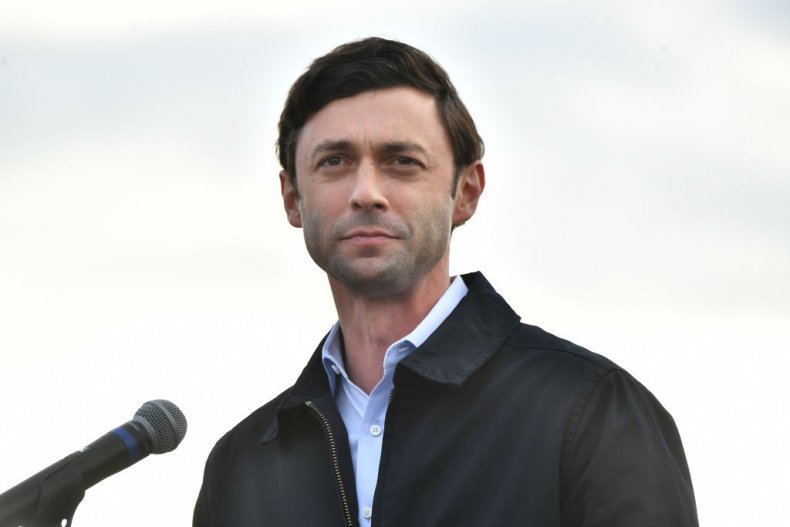 "You can rest assured I will come to public forums like this one and answer questions in open, unlike David Perdue," Ossoff said in the debate clip. "Because that's what you deserve from someone who serves you."
The attack advert has been watched more than 400,000 times on Twitter, but only has a little more than 6,000 views on YouTube, more than 12 hours after its release. Newsweek has contacted the Perdue re-election campaign for comment.
The MeidasTouch PAC released its latest Perdue attack ad as polls from Georgia remained split. One new poll released on Tuesday by Trafalgar Group showed Democratic challengers Raphael Warnock and Jon Ossoff held narrow single-digit leads over their Republican rivals Senator Kelly Loeffler and David Perdue.
Ossoff was found to lead Perdue by a little under 3 percentage points among likely voters, while Warnock led Loeffler by only a single point. Both leads were within the poll's 2.99 point margin of error.
A separate pair of polls released by the Open Model Project on Monday, and conducted between December 21 and December 28, found the Republican incumbents were 4 points ahead of their Democratic rivals with a week left until Election Day. Again, the results were within the survey's margin of error.
The outcome of the Georgia Senate runoff elections next week will have a major impact on the make up of Congress and the power of the incoming Biden administration over the next two years.
If either of the Republican senators manages to hold onto their spot in the upper chamber, the GOP will maintain its control of the Senate and have the power to obstruct President-elect Joe Biden's legislative agenda.
If the Democratic rivals unseat the incumbents, the Senate will be divided evenly along party lines. Under such a scenario, Vice President-elect Kamala Harris would have a powerful tiebreaker vote in the upper chamber.