Georgia Senate Dems Lead GOP Incumbents Amid Fight for $2K Stimulus Checks: Poll
A recent poll shows Democratic U.S. Senate candidates Jon Ossoff and Raphael Warnock of Georgia leading the state's Republican incumbents, Senators David Purdue and Kelly Loeffler by a narrow margin. The poll was released shortly after Ossoff and Warnock both hammered their Republican opponents for not backing the congressional fight to give $2,000 checks to Americans struggling economically during the ongoing COVID-19 pandemic.
The poll, conducted by The Trafalgar Group—a political and corporate market research polling firm based in Atlanta, Georgia—asked 1,022 likely Georgia voters who they planned to vote for.
In the race featuring Ossoff and Purdue, 48.6 percent said Ossoff and 46.4 percent said Purdue, a difference of 2.2 percent. In the race featuring Warnock and Loeffler, 47.1 percent said Warnock and 46.8 percent said Loeffler, a difference of 0.3 percent.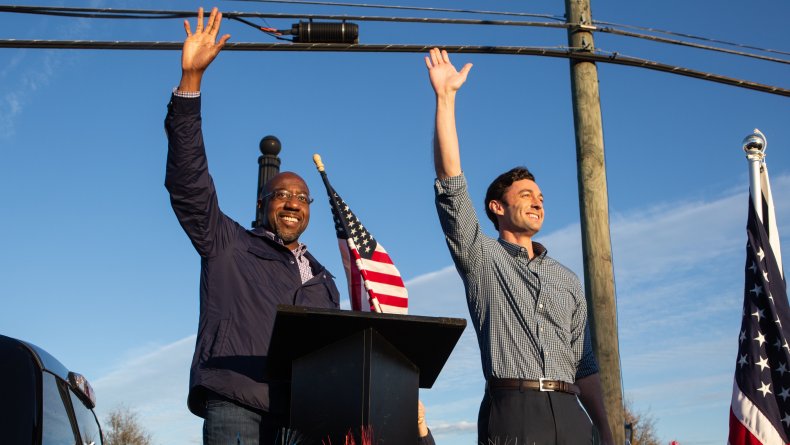 The poll was conducted from December 23 to 27 using a combination of live callers, text messages, emails and two other proprietary methods. The poll has margin of error of plus or minus 2.99 percent.
With one week left until the state's special runoff election, more than half a dozen polls conducted in the past two weeks have shown the Democratic candidates as neck-and-neck or trading leader positions well within the margin of error against their Republican opponents. The race will determine party control of the U.S. Senate.
Late last week, Ossoff and Warnock began using President Donald Trump's unexpected call for $2,000 stimulus checks as a way to criticize Perdue and Loeffler for not supporting larger direct payments to Americans struggling economically during the pandemic.
On Monday, Ossoff tweeted that Perdue had never supported direct payments. "David Perdue didn't even want the first round of stimulus checks," Ossoff wrote in a tweet that featured video footage of Perdue saying, "A direct payment, I really oppose that."
Last Wednesday, Warnock published tweets asking if Loeffler "supports Trump 100% of the time, why won't she support $2,000 relief checks?" In a second tweet, Warnock wrote: "Even Donald Trump agrees that a $600 relief check is totally inadequate. But @KLoeffler still won't step up to deliver real relief to Georgia families."
On Tuesday, both GOP Senators said that they support $2,000 checks.
A report released on December 22 showed that Ossoff and Warnock had outraised their opponents by tens of millions of dollars during autumn leading up to the election. Warnock has also reportedly spent 38 times more on Facebook Ads than Loeffler, although the Republicans have spent more on television advertising.
Democratic activist and organizer Stacey Abrams has praised Ossoff and Warnock for "increasing" voter participation and "leading the kind of turnout" that Democrats need to win in the traditionally conservative state.
If both Democrats win, the Senate will be divided with each party holding 50 seats and Vice President-elect Kamala Harris casting the tie-breaking vote.
Newsweek contacted the Georgia Republican Party for comment.