Ottawa Police Chief Resigns After Criticism About Crippling Trucker Protest
Ottawa's police chief has resigned after criticism about a crippling trucker protest against Canada's COVID-19 vaccine mandate.
Peter Sloly will publicly announce he is stepping down after the Ottawa Police Services Board meeting on Tuesday, Ottawa City Councilor Riley Brockingham tweeted.
Sloly's handling of the so-called Freedom Convoy trucker protest in Canada's capital city has drawn widespread criticism, the Associated Press reported.
The Freedom Convoy started as a protest against Canadian Prime Minister Justin Trudeau's requirement for truckers to quarantine if they are unvaccinated and cross the border into the U.S., but it has grown to encompass many COVID restrictions. The movement has been protesting COVID restrictions in downtown Ottawa since late January, according to Reuters.
On February 7, Sloly said he had no plans to resign, CTV News reported.
"I came here to do a job and I'm going to get that job done all the way through," he said. "Absolutely committed, have a great team here, great officers, we've got great partners in the city. We're going to get this done."
Critics said that Sloly has had a permissive response to the protest, Reuters reported. Ottawa residents said they've seen police fist-bumping protesters, ignoring law violations, and permitting fuel and supplies to reach the protesters' encampments, according to BBC.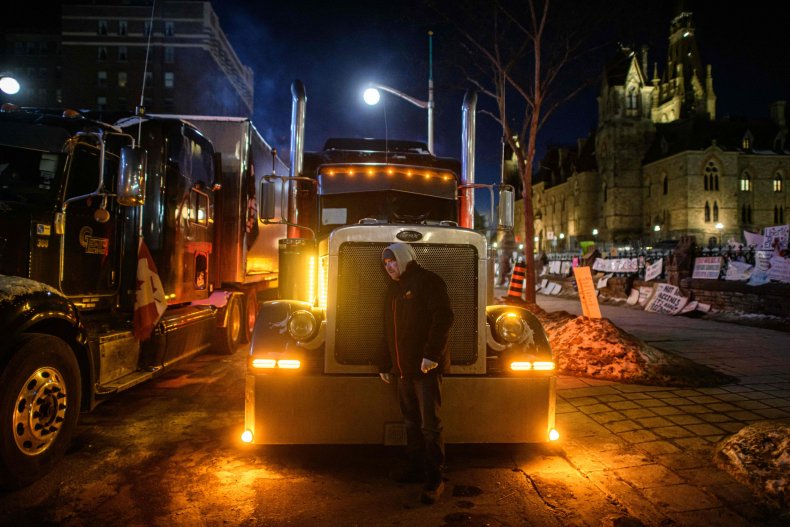 Sloly has also been accused of bullying and volatile behavior, according to sources that spoke to CBC News, causing the deterioration of relations with senior leadership and hindered the police force's ability to handle the protest.
Trudeau announced on Monday that he would invoke the Emergencies Act for the first time in response to the Freedom Convoy. He said he would give the federal government the ability to target protesters financially and bolster law enforcement.
The emergency measures would be focused on the occupation of Ottawa and to keep open the Ambassador Bridge—the busiest international border crossing in North America that connects Windsor, Ontario, with Detroit, Michigan—that protesters blockaded for about a week, Newsweek reported.
The new powers will also be used to prohibit assemblies that "go beyond lawful protest," Canada Attorney General David Lametti said.
Protesters continue to block a border crossing in Manitoba, stand outside Canada's parliament and prime minister's office, and occupy downtown Ottawa, Reuters reported.
Sloly, 55, is a former Canadian men's soccer player, according to BBC. He served as the head of the Ottawa Police Service since 2019, more than 30 years after joining the Toronto police. His contract was set to end in 2024.
Update 2/15/22, 1:38 p.m. ET: This story was updated with additional information.