Ousted Marine General Defends Using 'N-Word' as 'Teaching Moment'
A former U.S. Marine Corps general, who was relieved of his command over his use of a racial slur, argued that he was "teaching" his subordinates a lesson, according to an internal investigation report.
A report provided to Stars and Stripes by the inspector general (IG) of the Marine Corps details the July 2020 incident involving Major General Stephen Neary using the n-word while speaking to junior troops. Neary told IG that he took offense to the word and used it at the moment to set an example.
"I was using this as a teaching moment, is what I was doing," Neary told the IG. "Because again, there is no place for discriminatory behavior at all, in our Marine Corps, across the board."
On the morning of July 22, 2020, Neary had just finished his physical training when he overheard the song "Put It On," by rapper Big L, being played by a group of Junior Marines.
Neary said he was offended by the word and asked the group to turn off the music.
"You cannot play songs that use n***** in it because it is counter to good order and discipline. ... We have a problem when we think it is acceptable. Look what is going on across our country," Neary said in his account to the IG.
Neary asked the Junior Marines how they would feel if he said the word.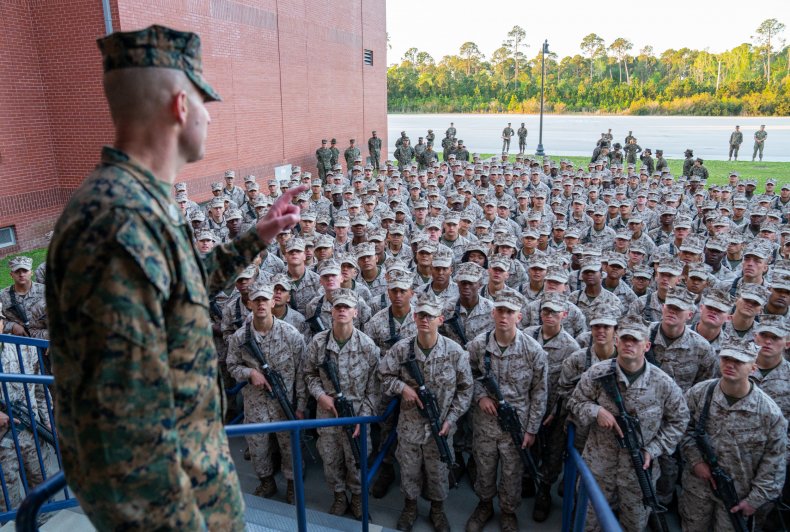 In the moment, the Junior Marines were shocked that Neary, a white man, said the full word, according to the report.
"Neary said the word should never be used and it is a word of hate,'" according to a statement by one of the Marine witnesses.
The witnesses' statement went on to say that Neary told the group that the n-word "is the reason 'you people' are doing riots in the U.S."
The incident occurred during the time of national protests against police brutality, including the murder of George Floyd by then-Minneapolis police Officer Derek Chauvin.
Neary acknowledged saying the n-word once, according to the IG report, but denied he used it multiple times. He also denied saying "you people."
The testimony of other Marines was consistent, and the report asserts that their statements corroborated one another.
Neary joined the Marines in 1988 and was a career infantry officer who served in Operations Desert Shield and Desert Storm as a company commander and as a battalion commander during Operation Iraqi Freedom, according to his official unit biography.
He was relieved of his command in October 2020. Neary retired from the Marines earlier this year.
"Neary failed to demonstrate exemplary conduct, as defined by the standard, through his insensitive comments and lack of awareness and appreciation for how divisive his use of a racial slur would be on his organization and offensive to his Marines," the IG said.
Newsweek reached out to the Marine Corps for comment.