Outdoor Stadiums to Reopen With Fans in Texas After State Reports Weeks of New Highs in Coronavirus Cases
Texas Governor Greg Abbott announced Thursday that outdoor stadiums will be allowed to open to fans next month at limited capacity for the first time since the coronavirus pandemic began.
While many state leaders have discussed the possibility of reopening stadiums to professional sports teams, most have said welcoming fans inside to watch competitions will not be possible until the country achieves better containment of the virus.
Abbott signed the proclamation as an expansion of another he announced last week that approved more businesses and services to reopen. While the original proclamation last Friday allowed professional sports teams to resume without fans starting May 31, the updated version paves the way for outdoor stadiums to fill up to 25 percent capacity, though no games will be allowed to take place under the new rules until June 15. Indoor stadiums must remain closed to fans, Abbott's order said.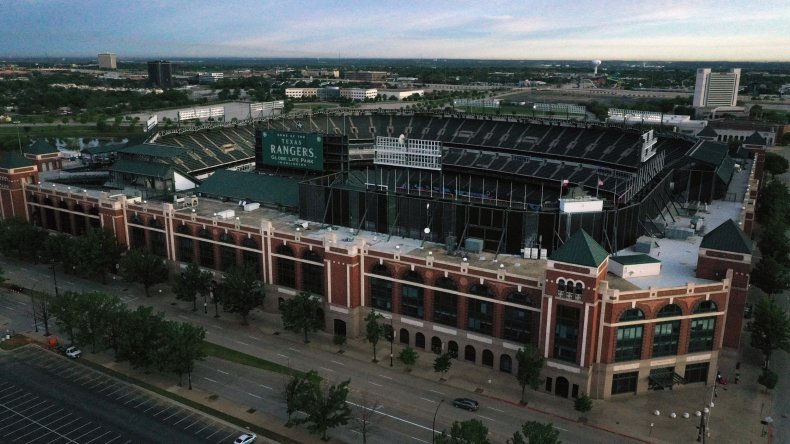 All professional sports leagues must first submit a COVID-19 prevention and response plan to the Texas Department of State Health Services before it is approved to welcome spectators, Abbott's order said. The official order form on the department's website cited the contagious nature of COVID-19 and the asymptomatic trend of many who test positive as reasons for requiring stadiums and other outdoor venues to take precautions, including efforts to maintain social distancing and enhanced sanitation practices.
"Because of the hidden nature of this threat, everyone should rigorously follow the practices specified in these protocols, all of which facilitate a safe and measured reopening of Texas," the department said in its guidelines for professional sports teams. "The virus that causes COVID-19 is still circulating in our communities. We should continue to observe practices that protect everyone, including those who are most vulnerable."
The order did not specify whether or not college teams would be covered under Abbott's revised proclamation.The governor's office did not respond to Newsweek's request for comment in time for publication.
The news came after weeks during which Texas health officials reported new spikes in COVID-19 cases and deaths. Last week, Abbott announced the state would allow bars to reopen just days after state health officials reported the highest single-day increase in positive cases. Earlier this week, Houston's mayor raised concerns about case numbers rising in the city, which he said was unequipped to handle a new outbreak.
By Thursday, the state had reported 59,776 COVID-19 cases and 1,601 deaths. While many states like Texas continued to see new increases in positive tests, governors across the country have moved toward reopening their local economies with varying degrees of caution, as President Donald Trump called for all states to open as quickly as possible.