Texas Gov. Abbott Says Bars to Reopen After State Reports Highest Single-Day Rise in Coronavirus Cases
More facilities in Texas, including gyms, childcare centers, youth clubs and personal care centers, were reopened on Monday. Bars, aquariums and bowling alleys will resume service from Friday.
This week's reopenings mark the second stage of the state's phased lifting of restrictions following the novel coronavirus outbreak.
"Opened services and activities under Phase II are subject to certain occupancy limits and health and safety protocols," the office of Texas Gov. Greg Abbott confirmed in a statement on Monday.
Activities and services that were closed in phase one of the reopening can now resume with "restricted occupancy levels and minimum standard health protocols laid out by the Texas Department of State Health Services (DSHS)," the statement added.
On Saturday, Texas recorded its highest single-day rise in cases since the outbreak began. In an interview Monday with CNN's New Day program, Dallas Mayor Eric Johnson said the record spike was likely to be connected to recent reopenings, as well as increased testing across the state.
Manufacturers also resumed services from Monday with worker capacity limited to 25 percent. Businesses in office buildings were also opened, with an occupancy level limited to the greater of either 10 employees or 25 percent of the workforce, the statement notes.
From May 22, bars (including wine tasting rooms, craft breweries and similar businesses) are allowed to reopen at 25 percent occupancy, while restaurants (which began reopening earlier this month) will be allowed to expand their capacity to 50 percent.
"Occupancy limits [for bars] do not apply to outdoor areas that maintain safe distancing among parties," the statement notes.
This Friday will also see the reopening of bowling alleys, bingo halls, simulcast racing, skating rinks, aquariums, natural caverns and rodeo and equestrian events.
Zoos will be reopened from May 29, while youth camps (both day and overnight), youth sports and certain professional sports without in-person spectators will resume from May 31.
"All sporting and camp activities are required to adhere by special safety standards, and minimum standard health protocols have been established for all newly-announced opened services and activities," the statement notes.
Schools could potentially be open as early as June 1. Public schools are allowed to provide in-person summer school if they adhere to social distancing guidelines and health protocols outlined by the DSHS.
Full details on the updated guidelines for the latest reopenings can be viewed on the website of the office of the governor.
Texas has 49,215 confirmed cases and 1,352 deaths, as of Tuesday, according to the latest figures from Johns Hopkins University.
The state's daily death toll has been on a declining trend in the past few days, dropping from 58 last Thursday to 11 this Monday. The number of daily new cases dropped to 785 on Sunday, following its record daily case count of 1,801 on Saturday. The number of new cases increased to 909 on Monday, according to figures published Monday by the DSHS.
Speaking to CNN's Alisyn Camerota on the New Day program, Johnson said: "More than likely what you saw in the cases jumping in the past few days that we've reported is a change in policy with respect to the reopening of parts of our economy, a couple weeks ago.
"These things [virus figures] sort of lag. The decision [to reopen venues] is made and then you don't see the result in the cases until a couple weeks later. So this [the recent spike in cases] is more than likely connected in some way to the opening of restaurants and movie theaters and retail and our malls up to 25 percent occupancy a couple weeks ago.
"I think there's a couple of things going on at the same time. You certainly have an increase in testing in some places. We're slowly ramping up our testing here in Dallas thankfully, but you also have changes in policy and so I think there's a few things working together at the same time to account for that increase in cases," he added.
The Dallas mayor also noted: "What we're seeing in Dallas, fortunately, is that cases are starting to plateau."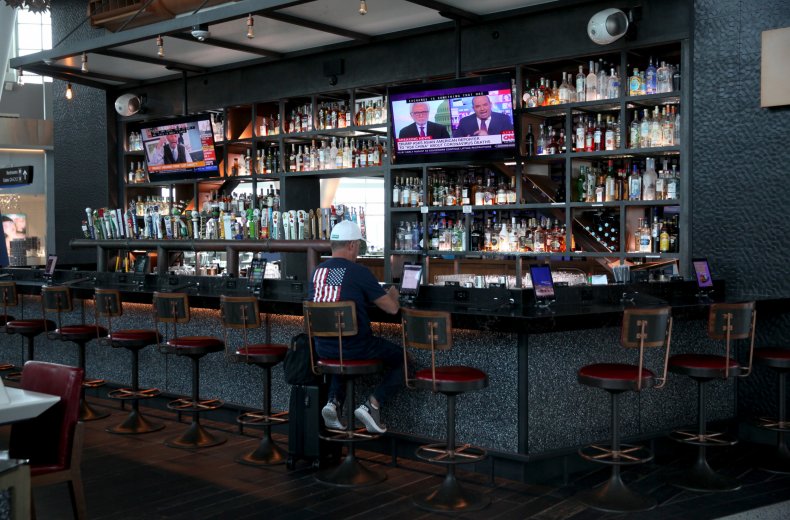 Dallas County has reported 7,679 confirmed cases and 177 fatalities, according to the latest report from Dallas County Health and Human Services.
Dallas County Judge Clay Jenkins noted in a statement released by the county office on Monday: "Today's numbers continue a slight downward trend in the number of new positive cases. How well we do in continuing that trend is dependent on all of you exercising good personal responsibility choices."
"We currently still have significant community spread, which means doctors strongly encourage you to avoid unnecessary crowds. When you must go into a crowd or on public transportation, wear a cloth face covering and maintain six foot distancing at all times," Jenkins added.
The novel coronavirus, which was first reported in Wuhan, China, has infected 4.8 million people across the globe, including 1.5 million in the U.S. Over 1.7 million have reportedly recovered from infection, while more than 318,800 have died, as of Tuesday, according to the latest figures from Johns Hopkins University.
The graphic below, provided by Statista, illustrates U.S. states with the most confirmed COVID-19 cases.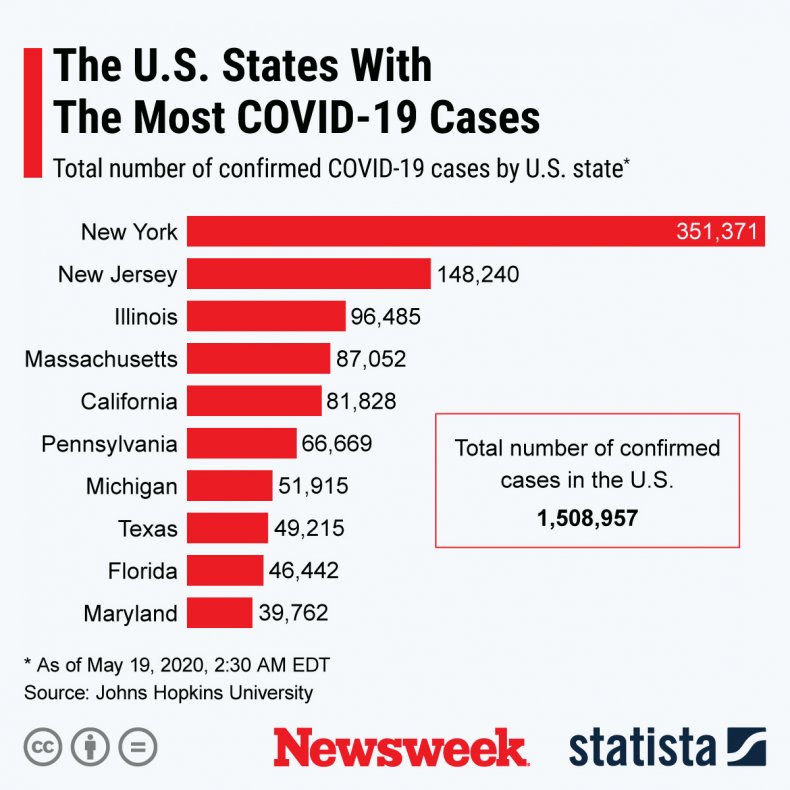 The graphic below, provided by Statista, illustrates the spread of the COVID-19 virus across the U.S.