Outgoing Chicago Teachers Union Head Says He Won't Apologize For Doing Job
Reflecting on his two decades of union leadership, the outgoing president of Chicago Teachers Union (CTU), Jesse Sharkey, said he makes "no apologies for leading a fighting union" in the nation's third-largest school district.
Earlier this month, Sharkey announced that he would step down from his position at the end of his term this summer and return to the classroom in the fall.
His decision comes after the latest major dispute between the teachers' union and Chicago Public Schools (CPS), which resulted in a five-day standoff last month. At the time, educators refused to return to in-person learning during the city's Omicron wave, opting to teach from remote instead.
However, Pedro Martinez, the CEO of CPS, said the district had "no choice" but to cancel classes when teachers refused to enter school buildings.
The stalemate was the third school shutdown over the span of 27 months that was caused by the ongoing feud between the union and Chicago Mayor Lori Lightfoot's office—all of which occurred during Sharkey's tenure.
"The CTU has been criticized for being too aggressive, and too insistent that past wrongs and injustices to our students and their families be addressed," Sharkey wrote in an op-ed published by the Chicago Sun-Times on Tuesday. "If our students don't have homes, health care or public safety, however, it is only a matter of time before more of their schools are closed, homes foreclosed, jobs downsized and families displaced."
"If we ignore the greater social context of our work, we do so at our collective peril," he continued. "So I make no apologies for leading a fighting union when public education has been under attack in our city for more than two decades. Our willingness to fight has improved conditions in classrooms by lowering class sizes, and increasing nurse and social worker staffing — directing more resources to schools most in need."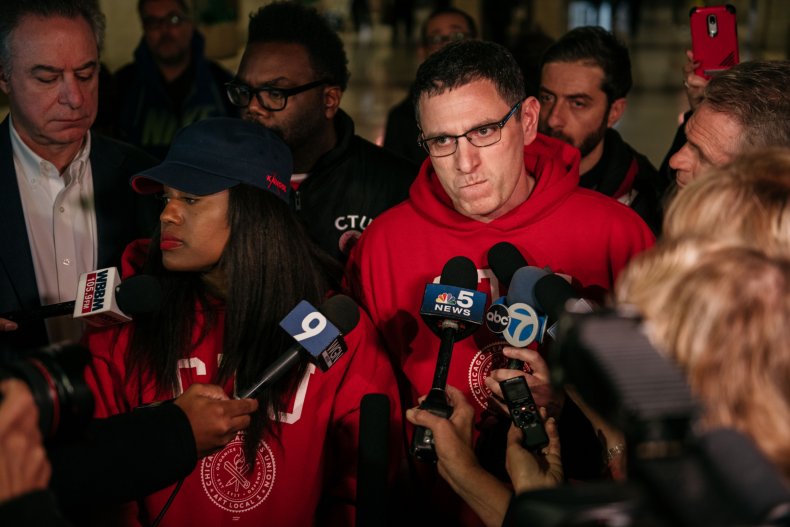 CTU has become known to be a political powerhouse in the last three years for its refusal to back down from the bargaining table and persistent demands to improve Chicago's public education system despite backlash from city officials.
Over recent years, the relationship between CTU and Lightfoot has grown strained. At the time of the impasse over remote learning and COVID-19 safety protocols, the CTU proposed a mandatory testing requirement for students unless parents wanted to opt out, Courthouse News Service reported on January 5. But Lightfoot opposed that, describing it as "morally repugnant" and characterizing COVID testing as "a quasi-medical procedure." Meanwhile, Sharkey called Lightfoot "relentlessly stupid," per the Sun-Times.
Last week, the same newspaper reported that one of Lightfoot's former advisers was involved in a social media campaign aiming to unseat the current CTU leadership team in the union's upcoming election. The mayor's office has denied any involvement in the advertising campaign.
While Sharkey is not seeking re-election, he has announced his support for his vice president, Stacy Davis Gates, in the May election.
"This is an election year inside of our union, and we know the same forces that wanted to destabilize public education have turned their sights upon us," Sharkey wrote on Tuesday. "Our union must advocate in numerous arenas to secure the resources necessary for our students and schools to thrive."
"We have accomplished a lot, both for bread-and-butter and the common good, and I am proud of it all," he concluded. "I entered teaching with hope, not despair, and an unflagging commitment to defend and elevate the most vulnerable. That will continue as I return to the classroom in the fall, and our union will continue to fight for the schools our students deserve."