College Republicans at Stanford University are concerned about attempts by "leftists" to undermine a visit by Mike Pence scheduled for Thursday evening. But two protest organizers say they aren't looking for a confrontation.
The planned protests are the latest in what's been a contentious effort to bring the former vice president under the Trump administration and prominent social conservative to the university in Palo Alto, California. The university's Undergraduate Senate had earlier blocked the Stanford College Republicans' request for funding to bring Pence to campus out of safety and other concerns, but the group later prevailed, according to The Stanford Daily.
"Resistance to our event is completely futile, and we look forward to having a successful event," the Stanford College Republicans said via Twitter Tuesday. The group has also complained that "leftists have been ripping down our flyers in a desperate attempt to undermine the event" and its members have been "plastering the entire campus."
Pence's event speech is titled "How to Save America from the Woke Left."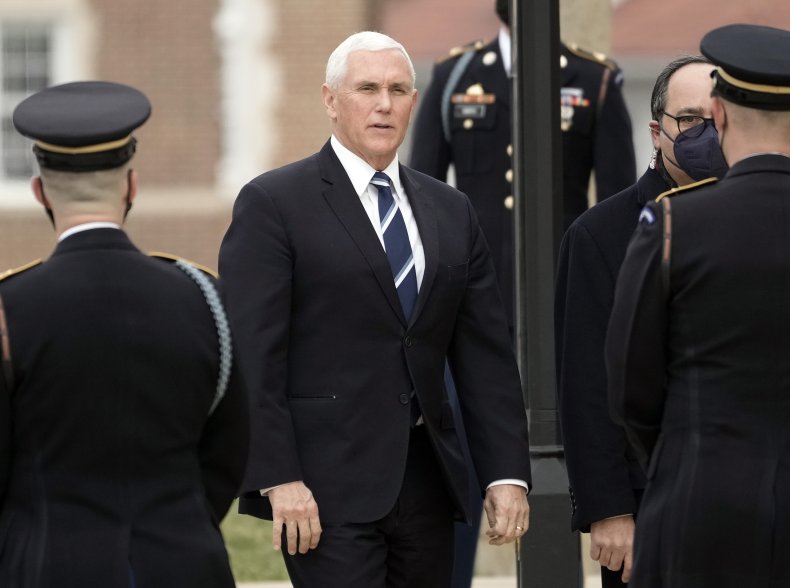 But others at Stanford say Pence has a more troubling message and have mounted a counter-protest for his campus visit.
Ritwik Tati and Eva Astrid Jones, two first-year students, told Newsweek they organized the protest because of what they describe as Pence's homophobia and being part of an administration that has targeted marginalized groups.
"Stanford is one of the most elite, science-based institutions in the world," said Tati.
"Pence is anti-science," Tati added, citing the vice president's stance on climate change.
They said they are anticipating about 100 people to come to the protest that will provide a space where people they say have been marginalized by Pence can share their experiences and know they are supported by other students.
"My goal is to show students at Stanford that this is our home," said Jones. "And that hate like Mike Pence, hate like the Stanford College Republicans aren't just going to be ignored."
She said it's "threatening" to bring someone to Stanford who has been involved with policies that have adversely affected Black, Brown, Muslim, women, LGBTQ and low-income students.
Both stressed that the protest will not be violent or confrontational, similar to events that have played out on other college campuses.
Walker Stewart, a board member for Stanford College Republicans, told Newsweek in an email that they were expecting a small group of protesters who "will do little to disrupt the event."
"We are anticipated a packed crowd excited to see the VP speak – with over 200 students on the waitlist there is clearly excitement surrounding the event," he said.
He dismissed criticisms of Pence by protesters as a strategy used by "the left" to "smear conservatives as bigots and construe our speech as violence to avoid actually engaging with conservative ideas on a level playing field."
While the protest is not expected to be confrontational, a number of people reacted with outrage on Twitter that the former vice president was speaking at Stanford.
User Toby Rhinehorn wrote: "Pence has never been right about anything. He means white, Christian hypocrisy abs ignorance. That's not traditional values."
"Oh do go on about "traditional" values without sounding like a racist homophobe from 1955," Twitter user John Stark tweeted.
User @LookingUp52 wrote: "Is this a joke? Is Benedict Arnold the opening act."
Since leaving office, Pence has been criticized by former President Donald Trump for not seeking to overturn the results of the 2020 election. As Pence is thought to be mulling a presidential run, a poll of Republicans recently found that Pence couldn't have overturned the results.
Update 2/17/22, 4:30 p.m. ET: This story has been updated to include comment from Stanford College Republicans.