More than $1 million worth of methamphetamine was recently seized by U.S. officials after it was found hidden within a shipment of squash.
According to a recent press release from Customs and Border Protection (CBP), the incident occurred April 28 at the Otay Mesa Cargo facility located in San Diego, California.
The recent seizure comes as CBP agents continue to intercept an array of different illicit narcotics across the nation's borders.
On April 28, CBP agents stationed at the cargo facility encountered a 25-year-old Mexican male driver attempting to gain entry into the U.S.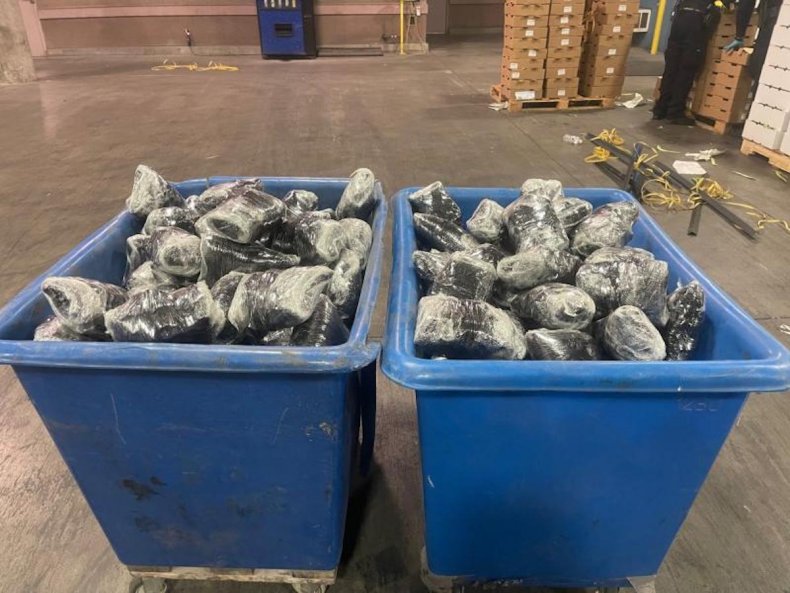 "The driver presented a valid border crossing card, and the CBP officer referred the driver, bobtail truck, and shipment of squash aside for further inspection," CBP said in the press release.
After the driver and his truck were pulled aside for a secondary inspection, CBP officers used an imaging system that works similarly to an X-ray machine. While using an imaging system, CBP officers discovered "anomalies" within the truck's shipment.
"Officers then sent the truck to the dock, where an officer with a human/narcotic detector dog screened the shipment, and the canine alerted to the pallets of squash," the press release said.
Following the alert by the canine, CBP officers began inspecting the shipment of squash and discovered 259 packages that contained methamphetamine and one package that contained cocaine hidden within the produce. The packages of methamphetamine and cocaine were extracted from the squash, CBP said.
According to CBP, the packages of methamphetamine weighed a total of around 552.65 pounds and had a total estimated street value of $1.2 million. The 2.78 pounds of cocaine were worth approximately $39,000, CBP said. Both the truck and the narcotics were seized by CBP.
"CBP officers turned the driver over to the custody of U.S. Immigration and Customs Enforcement (ICE), Homeland Security Investigations (HSI) for further processing," the press release said.
Anne Maricich, CBP deputy director of Field Operations in San Diego, applauded the CBP officers that made the seizure and said, "Smugglers will always try new, creative methods to smuggle narcotics, but our officers are always prepared for the unexpected."
Several similar seizures have occurred over the past few months. In February, CBP officers in Arizona intercepted more than $4 million worth of meth and fentanyl that was found hidden within a driver's AC unit located on his RV. In March, CBP officers in California discovered several pounds of meth and fentanyl pills hidden under a driver's car floorboards.
According to data from CBP, in March alone, its officers seized more than 40,000 pounds of narcotics.
Newsweek reached out to CBP for further comment.