Over 100,000 Expected to Lose Power in Rhode Island Alone as Henri Ravages Northeast
Rhode Island Governor Daniel McKee said Sunday that over 100,000 people are expected to lose power in his state as Tropical Storm Henri made landfall, bringing dangerous rain, strong winds and flash flooding across the Northeastern coastline.
"We're very concerned about the impact that the storm is having on us," McKee told CNN. According to the National Hurricane Center, the storm landed along the coast of Rhode Island near Westerly early on Sunday afternoon.
Henri made landfall with winds of 60 miles per hour and gusts up to 70 miles per hour. So far, the storm has cut power to more than 115,000 homes from New Jersey to Maine, including nearly 70,000 on Rhode Island alone, according to poweroutage.us. On Saturday, an energy company in Connecticut warned that nearly 70 percent of its customers could lose power.
The tropical storm was downgraded from a hurricane status early Sunday morning as winds slightly decreased, but the National Weather Service (NWS) warned that the impact and damage would still be severe. Forecasters said that the storm is expected to weaken Sunday as it pushes further inland, but high winds will continue to cause power outages throughout much of southern New England over the next 24 hours.
In preparation for the storm, officials in Providence, Rhode Island, and New Bedford, Massachusetts, closed giant hurricane barriers that were built in the 1960s after severe storms hit the region in 1938 and 1954, the Associated Press reported.
"I'm asking you, Rhode Island, to stay home until this storm passes," McKee said in a morning news conference. "If you venture out, you are not only putting your own life at risk, you are endangering our first responders."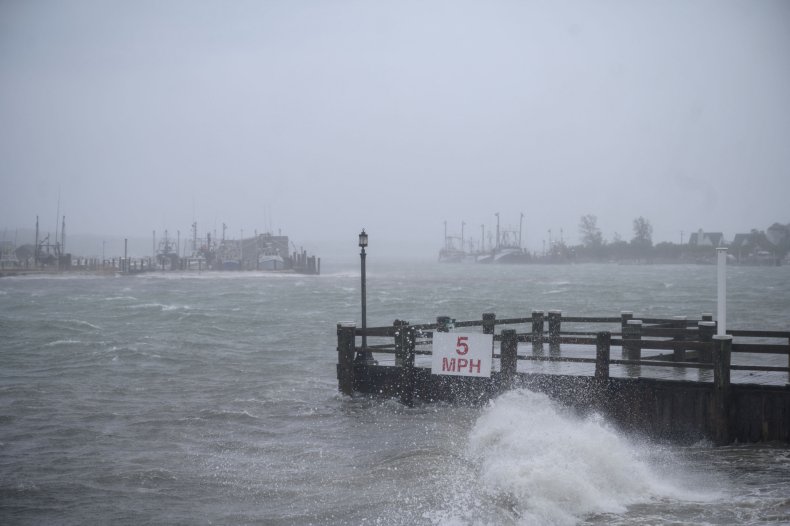 Ahead of the storm's landing, dramatic videos showed heavy rainfall across New York and New Jersey.
In New York City, Central Park set a daily record rainfall of 4.45 inches Saturday, beating a previous record of 4.19 inches dating back to 1888, the National Weather Service said. The park also reported an all-time city record for the most rain recorded in one hour, with 1.94 inches falling on Manhattan between 10 pm and 11 pm on Saturday.
Storm surges of two to four feet are possible on Sunday along the Atlantic Ocean and Long Island Sound coasts, from Queens in New York City to the tip of Long Island, and in New England from Connecticut to the base of Cape Cod, according to the National Hurricane Center.
Forecasters warned that Connecticut could see up to eight inches of rain on Sunday, while officials in New York warned of possible dangerous storm surges in parts of the Bronx and northern Queens.
"Impacts will continue to spread inland as the center of #Henri moves onshore in southern New England. Tropical storm conditions will continue in portions of the tropical storm warning area into tonight," the NWS said Sunday.
On Saturday, President Joe Biden held a call with the governors of Connecticut, Massachusetts, Maine, New Jersey, New York and Rhode Island to declare disasters across much of the Northeast and open the possibility for federal recovery aid.
"They discussed how Governors are working closely with FEMA and the National Guard to prepare for and be ready to respond to the storm's impacts, which could include widespread power outages, coastal storm surge, and inland flooding," according to the White House.