Over $100K Raised for Volleyball Player Deven Gonzalez, Her Family After Surfside Collapse
A GoFundMe page to support a teenage volleyball player and her family after the Surfside, Florida condo collapse has raised more than $100,000.
The page was created on June 25 on behalf of the Gonzalez family, who were inside the Champlain Towers South condominium complex when it collapsed last month.
Sixteen-year-old Deven Gonzalez and her mother, Angela Gonzalez fell from the ninth floor to the fifth floor. Deven and Angela were among the first victims pulled from the rubble. Edgar Gonzalez, Deven's father and a local attorney, is among those still missing.
At the time of publication, more than $106,000 had been raised for the Gonzalez family on the site.
"Both Deven and Angela have suffered multiple injuries and are currently recovering," the GoFundMePage read. "Taylor, Deven's older sister was not in the building at the time of the collapse and has been by their side while the family waits for news on Edgar's recovery."
The donations page describes Deven as a "talented junior volleyball player" who hopes to continue her career at the collegiate and professional level.
"The volleyball community and Deven's Coach, Ashley Woods are coming together and asking for your help in rallying to support the Gonzalez family during their time of need," the page reads. "They are the type of family to roll up their sleeves and do whatever is asked to help anyone in a time of need or crisis. We want to show them how much we care, and love them back."
The Associated Press reported Monday that Deven's first thought to tell firefighters as she was pulled from the scene was that she had a major tournament in a few days. Later, as she was in the hospital undergoing surgeries, she apologized to her coach for missing practice.
"I said, 'Let's focus on you right now and not volleyball,'" her club coach Amy Morgan told AP.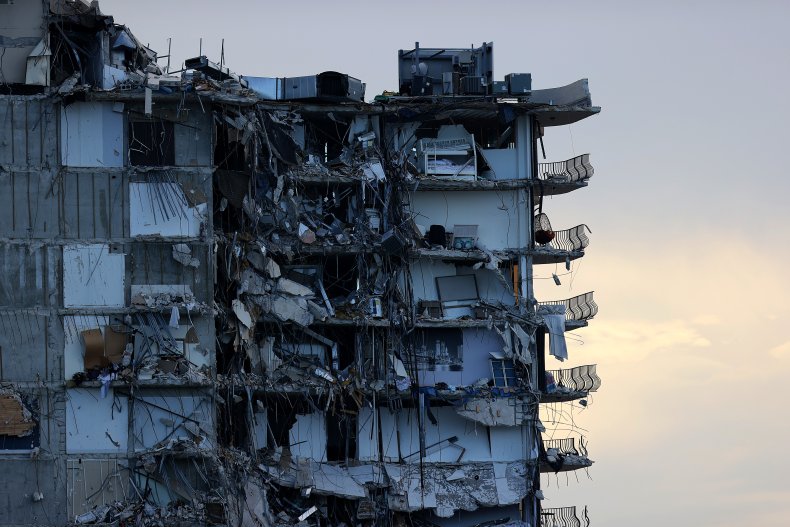 At least 27 people are dead and 118 people still unaccounted for following the building collapse on June 24.
The rest of the 13-story tower was leveled in a controlled explosion on Sunday after officials became concerned about its stability. Search and rescue operations were paused Saturday around 4 p.m. to prepare for the demolition.
Surfside Mayor Charles Burkett told CBS's Face the Nation on Sunday that first responders are still operating with a rescue mentality.
"It is absolutely not a recovery effort," Burkett said. He added, "There is nobody in charge really talking about stopping this rescue effort. And this rescue effort, as far as I'm concerned, will go on until everybody is pulled out of that debris."
Newsweek reached out to the creators of the GoFundMe page for comment, but didn't receive a response before publication.