Over 10K NYC Schoolteachers Could Lose Jobs Because They Are Unvaccinated
More than 10,000 teachers in New York City who remain unvaccinated could risk losing their jobs, with the deadline for the city's inoculation requirement less than one week away.
As of Tuesday, 87 percent of all 78,000 city teachers have had at least one dose of a COVID-19 vaccine, but the remaining 13 percent—or roughly 10,100—have not met the requirement, the New York Post reported.
Those figures come just days ahead of the city's September 27 deadline requiring all Department of Education staffers to get at least one vaccine dose or become ineligible to work in city schools. Those who do not meet that deadline and have not been given a special exemption can either take a year of unpaid leave or exit the DOE with a severance package, according to the Post.
"The New York City Department of Health will be issuing an order requiring all staff in the New York City public schools to be vaccinated: This will require that all staff of every kind—principals, teachers, custodians, food service, you name it—needs to have at least one dose by September 27. We know this is going to help ensure that everyone is safe," New York City Mayor Bill de Blasio said in a statement last month.
The DOE's policy marked the first vaccine-only mandate for a broad group of workers in the nation's most populated city, according to the Associated Press. At least 63 percent of staffers in the district had already been vaccinated when the mandate was first announced.
In total, the Post reported that 28,600 employees of the DOE's entire 130,000-person staff have not yet gotten the jab.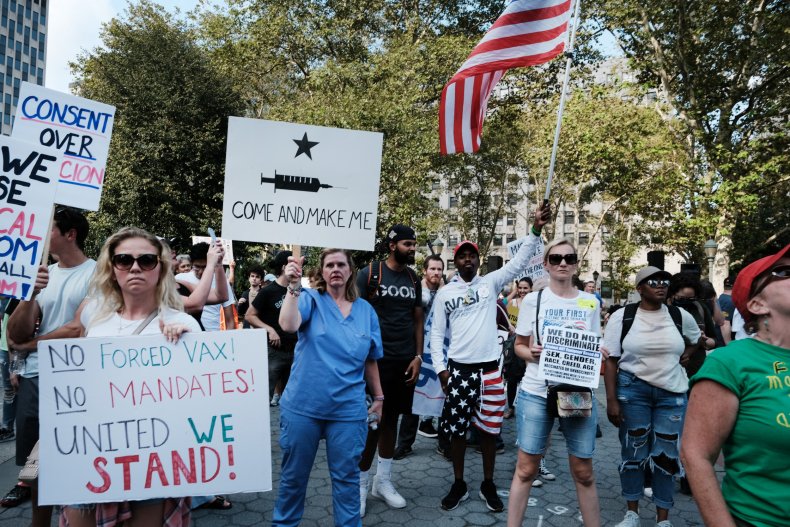 Now, as the September deadline quickly approaches, some fear that schools could face staffing shortages if enough teachers refuse to get a shot. However, on Monday, de Blasio and Schools Chancellor Meisha Ross-Porter said they do not expect the city to experience such challenges.
"We are not seeing something that would have a profound impact on the teaching corps numbers for next Monday," de Blasio said at a daily news briefing. Porter added that teachers still have a week to get their first dose and that more are getting inoculated every day.
"We think we are moving in the right direction," she said Monday. "We hired 5,200 new teachers—larger than we've hired in past years. So we feel confident we'll be staffed."
New York City schools reopened on September 13, and during the first week, schools reported 976 COVID-19 cases—among 592 students and 384 staff members—according to the DOE.
"We're going to do whatever it takes to make sure that everyone is safe," de Blasio said last month, while Porter called the vaccine mandate "another layer of protection for our kids."
Newsweek contacted the DOE for additional comment but did not hear back before publication.