Over 200,000 People Demand District Attorney in Ahmaud Arbery Case Resign for 'Failing to Arrest the Murderers'
Glynn County District Attorney Jackie Johnson has been facing significant criticism in the aftermath of the shooting death of 25-year-old black Georgia resident Ahmaud Arbery.
More than 200,000 people have signed an online petition calling for Johnson's resignation posted by the Georgia National Association for the Advancement of Colored People (NAACP) on Change.org. The petition argues that Johnson should have issued an arrest warrant after the killing of Arbery on February 23.
"We, the undersigned, demand resignation of Brunswick District Attorney Jackie Johnson for not issuing a warrant of arrest for the murderers of Ahmaud Arbery on February 23, 2020," the petition explains.
"On Sunday, February 23, 2020, Ahmaud Arbery was unarmed when he was chased and gunned down by Travis and Gregory McMichael. Gregory McMichael was an investigator for the office of Brunswick Judicial Circuit," it continues. "The deadly pursuit of Ahmaud had been stated to be a 'citizen's arrest' but the McMichaels had no legal authority to make that action in the first place. Jackie Johnson should have filed for an arrest warrant immediately."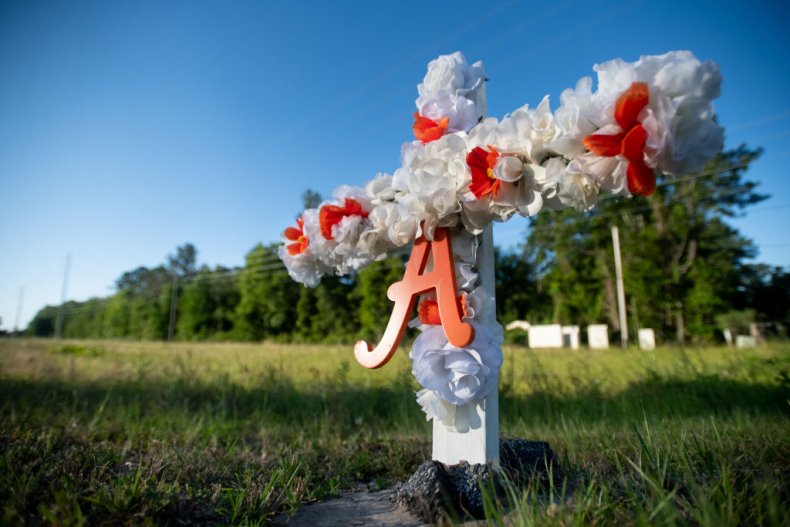 Instead of issuing an arrest warrant, Johnson recused herself from the case due to Gregory McMichael's connection to her office. The Georgia Bureau of Investigations is now looking into Johnson's handling of the case at the direction of Georgia's Attorney General Chris Carr.
"We are confident that any investigation will ultimately show that our office acted appropriately under the circumstance. There is a public misconception about this case due to false allegations against our office by those with an agenda. Our obligation has been, and always will be, to honor, protect, and abide by the law," Johnson's office said in a press statement emailed to Newsweek.
"In the interest of protecting the integrity of any future legal proceedings, our office has no further comment at this time," it concluded.
Gergory and Travis McMichael, a father and son, were arrested on May 7, after the February killing of Arbery drew national attention. The young black man was jogging in a Brunswick, Georgia neighborhood on a Sunday afternoon when the McMichaels allegedly confronted him, shooting him multiple times. A video of the incident was shared online last week, drawing national outcry from celebrities and lawmakers.
The McMichaels told police they believed Arbery was a burglar and that they were acting in self defense. Police who initially responded to the scene did not arrest either man, and after Johnson recused herself, Prosecutor George Barnhill was then appointed to look into the case. He later recused himself because his son works in Johnson's office.
Johnson defended her actions in an interview this week with radio station WIFO-FM in Jesup, according to The Atlanta Journal-Constitution.
"I was concerned about the conflict my office had," the district attorney said. "I really didn't feel like it was a good idea, knowing what the gravity of the situation was, for us to just tell the police, 'Sorry, we can't help you.' In retrospect, I was trying to do a good deed and get them some help and guidance to help them do their job. It's now being used against me."