Over 200K Sign Petition for Tom Moore, Fundraiser for U.K. Health Workers, to Have State Funeral
Over 200,000 people have signed a petition to have a government-sponsored funeral for Captain Tom Moore, a 100-year-old British army veteran whose heartwarming charity walks last spring raised millions of dollars for British health care worker charities.
Moore, who died Tuesday from complications related to the virus, has been lauded as a hero across the United Kingdom after he spent weeks walking the length of his patio garden in Marston Moretaine, a village north of London.
His efforts were aimed at raising money for the National Health Service (NHS) Charities Together and ultimately inspired people to donate millions. In total, Moore raised £33 million, equivalent to $45 million.
Now, a petition to have Moore honored with a state-run funeral, which is typically reserved for only monarchs, has gained significant traction online.
"With great sadness a world hero has passed," the petition, which was started by Manchester resident Sam Watson, reads.
"The U.K. government can pass a vote to hold a state funeral, usually held for monarchs or distinguished individuals. He fought with honour and bravery in war, and during our darkest hour in modern times he raised £33m for the NHS," Watson added. "COVID-19 has clouded the world, but this man deserves a special send off to bring a candle to his past, present and future."
By Wednesday morning, the petition had received 208,000 signatures and counting, with the goal of reaching 300,000.
In response to the petition, a British government spokesperson told Newsweek Thursday that "arrangements for the funeral are a private matter for Captain Sir Tom Moore's family and our thoughts are with them."
The statement added, "We will of course consider any requests for support."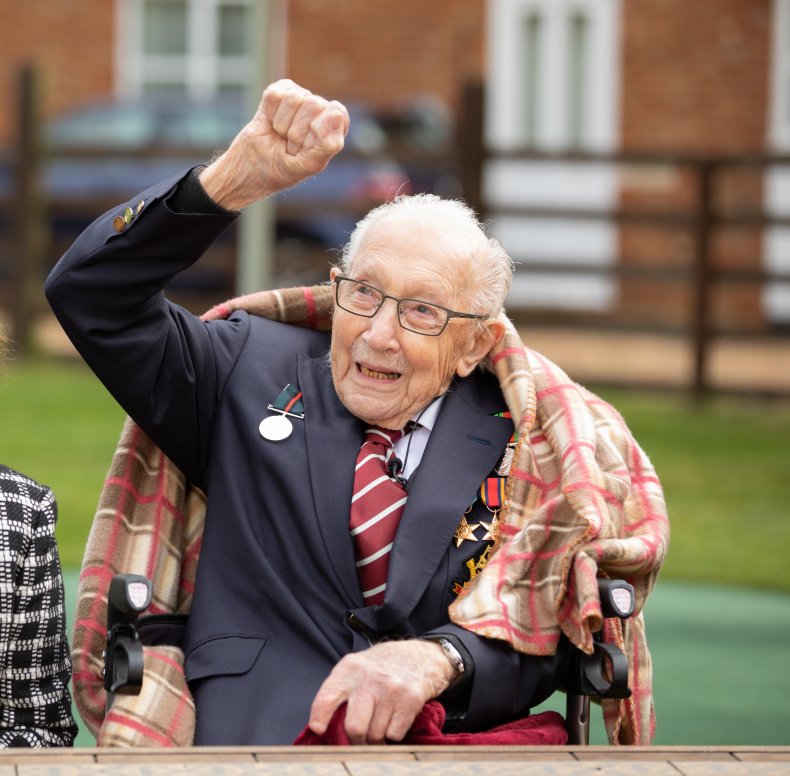 Moore's charity efforts gained attention last spring after he initially attempted to walk the length of his patio garden and raise just £1,000. For three weeks, the world watched in awe as Moore raised millions by reaching his goal of completing 100 laps by his 100th birthday in April.
His efforts have since been widely praised by English royalty and government figures alike.
Among those who donated to his cause were Prince William, who called him a "one-man fund-raising machine," while Prime Minister Boris Johnson and Labour Party leader Keir Starmer called Moore an inspiration to everyone.
In July, Moore was awarded a knighthood for his accomplishments by Queen Elizabeth II, receiving the title Captain Sir Thomas Moore.
The retired army veteran, who served in India and Myanmar during World War II, had exhibited a humble attitude. He called the donations "extraordinary" and "completely out of this world," and continually praised those at the NHS for their hard work.
"It's all for the sake of the nurses and the NHS we have, because they are doing such a magnificent job," he said. "Every penny that we get, they deserve every one of it."
In a statement released after his death, Moore's family said, "The last year of our father's life was nothing short of remarkable. He was rejuvenated and experienced things he'd only ever dreamed of."
The statement added, "Whilst he'd been in so many hearts for just a short time, he was an incredible father and grandfather, and he will stay alive in our hearts forever."
This article has been updated to include a statement by a spokesperson from the U.K government.
Correction 2/5/21: The headline and body of this article was updated to clarify that Captain Tom Moore raised money for health worker charities and not COVID relief funds.