More than 250,000 people have signed a Change.org petition urging the United States Navy to reinstate former Captain Brett Crozier, who was removed from his position aboard the U.S.S. Theodore Roosevelt last Thursday. His firing came two days after a letter Crozier sent to military officials detailing a COVID-19 outbreak among more than 100 of the aircraft's 4,000-plus crew members was leaked to the press. In it an effort to inhibit transmission and "prevent tragic outcomes," he requested additional resources to aid isolation measures.
"Captain Crozier was unjustly relieved of duty of the air craft carrier CVN-71 USS Theodoore Roosevelt on April 2nd 2020. His crime was asking for help regarding the safety of his crew," states the new petition, which has acquired its quarter-million signatures over a period of four days. "His actions possibly saved many lives," it continues. "Although he was fired, his plan to safely remove crew members was still implemented. He is a hero who should be rewarded."
Crozier's firing has been widely criticized since the U.S. Navy announced its decision on April 2. In a statement, the Navy's acting Secretary Thomas Modly denounced the means through which Crozier issued his plea, arguing that the message was dispatched "outside the chain of command" and "over non-secure, unclassified email," despite the ship's access to "some of the most sophisticated communications and encryption equipment in the Fleet."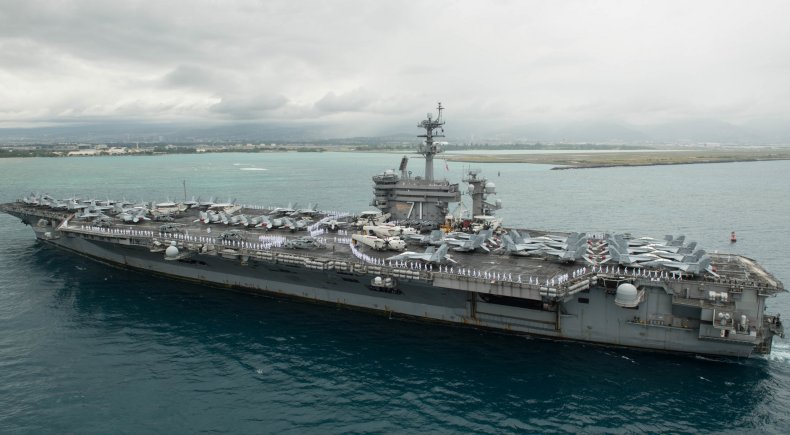 His statement contends that the letter created "unnecessary confusion" and provided "an incomplete picture of American combat readiness to our adversaries," since the Navy had already begun to address the outbreak at the time it was sent.
Modly defended Crozier's dismissal further during a press conference the following day, saying he "lost confidence in [Crozier's] ability to continue to lead that warship as it continues to fight through this virus, to get the crew healthy, so that it can continue to meet its important national security requirements." He said Crozier will be reassigned as an investigation takes place to determine possible disciplinary action.
President Donald Trump addressed Crozier's removal during the White House's Coronavirus Task Force briefing on Saturday, calling the former captain's conduct "terrible." He said his opinions did not impact the Navy's order to remove Crozier from command.
"The letter was a five-page letter from a captain, and the letter was all over the place," Trump told the press room. "That's not appropriate. I don't think that's appropriate."
On April 5, the Navy reported that additional efforts were underway to support the U.S.S. Theodore Roosevelt crew's recovery. Crozier has since tested positive for COVID-19.