36 Jewish Protesters Arrested After Blocking Access to Privately Operated ICE Detention Facility
Thirty-six protesters were arrested on Sunday outside a privately managed ICE detention center in New Jersey, which has been used to hold undocumented immigrants. Those arrested were among dozens of Jews who staged an action at the Elizabeth Detention Center to protest the treatment and detention of undocumented immigrants.
Invoking the Holocaust, demonstrators described to the conditions in which immigrants are being held as concentration camps and spoke of the immigrant children who have died while in ICE care. The protesters traveled from cities including Seattle and Boston to attend the protest, which was organized by a decentralized group of Jewish activists, along with members of the immigrant rights group Movimiento Cosecha.
A spokesperson estimated that as many as 200 people had participated in the action outside the prison, which is managed by Core Civic. The city of Elizabeth said the protesters were "being charged with Obstructing a Public Passageway," had been "issued City Ordinances Summonses" and were being released.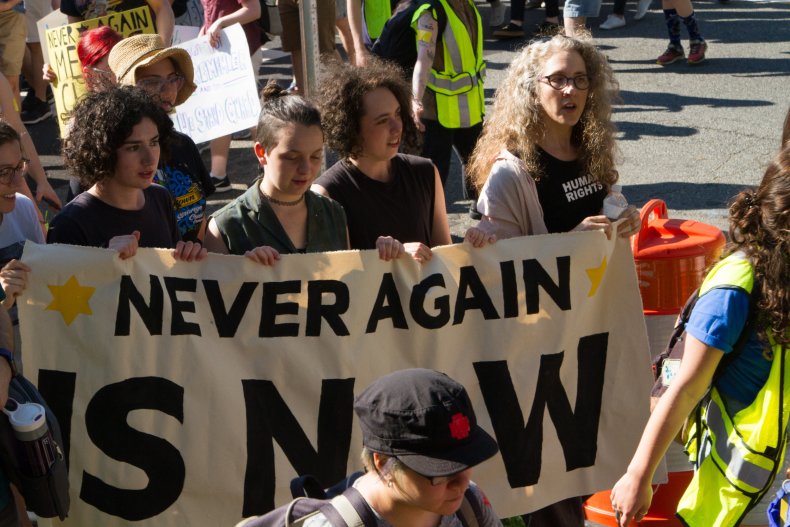 After meeting in Kellogg Park, protesters walked the 1.6 miles to the Elizabeth Detention Center while blowing shofars, holding signs and singing and chanting in Hebrew and English. Approximately 20 police officers, mainly from the Elizabeth Police Department, arrested protesters who were standing across the road, preventing access to staff and visitor parking lots.
Those participating called for "closing the camps" and for the government to abolish ICE. As the police determined how to act, the protesters chanted "which side are you on, my people, which side are you on?"
"One way that we change minds is we, as people who are not being directly targeted, show how [migrant detention] connects to our stories and our history and also show that we're not going to just be silent and let things happen," Hannah Klein, a New York-based activist, told Newsweek. "The more that people step into ally-ship roles, the more that other people can't just pretend that it's not happening."
The protest underscored the activists' frustration with Democratic lawmakers, who they say have been complicit in the immigration policies of the Trump administration. The demonstrators took aim at figures like House Speaker Nancy Pelosi, who just this week capitulated on a bill sending $4.6 billion in aid to the southern border. Pelosi had previously sought to strengthen protections for migrants seeking refuge.
"While Republicans are stoking the flames of white nationalism, Democrats are letting them do it," Brandon Mond, an organizer of the action who traveled from North Carolina, told Newsweek. "We want to hold Democrats accountable — people who say in their words that they're for immigrants but time and time again throw the 11 million undocumented people that already live in this country under the bus."
That frustration with legislators was underscored by criticism of the debate among legislators about whether or not the detainment centers holding undocumented immigrants should be described as concentration camps. After Representative Alexandria Ocasio-Cortez referred to the detainment facilities as such earlier this month, Republican legislators fiercely pushed against the classification.
"Elected officials are spending more time arguing over the language used to describe these conditions than addressing the crisis itself," a press release sent before the protest said. "They claim to speak for us Jews, but they don't. We refuse to allow politicians to use our trauma as a distraction from the mass atrocities being perpetrated by ICE and CBP at the border and across the country."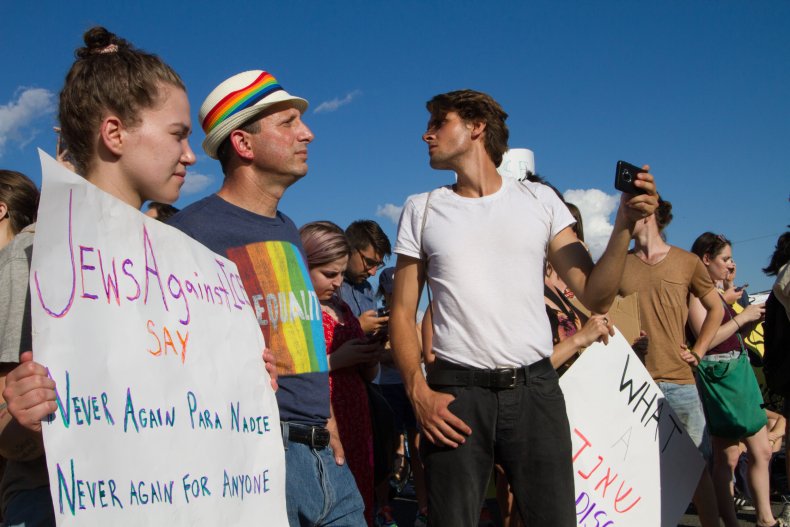 The protest brought together Jews with a range of religious leanings, creating what Alona Weimer, a member of New York 's Yeshivat Hadar, described as an atypical cross-section of attendees for a demonstration.
"All types of Jews want to end the detention," Weimer told Newsweek, noting that many protests are primarily attended by more left-leaning, secular individuals but 20 students from the Yeshivat had attended the protest. "They don't want their activist selves and religious selves to be bifurcated."
Weimer described migrants' detention conditions, which prisoners of the Taliban and pirates have said are worse than those they were kept under, as a motivating force to engage Jews who are sometimes hesitant to engage in public political action.
With that momentum behind them, the organizers are planning additional actions across the country in coming weeks.
The protests will focus attention on the dispersion of detention centers around the country to emphasize that the facilities are not just at the southern border. The Trump administration's immigration policy and reports about poor conditions inside detention facilities have generated concerns about how the nation's two largest private prison companies, Geo Group and Core Civic, operate and their relations with law enforcement agencies. Days ago, Bank of America became the latest large financial institution to say that it would stop lending to detention centers and private prisons.
"The fact is our sole job is to help the government solve problems in ways it could not do alone – to help manage unprecedented humanitarian crises, dramatically improve the standard of care for vulnerable people, and meet other critical needs efficiently and innovatively," Brandon Bissell, a public affairs manager for Core Civic, told Newsweek in an email. "CoreCivic does not know the circumstances of individuals when they are placed in a facility. The company's responsibility is to care for each person respectfully and humanely while they receive the legal due process that they are entitled to."
Update: The title of this article was updated after Elizabeth confirmed 36 protesters had been arrested. This story has been also updated to include comment from Core Civic. It was additionally updated to include comment from a spokesperson for the protesters, who said upcoming protests would focus on the distribution of detention centers across the U.S., rather than just at the southern border. An activist had earlier told Newsweek that future actions would draw attention to immigrant detainment in private detention centers.