Over 40% Of Andrew Yang Supporters Refuse To Support A Democratic Nominee That Isn't Him, Poll Shows
A large portion of Democratic presidential contender Andrew Yang's supporters do not plan to back any other candidate if he fails to garner his party's nomination, according to a recent poll.
The poll by Emerson College, which was released last week, showed that 42 percent of Yang's supporters – or the "Yang gang" as they call themselves – would refuse to support any other Democratic candidate that became the party's nominee. An additional 9 percent said it would depend on the nominee.
Yang's supporters stand out from the rest of the candidates, with a significantly higher number refusing to support another potential nominee. Senator Bernie Sanders supporters have the next highest level, but it's far lower at just 16 percent saying they'd refuse to back a different candidate. But 31 percent of Sanders backers said that it would depend on who the nominee turned out to be.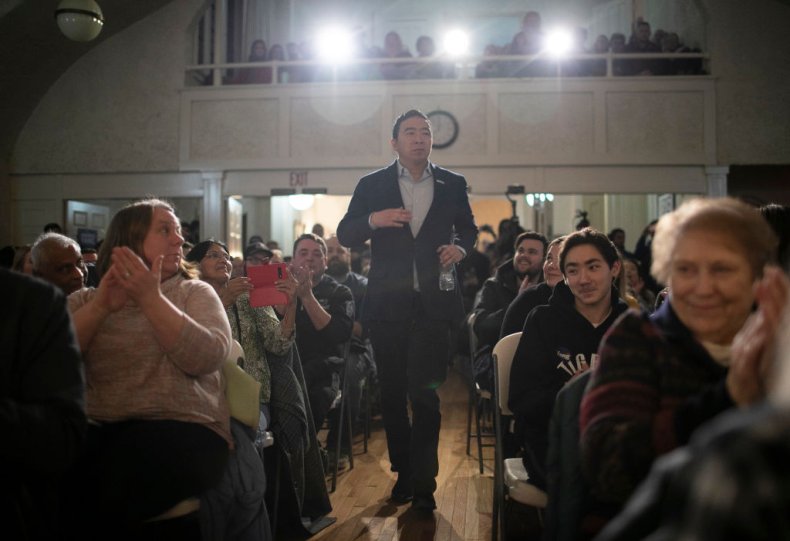 Notably, none of the supporters of Senator Elizabeth Warren and former Mayor Pete Buttigieg said they would refuse to back a different nominee. But 10 percent of Warren's supporters said it would depend on the candidate, while 14 percent of Buttigieg's backers said the same.
Yang placed fourth in terms of overall support with 8 percent, according to the national poll. Former Vice President Joe Biden came in first, with 30 percent, followed by Sanders at 27 percent and then Warren at 13 percent. The results were somewhat different than an average of national polls compiled by Real Clear Politics, which shows Yang in sixth place, with just 4.7 percent. The top four in that aggregate are Biden (27.2 percent), then Sanders (23.5 percent), then Warren (15 percent), followed by former New York City Mayor Mike Bloomberg (8 percent).
Yang, an entrepreneur and political novice who has surged in recent polls, has previously said he supported Sanders back in 2016 when the Vermont senator sought the Democratic nomination in a hotly contested primary against Hillary Clinton. After Sanders lost the in the primaries, Yang said that he voted for Clinton against President Donald Trump in the general election.
Last week, Yang suggested his supporters could back the Vermont senator if he didn't personally succeed in the caucuses and primaries. "I think that Bernie and I do have a lot of overlap in support so it wouldn't be surprising to me if many of our supporters head in that direction," he said.
As the Iowa caucuses take place on Monday, who the lower polling candidates' supporters see as their second choice is likely to have a significant impact on the Democratic winner in the state. Unlike traditional primaries, Iowans physically go to locations across their state and divide themselves into groups backing their candidates of choice.
After a first-round tally is taken, any candidate with less than 15 percent support – the threshold in most precincts – is considered not to be viable. All of those candidates' supporters must then redistribute themselves to contenders that were above the threshold, or choose not to affiliate with any candidate.