Over 8,600 Russians Requested U.S. Asylum in 6-Month Period
From August 2021 to January 2022, more than 8,600 Russians sought asylum in the United States on its shared border with Mexico.
Though sweeping sanctions from the U.S. and Europe have made the situation in Russia direr, the number of Russian asylum seekers in the U.S. was already increasing before Russian President Vladimir Putin launched his attack on Ukraine. The number of asylum seekers in the six-month period was 35 times more than the 249 seen during the same time period a year prior, according to U.S. Customs and Border Protection (CBP).
The soaring numbers of Russian refugees likely precede an even steeper increase following Russia's invasion of Ukraine. While the severe western sanctions against Russia are more so targeted at its leadership than civilians, that hasn't stopped citizens from suffering the consequences.
As the value of the ruble plummets due to economic sanctions, Russians have begun exchanging their money for cryptocurrencies. Russians are also seeing a crackdown on anti-war demonstrations across the country, with swift arrests of protesters.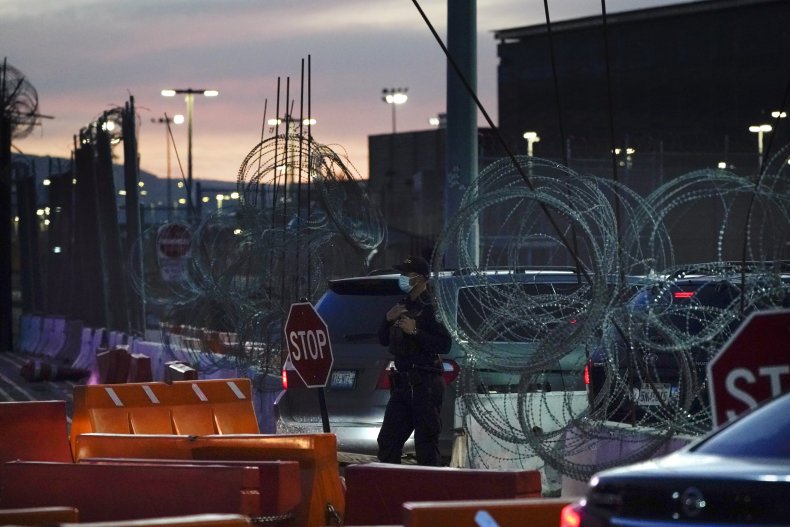 Mexico has become a commonly used route for Russian asylum seekers to make their way to the United States because, unlike the U.S., Mexico does not require visas in order to visit. Many opt to fly from Moscow to Cancun, then find a car in Tijuana to reach a border crossing, according to the Associated Press.
Russian asylum seekers aren't the only residents of former Soviet Union member nations to use the route, but the number of Russian migrants is higher, the AP reported.
Of the Russians who sought asylum on the U.S. border in the six-month period, nine in 10 used official border crossings in San Diego, California. At San Diego's San Ysidro border crossing, about 30,000 cars travel into the U.S. every day, according to the Bureau of Transportation Statistics.
Migrants approaching the U.S. border have to reach a buffer zone between rows of reflector bumps and inspection booths in order to claim asylum in the U.S. They can face a potential roadblock by U.S. officers on Mexico's side of the border who look into the cars and halt vehicles they are wary of, the AP reported.
Maksim Derzhko, who crossed with his 14-year-old daughter in August, told the AP that it was a "very scary moment" as they approached an officer before the U.S. border.
Though he was ultimately released to the U.S. to seek asylum with his daughter, he said that the emotions he experienced at that moment were "hard to put into words."
"It's fear. The unknown. It's really hard. We had no choice," he said.
Newsweek reached out to U.S. Customs and Border Protection for comment.
Update 03/14/22, 1:20 p.m. ET: This story was updated with additional information.
Update 03/14/22, 12:45 p.m. ET: This story was updated with additional information and background.