Over Half of People Want to Keep Working From Home Despite Feeling Less Connected to Coworkers
Over 50 percent of Americans want to continue working from home after the pandemic ends, despite negative consequences such as losing connection with coworkers and experiencing at-home disruptions, according to a new report by the Pew Research Center.
In the study released on Wednesday, researchers surveyed the experiences of 5,858 U.S. adults who have been working either part-time of full-time throughout the pandemic.
Among those who have started working remotely, 54 percent reported that they want to continue working from home after the coronavirus outbreak ends. Those with positive work-from-home experiences said they now have more flexible working hours, and roughly 75 percent stated that their transition to telework has been easy.
Additionally, over 38 percent of new teleworkers have stated it's become easier to balance family responsibilities with work life given the opportunity to work remotely.
"Relatively few employed adults who have jobs that can be done remotely were working from home on a fairly regular basis before the coronavirus outbreak. Now, a large majority are doing so. And, perhaps more importantly, a majority say they'd like to continue doing this after the pandemic is over," Kim Parker, director of social trends research at Pew, and an author of study, wrote in an email to Newsweek.
"For most, the transition to telework has been relatively seamless: Majorities say their productivity and job satisfaction haven't changed much since they started working from home," she added.
But working from home has its downsides, too.
Over 65 percent of respondents who have transitioned to a work-from-home environment said they now feel less connected to their coworkers. To keep in touch with them, more than 80 percent said they use videoconferencing services or messaging boards.
The transition to remote work has also affected certain populations differently: Younger workers reported feeling less motivated when working remotely compared to their older counterparts, while parents with children younger than 18 years reported having more disruptions throughout their day.
"In general, having children at home both stresses out the workers and their productivity. The quality of their work may decline because they're trying to do too many things over too long a period of time," said Carl E. Van Horn, director of the John J. Heldrich Center for Workforce Development at Rutgers University, in an October interview with Newsweek.
The shift to remote work has been dramatic in the 10 months since the pandemic took hold in the U.S. According to study conducted by Stanford University in June, 42 percent of the U.S. labor force was by then working from home full-time.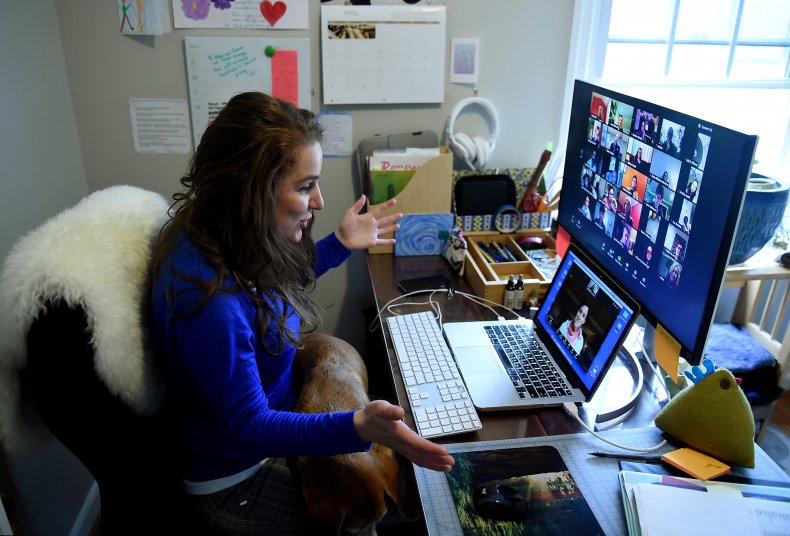 With remote work becoming "the new normal," large companies such as Microsoft are now offering employees the permanent option to work from home. Experts have warned this could lead to economic challenges for businesses in areas surrounding a larger company's offices.
"When you go to the community around it, that is potentially devastating," Van Horn told Newsweek. "In many places, the businesses grow up almost across the street from the mothership, and then no one's coming there anymore, going to and from work, or during work or lunch time. That's a big problem."
The pandemic has also highlighted disparities between those who are privileged enough to work from home, and those who are not.
"There's a clear class divide between workers who can and cannot work from home. While a majority of upper-income workers can do their work from home, most lower- and middle-income workers cannot," Rachel Minkin, a research associate for social and demographic trends, and an author of the study, wrote to Newsweek.
According to the Pew study, 76 percent of lower-income individuals say they cannot work remotely, while 56 percent of upper-class individuals reported that they can.
Additionally, the study found that a majority of adults with a postgraduate degree (68%) or bachelor's degree (58%) reported that their work can be conducted mostly from home, while 83 percent of those with a high school diploma or less reported being able to do so.
At least half of those who have not been able to work remotely reported feeling concerned about being exposed to COVID-19 from their coworkers, or accidentally exposing others to the virus.
So far, over 15 million Americans have been infected with COVID-19, and more than 285,500 have died, according to data from Johns Hopkins University.