'Overwatch' Tracer Comic Challenge Event is Live! Here's How to Unlock Everything
A brand new event featuring Tracer in the massively popular Overwatch is now live featuring a brand new skin, paints and more.
The Tracer Comic Challenge event celebrates the release of a brand new Overwatch comic in conjunction with Dark Horse Comics. The five-issue series titled "London Calling" features a young Tracer on the streets of London and is written by Mariko Tamaki and drawn by Babs Tarr.
The first issue is available for free on the official Overwatch site, and the subsequent issues will be released monthly.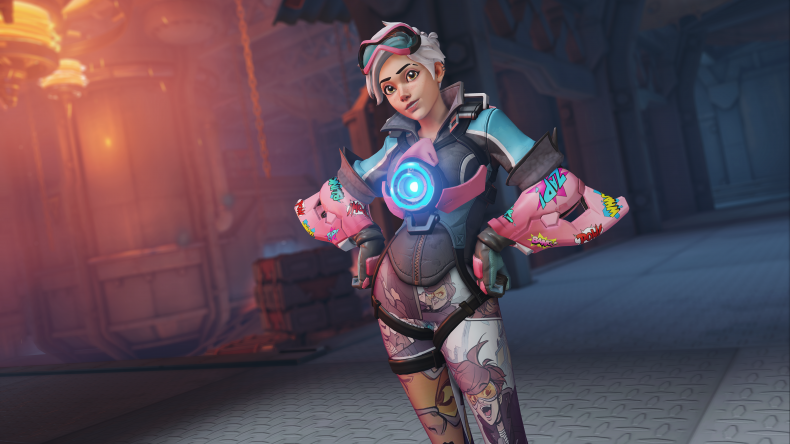 Fans of Overwatch lore will want to read this comic series as it focuses on King's Row, a popular stage in the game. In the story, Tracer will come into contact with the Omnics of the London Underground.
As a refresher, the Omnics are a type of artificial intelligence that were built for helping humans, but the Omnica Corporation began building Omnics with weapons and Overwatch would eventually step in to stop it.
However, the relationship between Omnics and humans are rocky especially after Widowmaker's actions in the animated short, "Alive." This comic will show more of how the Omnics feel after that event.
You can listen to Overwatch lead Jeff Kaplan explain the Tracer Comic Challenge and what to expect from the comic book series in a special YouTube video.
As for how you earn this special Tracer skin, it's rather simple. Players can earn three separate rewards for winning matches in Quick Play, Competitive Play or Arcade. Three wins will earn a new Player Icon, a sixth win will earn a new Spray and winning nine matches will grant the player an Epic Tracer skin based on the new comic.
There's also another initiative that Overwatch is having with Twitch streamers during the event. If you tune into any Twitch streamer playing Overwatch from now through September 28, players can earn three Tracer's Comic Challenge sprays.
Players will earn three new sprays, one ever two hours. So if you have some extra time the next few weeks, hunker down and watch some Twitch streamers for up to six hours to earn these new cosmetics.
Overwatch is available now for PS4, Xbox One, PC, Nintendo Switch and Google Stadia.
What do you think of the new Overwatch event? Who do you want to see show up in the new comic book series? Let us know in the comments section.