Packers Knock Off Rams to Set Up Epic QB Matchup in NFC Championship Game
Aaron Rodgers threw for a pair of touchdowns and ran for another score as the Green Bay Packers defeated the Los Angeles Rams, 32-18, Saturday in the NFC Divisional round at Green Bay.
The Packers looked like a complete team, clicking in all phases of the game. Aaron Jones had 14 rushing attempts for 99 yards and a touchdown, including a big 60-yard run in the first half. Rodgers completed 22-of-35 passes for 288 yards and touchdown passes to Davante Adams and Allen Lazard. Rodgers also had a 1-yard scramble for a touchdown when he used a pump fake to send a defender leaping into the air, allowing Rodgers to scoot into the corner of the end zone.
The Packers will host the NFC Championship next Sunday (1/24) against the winner of tomorrow's game between the New Orleans Saints and Tampa Bay Buccaneers. That means the NFC title game will have Aaron Rodgers against either Drew Brees (Saints) or Tom Brady (Buccaneers).
The Packers beat the Saints in New Orleans this season, but lost to the Buccaneers in Tampa Bay.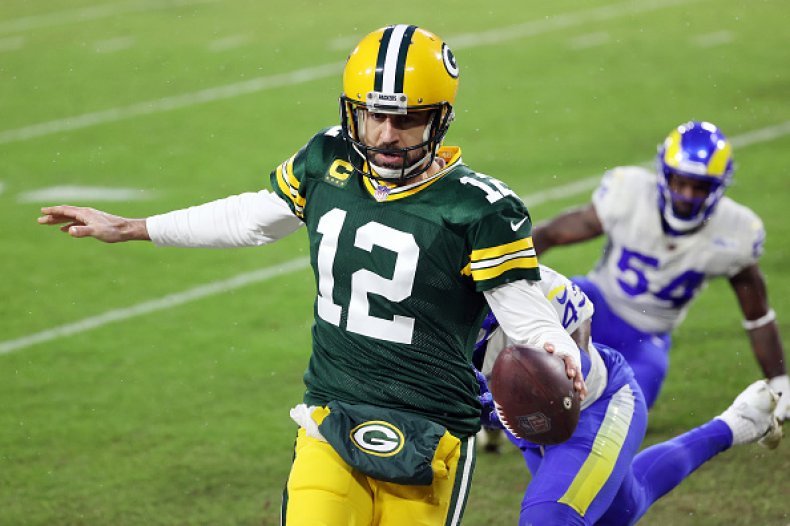 The Packers have the No. 1 offense in the NFL, and they looked to face a big challenge Saturday against the Rams, who entered with the top-ranked defense in the league.
Green Bay (13-3) sliced and diced the Rams defense, moving the ball at will during the first half while mounting a 19-10 lead by halftime. The Packers had 28 total first downs in the game, ran 20 more plays than the Rams and had an overwhelming possession advantage (36:12 to 23:48).
The Packers, which have home-field advantage throughout the NFC playoffs because of their top record, had the conference's only first-round bye last weekend.
The Saints will host the Buccaneers on Sunday evening at the Mercedes-Benz Superdome in New Orleans. The Saints swept the Buccaneers in regular-season games during weeks 1 and 9. The game is scheduled to kickoff at 6:40 p.m. ET, and can be seen on Fox.
Rodgers became the odds favorite to win the NFL's Most Valuable Player award this season after passing for 4,299 yards and and 48 touchdowns with just five interceptions.
The Packers, who lost in the NFC Championship last season at San Francisco, last played in Super Bowl XLV following the 2010 season. Green Bay defeated the Pittsburgh Steelers, 31-25, in that game. The Packers have won four Super Bowls in franchise history.
The NFC Championship will be Sunday, January 24, at Lambeau Field in Green Bay. Kickoff is set for 3:05 p.m. ET on the Fox network. The AFC Championship will be later that night at 6:40 p.m. on CBS.