'Painful': George Floyd's Family's Attorney Decries Ex-Cop Derek Chauvin's Release from Custody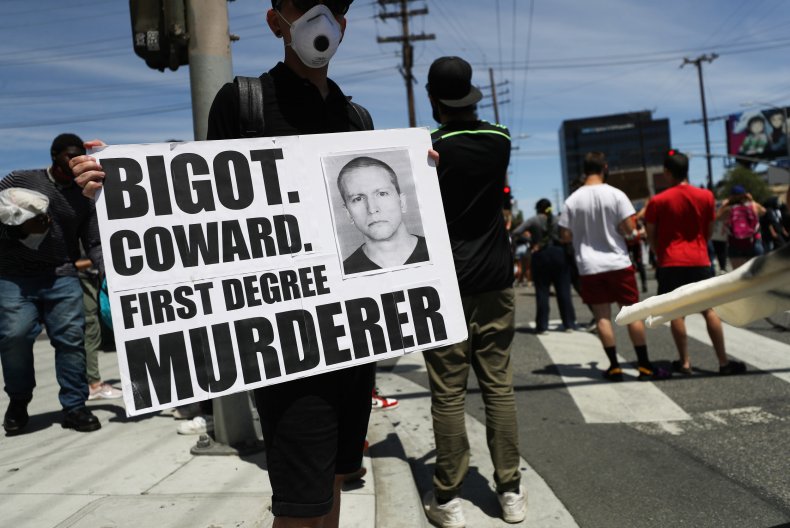 The release of former Minneapolis police officer Derek Chauvin on Wednesday was called a "painful reminder" for the family of the man he is accused of killing, George Floyd.
Ben Crump, the attorney for Floyd's family, made the remarks after Chauvin, 44, was released while posting bond on Wednesday. Chauvin, who is white, is facing murder and manslaughter charges in the death of Floyd, who was a Black man. The former officer was captured on video pressing his knee against the neck of Floyd for nearly 8 minutes as Floyd protested that he could not breathe before dying on May 25.
"Derek Chauvin's release on bond is a painful reminder to George Floyd's family that we are still far from achieving justice for George," Crump said in a statement obtained by Newsweek. "The system of due process worked for Chauvin and afforded him his freedom while he awaits trial."
"In contrast, George Floyd was denied due process, when his life was ended over a $20 bill," he continued. "There was no charge, no arrest, no hearing, no bail. Just execution. Although George Floyd was denied justice in life, we will not rest until he is afforded full justice in death. The civil litigation team looks forward to our day in court."
Chauvin was released from the Minnesota Correctional Facility at Oak Park Heights just before 11:30 a.m., according to the Hennepin County Sheriff's Office. He was released after a bail bonds agency posted 10 percent of the bond amount, $100,000, on his behalf.
It is not clear whether Chauvin had financial help paying the bond. Self-described Christian crowdfunding site GiveSendGo is hosting a bail fundraiser for Chauvin, although it had only reached $4,565 of a $125,000 goal as of Wednesday evening.
Chauvin's bond was set at $1 million in June, with conditions that include surrendering his firearms, not leaving the state or contacting Floyd's family and not working in law enforcement or as a security guard while awaiting trial. Chauvin also had the option of an unconditional $1.25 million bond.
Mass protests against police brutality and racial injustice, which have taken place this year throughout the U.S., and around the world, began shortly after Floyd's death. Minnesota Governor Tim Walz activated the Minnesota National Guard in anticipation of the possibility that Chauvin's release could ignite violence by further inflaming protests.
The three other officers charged in the death of Floyd have also been released on bond, in the amount of $750,000 each. The trial of the four ex-officers is currently scheduled to begin in March.
Newsweek reached out to Chauvin's attorney for comment.