I acquired Palmer's Bar a couple of years ago. I just celebrated my two-year anniversary as owner, but we've been closed since March because of the COVID-19 pandemic. I woke up and had a good cry that morning. The bar is still shut down, it's a very weird time.
And then these riots started a few nights ago, it's heartbreaking. George Floyd was a bouncer at a bar not far from here. I didn't know him, but I know people that did know him and worked with him over the years. Everyone's hurting.
We all saw that video and had the same reaction. It was heartbreaking.
But now with the riots and the looting—though I don't often discuss race or get political—I felt I had to write a "Black Owned Business" sign on Palmer's Bar.
Every business owner says their place is special, but Palmer's really is. It's a community place, and it's been a home to a lot of waywards over the years. It's one of the most legendary dive bars in the Twin Cities. It's got a lot of heart and I'm sure as hell honored to be its current babysitter.
This bar has been here since 1906, and it's survived the Spanish Flu pandemic, two World Wars and President Trump, so far. I just figured, let me try. Because while it's an historic bar and well loved, but a bar just a mile from here that has been around since 1934, the Hexagon Bar, just burned to the ground.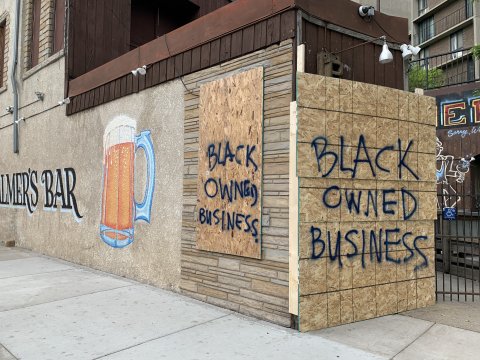 Palmer's is about a mile and a half, maybe five minutes by car, from the 3rd Police Precinct that burned down and the center of the riots. And we are around three miles away from 38th Street and Chicago Avenue where the George Floyd incident happened.
I woke up at 6.30am on Friday, and a pawn shop that's on the same street as my bar, about two or three blocks from here, was fully engulfed in flames. I could see the smoke from my apartment so I ran down to Palmer's, but thankfully at the moment all is quiet here, on what is called the West Bank of Minneapolis.
I don't expect an angry mob to come down the street, but rioters are just hitting places at random now. We're located in a neighborhood called Cedar-Riverside, it's an old hippie neighborhood, but now it's got a strong Muslim community. I actually share a wall with a Mosque—where else in the world is there a bar attached to a Mosque?
I'm hoping that because it's largely a minority area, they won't mess with us down here. But it's a busy road, and a main thoroughfare.
I'm not a go down with the ship guy, it's bricks and mortar, it's a building, and I'm not a violent person. But if people came by I would just want to be there in front and just say please. Because I haven't even had a chance to really blossom as a bar owner. This is a chance of a lifetime for me and to be going through all of this is devastating.
It's hard to see and grasp these riots—what are we doing to our city? I cried watching the Five O'Clock news the other day. I've never cried watching the news in my life. Just seeing our Mayor, broken and devastated, it got to me.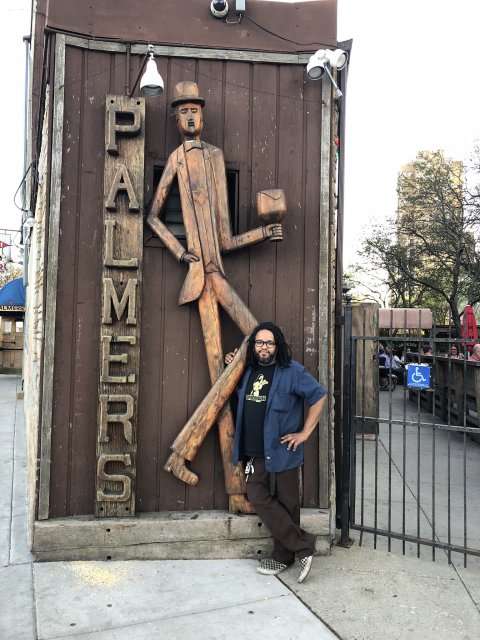 But I'm not surprised because we've had a couple of incidents in Minneapolis the last few years. There was the case of Philando Castile being shot dead by a police officer here in 2016, that was a big agitator for the city. I think the death of George Floyd, along with the anger over the Ahmaud Arbery death in Georgia, and on top of that COVID-19—people are just bubbling.
There's tension about stores, bars and restaurants being closed, people are stuck at home not working and it just exploded.
I'm fully in support of people protesting, having their right to speak and to voice their frustration, because I'm frustrated too. I think the only thing I can do is ask people to be careful about who they are attacking. I love Target, but they can rebuild, they have plenty of money, I don't.
There are people who are spray-painting, but it's just spray paint. There's "F*** The Police" all over the place in south Minneapolis, that's fine. But people who are opportunists and looting are ruining the protests.
Just think of what you're doing when you're doing it. It's just me here, I'm a 42-year-old black kid—because I still feel like a kid—and this bar is me, it's my dream and my whole life.
Tony Zaccardi is the owner of the legendary Palmer's Bar in the Cedar-Riverside neighborhood of Minneapolis. He has lived in Minneapolis his whole life, and owning a bar has always been his dream.
All views expressed in this article are the writer's own.
As told to Jenny Haward.