Pair Held in Fatal Shooting of Memphis Rapper Young Dolph
A pair of men have been arrested in connection with the fatal shooting of 36-year-old Memphis rapper Young Dolph this past November, officials in Shelby County, Tennessee, said Tuesday.
Justin Johnson, 23, was named as a suspect in the rapper's death this past Thursday. The Memphis Police Department issued a warrant for Johnson's arrest and announced a $15,000 reward for information that would lead to his capture.
As part of a coordinated effort with the U.S. Marshals, police found Johnson in Indiana and took him into custody, the Shelby County District Attorney's Office said in a statement. Law enforcement added that a press conference on the incident would take place Wednesday morning.
Authorities stated that "Johnson ... announced on social media recently that he planned to turn himself in on Monday (Jan. 10), but that did not happen."
Charges against Johnson have not been announced, although the warrant for his arrest was issued on a first-degree murder charge.
In addition to Johnson, the Shelby County District Attorney also announced that a second suspect was in custody in connection to Young Dolph's death. Cornelius Smith, 32, was arrested Dec. 9 on an auto-theft warrant, accusing him of stealing a 2014 Mercedes days before the shooting.
Smith now faces a charge of first-degree attempted murder, accused of firing a weapon toward Young Dolph's brother in the shooting. He is additionally facing felony firearms and theft charges.
The shooting occurred Nov. 17 outside of a Memphis-area bakery, according to the authorities.
Young Dolph and his brother were reportedly standing outside of the store, known as Makeda's Homemade Cookies, when the rapper was shot and killed. Young Dolph was picking up cookies for his mother when the attackers ambushed them.
Witnesses reportedly saw the gunman emerge from a white Mercedes similar to the one that Smith is charged with carjacking.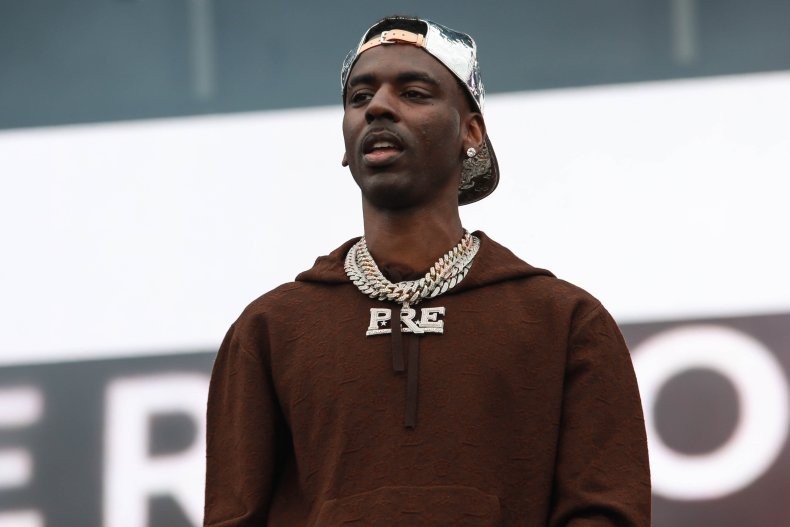 However, it remains unclear if any specific events or actions preceded the shooting, or if the two suspects were connected to Young Dolph in any way.
The act shocked the rap and music world, as the victim was one of the most high-profile up-and-coming names in the industry.
Born in Chicago, Young Dolph, born Adolph Robert Thornton Jr., moved to Memphis when he was 2 years old and came from a musical family. Rapper Juice Wrld was his second cousin, and he was also the father of two young children.
Young Dolph made his way through the local Memphis rap scene, releasing his first mixtape in 2008, and his music soon became well known outside of the area. His collaborative 2019 album with Key Glock, "Dum and Dummer," peaked at No. 8 on the Billboard 200 chart.
This was followed by a 2020 solo album, "Rich Slave," which became Young Dolph's highest-charting solo venture, peaking at No. 4 on the Billboard 200.
Young Dolph's death was not the first time that he had encountered violence.
In 2017, the rapper was shot outside of a store in Los Angeles and sustained significant injuries from three gunshot wounds, although he made a full recovery.
Newsweek has reached out to Young Dolph's agent for comment.