Pakistan Says It Will 'Fight to the End' If War with India Starts Over Kashmir
Pakistani Prime Minister Imran Khan reiterated his plea for international support against India's recent actions in disputed Kashmir, warning that a conflict between the two nuclear-armed states could have unforeseen repercussions.
Addressing the United Nations General Assembly in New York, Khan railed against India's decision last month to remove the special semi-autonomous status of its share of Kashmir, a contested territory that has been the subject of at least three conflicts and the site of an ongoing skirmishes between the longtime rivals. Indian Prime Minister Narendra Modi has since placed the restive, majority-Muslim state on lockdown, with reports of growing unrest and human rights abuses emerging.
"What is going to happen when the curfew is lifted will be a bloodbath, the people will come out, there are 900,000 troops there," Khan said, warning that his country would be blamed for any blowback, potentially starting a deadly chain reaction.
"If a conventional war starts between the two countries anything could happen," Khan said. "But supposing a country seven times smaller than its neighbor is faced with the choice: either you surrender, or you fight for your freedom till death, what will we do? I ask myself this question and my belief is la ilaha illallah, there is no god but one, and we will fight. And when a nuclear-armed country fights to the end, it will consequence far beyond the borders."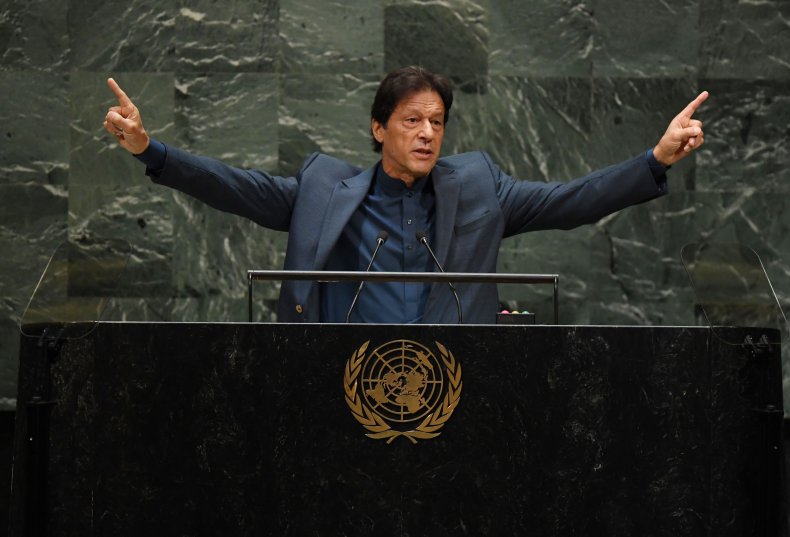 The night before, Newsweek got a preview of Khan's speech during a talk at the Asia Society. The former Cricket World Cup champion told the audience that "I've never seen anticipation for anything like my speech tomorrow at the United Nations General Assembly, the closest feeling I've had in the past was before the Cricket World Cup final 1992."
The Pakistani leader has led a worldwide campaign to raise awareness of the Kashmir issue since India's repeal of Articles 370 and 35a regarding Kashmir's status, an unresolved issue subject both to United Nations Security Council resolutions and bilateral agreements between the Islamabad and New Delhi. The countries have been at odds since their establishment following a bloody 1947 partition at the hands of their departing U.K. colonizer and saw one of their most serious flare-ups as recently as February.
Following a suicide attack that killed 40 Indian security forces personnel in Pulwama in India-administered Kashmir, the Indian military conducted cross-border strikes against what it said were training camps for the Pakistan-based group that claimed responsibility for the operation. Pakistani jets retaliated with strikes and a dogfight ensued in which India lost at least one aircraft, its pilot captured by Pakistan.
The pilot was returned to the Indian side in what Khan has said was a gesture for peace, but Modi has regarded the move as simply a matter of international law, which Pakistan claims Modi broke with his unilateral actions in India-administered Kashmir. While Islamabad has appealed for international intervention from the likes of the U.S., Europe and the U.N., New Delhi has said anything pertaining to Kashmir could only be settled bilaterally.
As Newsweek had anticipated, Modi did not mention Kashmir or Pakistan in his own General Assembly address. He did, however, say it was "absolutely essential for the world to unite against terrorism," something he's repeatedly accused Islamabad of supporting.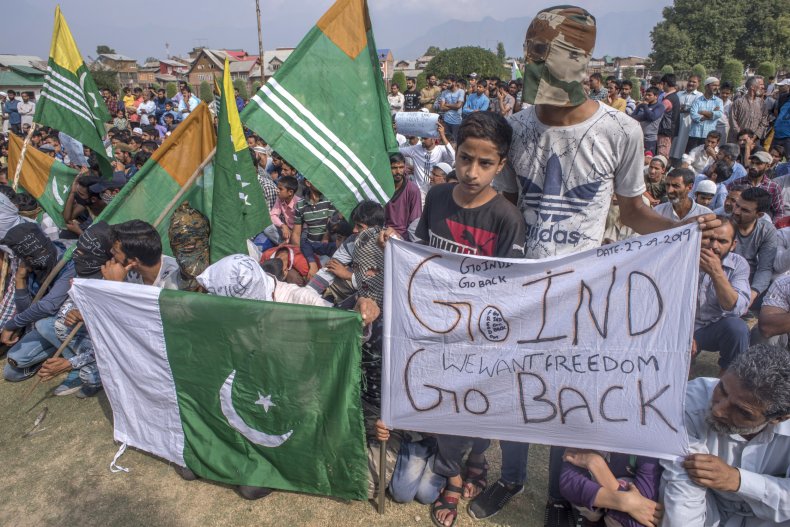 Though Trump has expressed interest in mediating between India and Pakistan, he also made no mention of heightened regional tensions during an unprecedented joint rally with Modi in Houston on Sunday. The two men touted one another's friendship and jointly denounced "terrorism," which Trump has also accused Pakistan of backing.
Asked for a reaction to the event, Pakistani Foreign Minister Shah Mahmood Qureshi told Newsweek earlier this week that "it's politics, they're both playing politics." He added: "President Trump is going to be running elections in 2020 and he understands there's a sizeable Indian vote in the U.S., they are big donors. Similarly, Indians know that holding a rally with Trump gives them legitimacy for what they have done."
Both Qureshi and Khan, along with other Pakistani officials who have spoken to Newsweek in recent weeks, have beseeched the international community to step in before regional unrest devolves into conflict.
"This is the time to take action, the number one action must be that India must lift this inhuman curfew which has lasted for 55 days," Khan said at the end of his speech Friday. "It must free all political prisoners, and especially those 13,000 boys that have been picked up, parents don't know where they've disappeared, and then, the world community must give the people of Kashmir the right of self-determination."