Pakistan's FM to Taliban: 'Not Wise to Fight With Women of Your Country'
Pakistan's top diplomat has cautioned the Taliban against pursuing oppressive policies toward women as an international outcry continues over restrictions against female education in neighboring Afghanistan.
"I think that the government in Afghanistan will soon find that it is not wise to fight with the women of your own country," Pakistani Foreign Minister Bilawal Bhutto Zardari said Friday in response to a question at a press conference on the sidelines of the United Nations General Assembly in New York.
"And the women of Afghanistan are truly brave, resilient women," he added. "They have had to be too brave for far too long. But honestly, this is a topic that we don't give up on. This is something on which we consistently engage with the interim Afghan regime."
Noting that there is limited access to education for women on certain levels, Bhutto Zardari said Pakistan sought universal access in Afghanistan.
"While there is access to female education at the primary level, or at the tertiary level, segregated education," he said, "we do hope to see the day that secondary education is also allowed for women and girls in Afghanistan."
And while much of the pressure against the Taliban's practices has come from Western countries, Bhutto Zardari insisted that "this is not an issue for the West."
"This is not an issue for America, for the United Kingdom, for the European Union," he added. "This is an issue for the Islamic world and Muslim women across the Islamic world who have been granted their rights by their religion, and we should not compromise on their rights."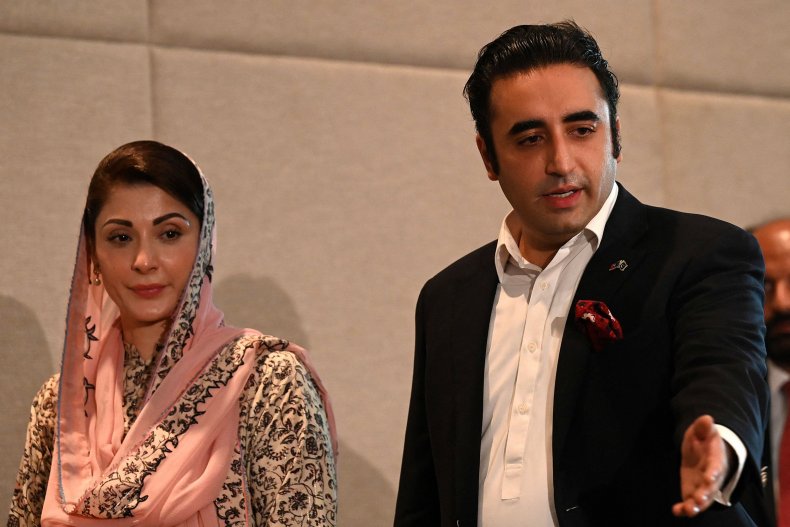 Bhutto Zardari has made waves as Pakistan's youngest-ever foreign minister and the latest to rise from an influential political family that includes premiers and presidents on both sides. His mother, former Pakistani Prime Minister Benazir Bhutto, became the first female leader in the Muslim world and served two non-consecutive terms in the 1980s and 90s.
She was assassinated in 2007, leaving her then-19-year-old son to chair the powerful Pakistan People's Party, and her husband to serve as president after elections were held the following year.
Bhutto Zardari was sworn in as foreign minister in April of this year after Prime Minister Shahbaz Sharif was elected in the wake of a no-confidence vote that ousted former Prime Minister Imran Khan. The repercussions of this political unrest continue to resound across Pakistan today, even as roughly a third of the country was hit last month by devastating floods that have displaced up to 33 million people.
And while Bhutto Zardari took the opportunity in New York to address the crisis at home and a need for greater international action on climate change, especially in the developing world, he also emphasized the importance of women's rights, especially among the nations of the Organization of Islamic Cooperation (OIC).
As the current chair of the OIC Council of Foreign Ministers, Bhutto Zardari said he is "trying before our chairmanship expires, God willing, to be able to hold an event under the auspices of the OIC to do with women's rights in Islam."
Late last month, in an Al Jazeera interview aired on the anniversary of the U.S. withdrawal from Afghanistan, Taliban Ministry of Vice and Virtue spokesperson Sadeq Akif Muhajir said that "Islam has given women the right to education, Islam has given women the right to work, Islam has given women the right to entrepreneurship."
"If Islam has allowed it, who am I to ban it," he added.
As for the current obstacles preventing women from such access, Muhajir attributed the issue to a lack of sufficient buildings to segregate male and female students. He said the Taliban was working on a way to create a "safe environment" for women to attend school.
The Islamic Emirate founded by the Taliban in the wake of the U.S. exit from a two-decade war in Afghanistan has yet to receive diplomatic recognition from any country, a break from the previous Taliban administration established 25 years earlier that saw Pakistan, Saudi Arabia and the United Arab Emirates recognize the Islamist group's rule in the era prior to 9/11 and the U.S.-led intervention.
"As far as the interim government's quest to have their government recognized internationally," Bhutto Zardari said Friday, "I believe it would be helpful for them in achieving this goal if they were to live up to their commitments, and not only with the people of Afghanistan and the international community, but all of us in the region."
He said these commitments include those pertaining to "women's rights and women's education" as well as "not to allow the use of their soil for cross-border terrorist activity and some form of, sort of inclusive setup" for the government.
But he said it was also incumbent upon other nations to step up to support Afghanistan to prevent a greater disaster from unfolding, one that would not be conducive to the struggle for women's rights there.
"I understand that it has been a year, but along with the rights issue, we've also seen a deterioration of the humanitarian situation and other violence and the economic situation in Afghanistan," Bhutto Zardari said.
"We dread an economic collapse and my fear is that if the international community does not mobilize, does not live up to what the U.N. secretary-general has been saying about their commitments vis-à-vis the economy in Afghanistan, and we do see a complete and utter collapse of their economy," he added, "then like theocratic, autocratic regimes in the past, rather than an extension of rights for their citizens, we will see a contraction of rights for their citizens."
He said "that is why Pakistan and other countries continue to advocate not only for engagement, but also for a joint effort to ensure in the greatest interest of the Afghan people that we address the economically fragile situation in Afghanistan."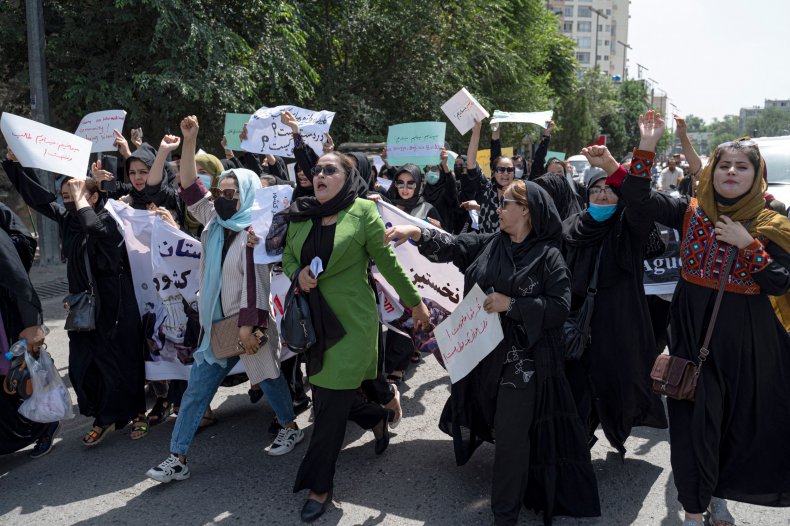 Bhutto Zardari also addressed the women's rights situation in another country bordering Pakistan after being asked about the ongoing protests consuming Iran in the wake of the death of Mahsa Amini, who died last week under unclear circumstances after being detained by the Guidance Patrol, a law enforcement body that polices morality.
"I think that the people of Iran have a long history of protests and democratic struggle," Bhutto Zardari said. "As far as this incredibly tragic incident that you're referring to, I did note that the Iranian—I believe it was the foreign minister—had announced that there would be an investigation into this incident, and I believe that we're looking forward to seeing the results of that."
A day earlier, Iranian President Ebrahim Raisi reiterated his commitment to investigating the incident during his own press conference on the sidelines of the global gathering in New York. Echoing his earlier address to the U.N. General Assembly, Raisi told reporters that Amini's death "must certainly be investigated."
He noted that a coroner's report showed no signs of abuse, but said it was too early to reach a conclusion and that the probe into the matter would continue. As for the nationwide demonstrations, he said these "are normal and fully expected," but "we must differentiate between demonstrations and vandalism."
"Demonstrations are good because certain people may have expressions of opinions they may bring forth on specific issues," Raisi said. "There are things today in the Islamic Republic of Iran that are debated, that in which there exist very different opinions, on political, cultural, social issues."
"There is no problem with opposing certain issues that are unaccepted by some," he added. "But when we get to destruction and vandalism, we must differentiate between legitimate demonstrations and those."