Pakistan's envoy to the United Nations has warned that the possibility of a war between his country and India remains one year after the neighboring rival moved to take total control over a stretch of their disputed border region of Kashmir, a move that also sparked tensions with China.
"I think the risk is real and present of a possible war between India and Pakistan," Pakistani permanent representative to the U.N. Munir Akram told Newsweek. "For Pakistan's part, we have acted with restraint."
Akram described to Newsweek what he said is a human rights situation that is "grave and has become worse over the past year" since India repealed Articles 370 and 35a and revoked the special semi-autonomous status of India-administered Kashmir, instituting a military lockdown to quell unrest in the country's only majority-Muslim state.
He said a deteriorating humanitarian and security situation "could lead to atrocities of genocide and a possible confrontation with Pakistan," pointing to media reports of arbitrary arrest, repression, torture and a concerted effort on the part of the Indian government to shift the demographics of the area.
Human rights groups have also sounded an alarm, with Amnesty International India saying Wednesday that India was "systematically dismantling all avenues for justice for the people of Jammu and Kashmir."
The Kashmir region separates the two nuclear-armed South Asian states and both countries claim it, though each only controls part of it. The United Nations has observed a cessation of hostilities since India and Pakistan's first war in 1947, but the two rivals have fought three more conflicts since then and Akram said last year alone his government registered 3,000 ceasefire violations on India's part.
This year, he said 2,000 have already been recorded.
"It is obvious that things could escalate at any moment, so there is an ever-present danger of war between Pakistan and India," Akram said.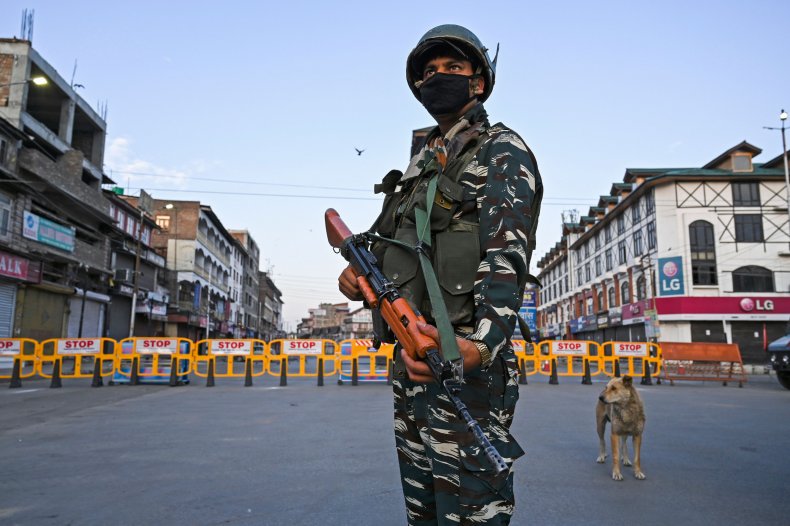 U.N. peacekeepers also reported heat on the ground, where the United Nations Military Observer Group in India and Pakistan (UNMOGIP) has been active for decades. U.N. Peacekeeping spokesperson Stéphanie Coutrix told Newsweek that "the situation remains unpredictable and tense" along the Line of Control separating India and Pakistan.
"The Mission's military observers continue to perform all field tasks and duty travel between field stations," she added. "The obligations of India and Pakistan in respect of UNMOGIP and its activities also remain unchanged."
Heightened tensions spilled across their borders for the first time in decades in February of last year, when India responded to an Islamist militant group attack on troops in Kashmir by striking alleged training camps in Pakistan-administered Kashmir and Pakistan responded with its own strikes. A subsequent dogfight ended with the shootdown of at least one Indian aircraft.
The ties between the two countries, already strained, rapidly deteriorated, collapsing almost entirely after India consolidated control over the share of Kashmir it oversees last August. Newsweek spoke around this time to multiple senior Pakistani officials who warned of the possibility of a military conflict, potentially a nuclear one, as did Pakistani Prime Minister Imran Khan in a series of speeches intended to raise awareness and gain global support for the Kashmir cause.
Few countries have stepped up over the past year, however, with one of the notable exceptions being China, another neighboring nuclear-armed nation holding a border dispute with India. Beijing issued a statement of condemnation in response to India's move on Kashmir as it emboldened India's claims to China-administered Aksai China, which borders India-administered Ladakh.
While ties between Islamabad and Beijing have flourished in recent years, with Pakistan signing on to Chinese President Xi Jinping's global Belt and Road Initiative of infrastructure projects, China's relationship with India has been severely tested. It has been especially strained lately as a series of clashes between India and China at their shared border turned deadly and both sides accused the other of crossing their own contested wartime boundary known as the Line of Actual Control.
Akram said Pakistan was not directly involved in this conflict but pointed out that Aksai Chin was of "strategic importance" to China.
"Bearing that in mind, one has to see who provoked whom. Was China provocative or was India provocative in claiming Aksai Chin?" he told Newsweek. "So therefore now, for India to play the victim I think is rather hypocritical after bragging that it will take over the whole of Jammu and Kashmir including Aksai Chin."
Coutrix said UNMOGIP was "deeply concerned about reports of violence and deaths at the Line of Actual Control (LAC) between India and China on 15 June and urge both sides to exercise maximum restraint," but was also "encouraged by reports that the two countries have been negotiating to deescalate the situation."
Indian and Chinese officials have met repeatedly to defuse the situation, with diplomats from both countries recently emphasizing the need for cooperation with Beijing. On Wednesday, Chinese Foreign Ministry spokesperson Wang Wenbin said China is "highly concerned about the situation in Kashmir" and warned that "any unilateral change of the status quo in the Kashmir region is illegal and invalid."
Still, he hoped that India and Pakistan "will properly resolve differences through dialogue, improve relations and jointly maintain peace, stability and development of the two countries and the region."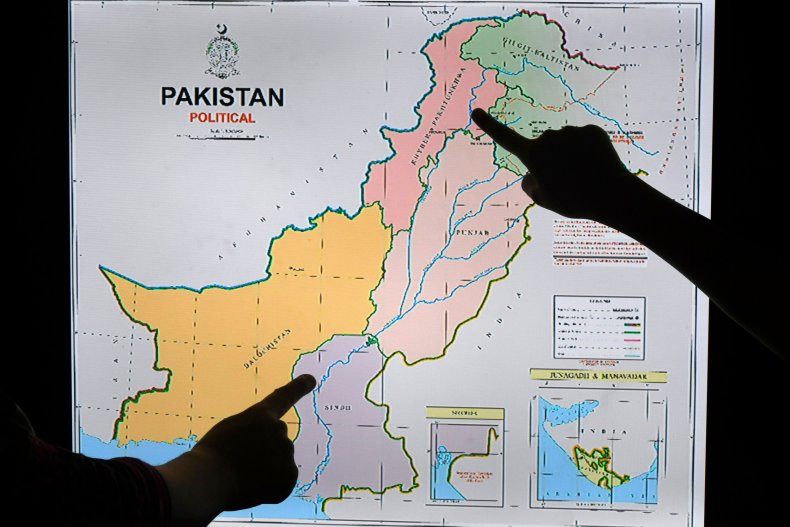 As for Pakistan, Akram said that until Indian officials "rescind the unilateral actions that they've taken, restore the status of Kashmir to what it was before and agree to a natural dialogue where we can explore the possibility of a compromise solution, we don't see any, any movement in space or for bilateral dialogue."
India disputes Pakistan's characterization of the Kashmir conflict, viewing it as part of a campaign to combat a 30-year insurgency that New Delhi links to Islamabad. In an op-ed for Newsweek, Indian ambassador to the U.S. Taranjit Singh Sandhu extolled on Wednesday improvements in the region's economy, healthcare, infrastructure and civil society.
"No longer does Jammu and Kashmir remain sequestered from the many constitutional rights, democratic privileges and empowering legislations—including gender and child-friendly laws—that had progressively been rolled out, over decades, in the rest of India," Sandhu wrote.
Indian Foreign Minister Subrahmanyam Jaishankar tweeted that same day that there was a "transformation underway in Jammu & Kashmir and in Ladakh," listing reforms such as the application of progressive laws, the delivery of social justice, the advancement of women's rights and empowerment, support for vulnerable sections, the expansion of education and employment opportunities and development projects taking shape on the ground.
Indian permanent representative to the U.N. T. S. Tirumurti told New Delhi-based news outlet Asia News International that "it's a well-known fact that Pakistan is the nerve center of terrorism, Pakistan is home to the largest number of listed terrorists internationally-designated terrorist entities and individuals."
But Akram disagreed. "We played by the rules we played by the book, but the book also says Kashmiri freedom is not illegal," he said.
"Therefore it is a legitimate struggle, and we will support it morally, psychologically, politically, etc.," he added. "We have refrained from material support, as an act of responsibility."
This article has been updated to reflect Stéphanie Coutrix works in the capacity of a spokesperson for U.N. Peacekeeping, which oversees the United Nations Military Observer Group in India and Pakistan (UNMOGIP).