Pakistani Demonstrators Burn Donald Trump and American Flag Photos to Protest U.S. Security Aid Cuts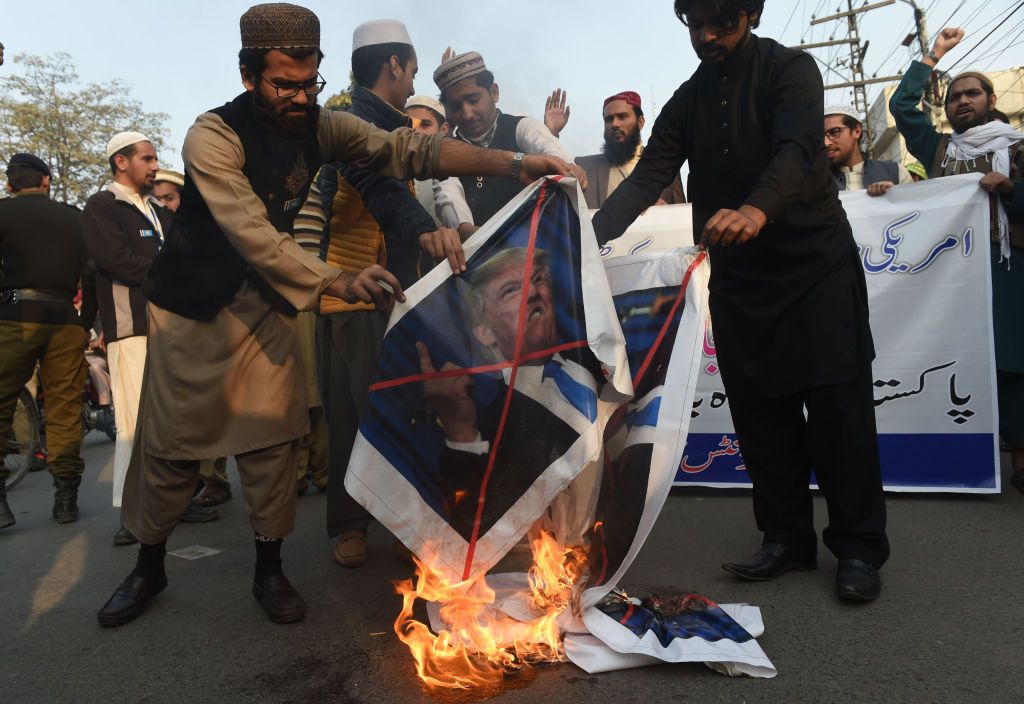 Pakistani children and adult demonstrators burned images of President Donald Trump and the American flag in the city streets of Lahore, Pakistan, on Friday following U.S. cuts to Pakistan's security aid.
Related: Make America less safe again: Will Trump endanger U.S. soldiers by cutting Pakistan funding?
Protestors waved images of Trump and the American flag with red X's slashed through the middle, then set the photos on fire during the demonstration. The rally followed Trump's decision to suspend hundreds of millions of dollars in security assistance to Pakistan over his frustration that the country cannot control terrorist organizations operating in its borders, like the Afghan Taliban and the Haqqani network.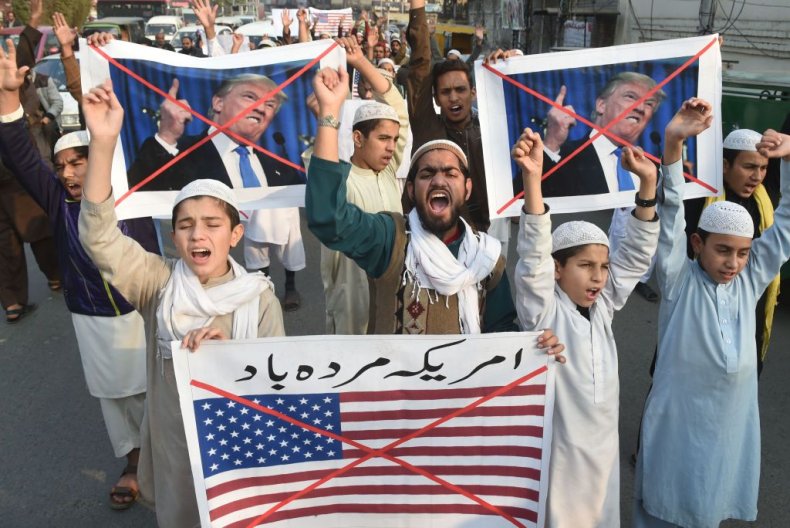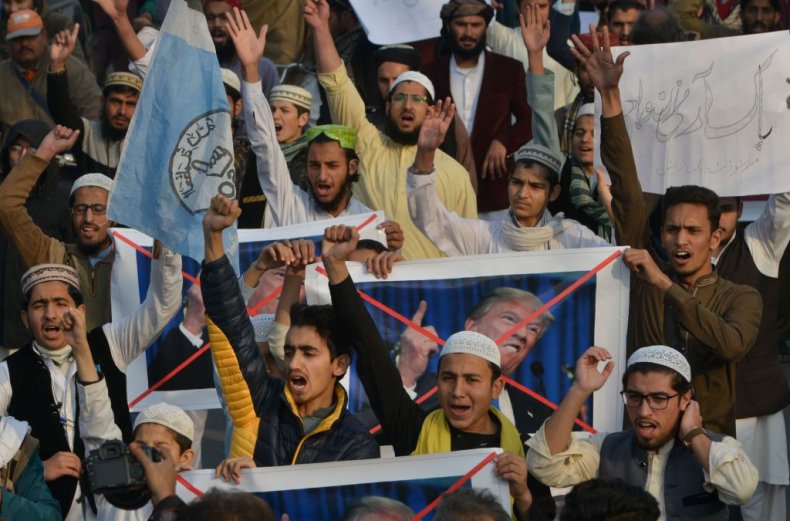 The U.S. decision to cut nearly all American security aid to Pakistan—as much as $1.3 billion in annual defense support—was announced Thursday, but Trump preceded the formal announcement with a Twitter attack on the country Monday. Trump tweeted that Pakistan—long considered a non-NATO ally of the U.S.—had given the country "nothing but lies & deceit, thinking of our leaders as fools. They give safe haven to the terrorists we hunt in Afghanistan, with little help. No more!"
Pakistan's Foreign Minister Khawaja Muhammad Asif wrote on Twitter that Trump is "lying and deceiving" about the amount of money the U.S. provides Pakistan. Trump said on Twitter that the U.S. has provided "more than 33 billion dollars" to Pakistan since 2002—an accurate figure according to The New York Times—but the annual U.S. funding has declined in recent years as tensions have grown over militant groups believed to be based in Pakistan targeting the U.S. military.
On Tuesday, Trump reinforced his statement, saying that Pakistan received "billions of dollars" from the U.S. "for nothing." The president maintains an isolationist stance on foreign aid, believing that the U.S. should only help nations on a strictly reciprocal basis. Trump administration officials said the aid freeze is temporary and may be lifted if Pakistan severs ties with militants and extremist agents, according to The New York Times.
U.S. Ambassador to the United Nations Nikki Haley accused Pakistan Wednesday of playing a "double game for years" by working alongside the U.S. and simultaneously harboring terrorists that attack American troops in Afghanistan.
"That game is not acceptable to this administration," she said. "We expect far more cooperation from Pakistan in the fight against terrorism."
Pakistan's Ambassador to the U.S. Aizaz Ahmad Chaudhry warned that Pakistan is a sovereign country and said accusatory statements by U.S. officials would not help to quell terrorism. Pakistan's Prime Minister Shahid Khaqan Abbasi expressed "deep disappointment" in the statements from Trump, while Pakistani U.N. Ambassador Maleeha Lodhi said Pakistan could "review our cooperation if it is not appreciated" by international allies.
"Recent statements and articulation by the American leadership were completely incomprehensible as they contradicted facts manifestly, struck with great insensitivity at the trust between two nations built over generations and negated the decades of sacrifices made by the Pakistani nation," a statement from the Pakistani Prime Minister's office said.
Civilian development funds and economic assistance to Pakistan were not affected by the U.S. defense cuts.