Bella Hadid, Dua Lipa and the Other Celebs Supporting Palestine Over Israel
A number of celebrities and high-profile voices are speaking out in support of Palestinians amid rising tensions in the region.
Tensions are soaring over a delayed Israeli court ruling on whether authorities can evict several Palestinians from their homes in the Sheikh Jarrah neighborhood, outside the Old City, to make room for Jewish settlers.
A wave of Israeli airstrikes on Gaza has now taken place as violence raged on into this morning.
Palestinian militants have fired more than 300 rockets towards Israel since Monday night, injuring 31 Israelis, the BBC reports, while Israel says its airstrikes on Gaza have hit 130 targets, with 24 Palestinians reportedly killed.
More than 700 Palestinians were hurt in clashes, while six Israeli civilians were hurt by rocket fire, per AP.
Amnesty International has criticized Israel's handling of the unrest.
Saleh Higazi, Amnesty's deputy director for the Middle East and north Africa, said: "Evidence gathered by Amnesty International reveals a chilling pattern of Israeli forces using abusive and wanton force against largely peaceful Palestinian protesters in recent days."
Israeli Prime Minister Benjamin Netanyahu said that "terrorist organizations in Gaza have crossed a red line and attacked us with missiles in the outskirts of Jerusalem."
In a series of Instagram Stories, American-Palestinian supermodel Gigi Hadid expressed her frustration as violence has followed the threatened eviction of Palestinian families from the Jerusalem neighborhood.
Hadid shared the work of an artist with the quote: "You Will Not Erase Palestine."
Hadid also shared a post explaining the rising tensions by journalist and activist Noor Tagouri.
"We should all unequivocally agree that suddenly being kicked out of your family home, the homes you've built lives in, by a military state, is criminal and inhumane," the post reads in part.
"This is not a religion thing," Tagouri continues. "Even if that is what you have heard, it has never been a religion thing. The story sounds better that way. This is a political thing. One that deserves resolution for both Palestinians and Israelis."
Gigi's sister Bella Hadid shared some of the same posts to her own Instagram stories this week.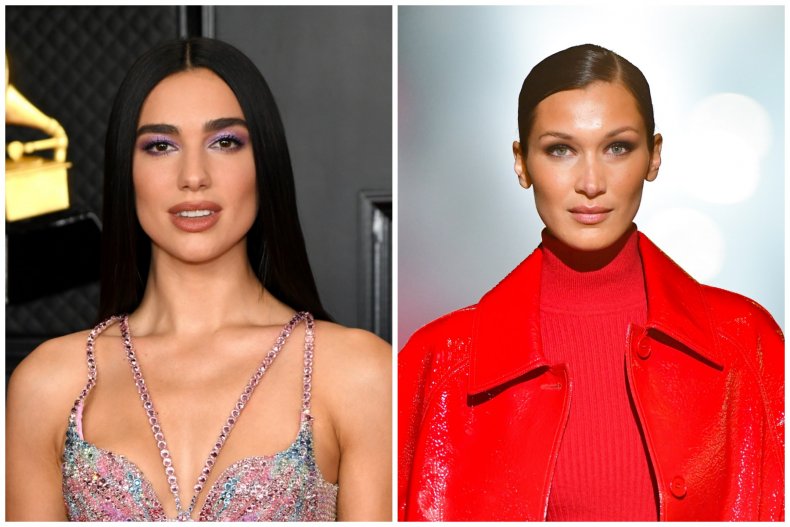 She also reposted a story that their older sister, Alana Hadid, shared on her own Instagram
"My sisters and I, we speak in a family group chat every day. Mostly about Palestine and all that goes on. It is so hard to put into words how I feel," Bella Hadid added to her sister's Story.
"I feel the pain of my ancestors. I cry for them. I cry for my Palestinian brothers and sisters, there now, feeling unsafe and scared. This needs to stop, there is NO room for this in 2021!!!! My sister [Alana] wrote perfectly how I feel today. We are proud [to be] Palestinian and we stand with Palestine."
Meanwhile, the Hadid's younger brother Anwar has also used his platform via Instagram stories to support Palestinians, where the siblings' father Mohamed Anwar Hadid is from.
Singer Dua Lipa, who is dating Anwar Hadid, shared the #SaveSheikhJarrah hashtag to her Instagram stories on Saturday along with artwork from designer duo Mothanna Hussein and Hadi Alaeddin.
Another musician, The Weeknd, shared artwork with the message "protect Jerusalem" to Instagram Stories in support of displaced Palestinians.
Avengers star Mark Ruffalo shared a tweet from activist Malala Yousafzai, which reads: "The violence in Jerusalem—especially against children—is unbearable. This long conflict has cost many children their lives and their futures. Leaders must act immediately—there is no peace when children and civilians are not safe. #AlAqsa."
Lena Heady of Game of Thrones fame shared a similar post to Instagram in support of Palestinians from Sheikh Jarrah.
Musician Roger Waters shared a video to Twitter with the caption: "It's official ISRAEL is an APARTHEID STATE. Check out SHEIKH JARRAH GENOCIDAL HOUSE CLEARINGS," that has gone viral.