Palestinian Leader Abbas Is No Partner for Peace With Israel | Opinion
In 1973 Israel's former Ambassador to the United Nations Abba Eban, referring to the Palestinians, said they "never miss an opportunity to miss an opportunity." When I served in the White House 44 years later this was a go-to quote about the Palestinians that I often heard in Washington, European capitals, and throughout the Middle East, including from Palestinians themselves.
This famous quote needs some updating. My suggestion is to add that today's Palestinian leadership also never misses an opportunity to defame the Jewish people or lie or pervert the history of Jews in a land that is holy and of monumental significance to Jews, Christians, and Muslims.
Last week marked the 75th Anniversary of the birth of the modern State of Israel. Abbas commemorated this 75th anniversary not with words of possible conciliation between Israel and the Palestinians or the hope for peace and a better life for Palestinians who deserve so much more than they have today. Instead, he traveled to the United Nations to attend the ignominious, first-ever Commemoration of the 75th anniversary of what Palestinians call "the Nakba" at UN Headquarters.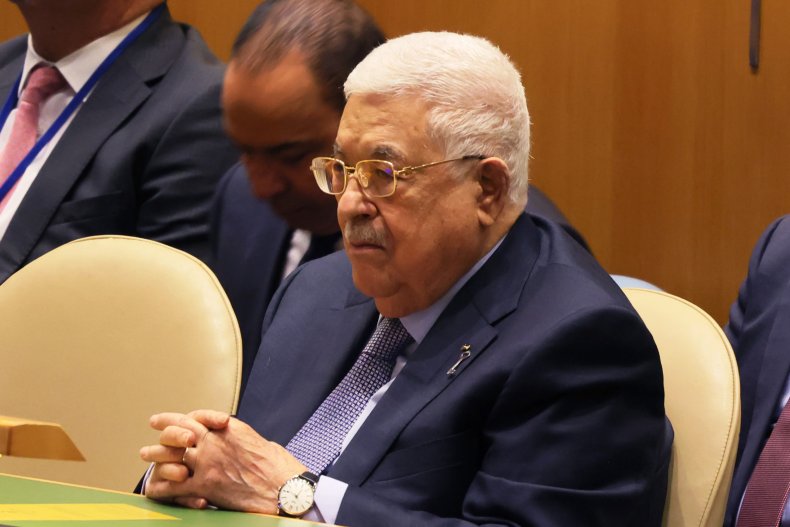 In his remarks, Abbas slandered Israel and invoked Joseph Goebbels, the master propagandist for the Nazis by saying Israelis and Zionists "continue to lie, like Goebbels." Abbas mourned the creation of the State of Israel as a "catastrophe" of history, and castigated the United States and Great Britain, countries that have given billions upon billions of their taxpayer's dollars and pounds sterling to help the Palestinians. He accused the United States and Great Britain of expelling their respective Jewish populations and planting, for their own colonialist purposes, a "foreign entity" in what he pretends was then an Arab State of Palestine. His speech was a cornucopia of hatred, lies and slander.
The denial of the two Jewish temples on the Temple Mount in Jerusalem, a fixture of Palestinian propaganda and a fundamental building block of the Palestinian campaign to whitewash Jewish history in Jerusalem and Jewish claims to its historical holy places, was on prominent display at Camp David in 2000, when Abbas' predecessor, Yasser Arafat, denied such historical facts to President Bill Clinton. Clinton, a bible-believing Christian, responded forcefully that "not only the Jews but I, too, believe that under the surface there are remains of Solomon's temple." That did not stop Abbas from his Temple denial claims at the United Nations. Such historical revisionism should be condemned by today's world leaders. Instead, Abbas' speech received significant applause from those who attended it. So much for the United Nations seeking to maintain international peace and security and developing friendly relations among nations.
Abbas was elected president of the Palestinian Authority on Jan. 9, 2005, for a four-year term. This past January he celebrated the 18th anniversary of that four-year term. His leadership of the Palestinians is belied by his bitter rivalry with Hamas, a terrorist organization which rules the Gaza Strip. On this tiny piece of land over two million Palestinians suffer because of Hamas' brutal rule and the organization continues to vow to destroy the Jewish State of Israel.
The same week that Abbas was verbally attacking Israel, the United States, UK, as well as truth and history itself, Palestinian Islamic Jihad (PIJ), another terror group, launched more than 1,400 rockets at Israel, committing the double war crime of launching such deadly projectiles from civilian areas of Gaza and targeting Israeli civilians. Perhaps the United Nations wants to give equal time to the leaders of Hamas and PIJ to speak "their truth" about Israel. After all, the United Nations could not even bring itself to label Hamas as a terrorist organization.
Abbas, Hamas, PIJ, and other terrorist and militant groups continue to stand on the wrong side of history. They continue to drag Palestinian society backwards. They continue to miss opportunity after opportunity to turn a new page in their relations with Israel, the Jewish people, and the international community.
At 75, Israel continues to thrive and prosper and has made peace with numerous Arab neighbors. while continuing to seek peace with others. It desires peace with the Palestinians, a peace that keeps Israel safe and both populations secure and thriving, one that is based on reality and truth. Yet, today's Palestinian leadership, like those who came before them, use the United Nations to remain mired in the abyss, while seeking the destruction of Israel. They seek an unachievable peace based on false promises made by Palestinian leaders and others around the world.
The road to peace requires courage, truth and an understanding of reality. Denying the Jewish people historical rights within their ancestral homeland will never lead to peace. It is a fool's errand, fraught with endless strife and continued defeat for those who pursue it.
Abbas' fraudulent, hateful rhetoric must be relegated to the dustbin of history. Abbas' words demonstrate that at this stage of his life he is incapable of paving a path to peace or a prosperous, secure future for Palestinians, Israelis, and others who are affected by this conflict. Perhaps this was the case throughout his time as leader. What a tragedy for the Palestinians. That is the true Nakba.
Jason D. Greenblatt served as White House Middle East envoy in the Trump Administration. He is the author of the widely acclaimed book "In the Path of Abraham" and serves as the director of Arab-Israel Diplomacy for the Jerusalem Center for Public Affairs.
The views expressed in this article are the writer's own.