Palestinian Protester in Famous Flag Photo Shot by Israeli Forces, Reports Say
The Palestinian protester recently seen carrying a flag and slingshot in a now-viral photograph was reportedly shot when Israeli forces broke up a rally.
A shirtless 22-year-old A'ed Abu Amro made headlines last month when a picture of him snapped by Anadolu Agency photographer Mustafa Hassona quickly spread across the internet, with users comparing the sight to that of other famous historical images and stories. Amro was present Monday at another demonstration against an Israeli blockade at the northern border of the Palestinian-controlled Gaza Strip, when he sustained injuries that Qatar's Al Jazeera, Turkey's Anadolu Agency and a number of local journalists and activists have attributed to Israeli sniper fire.
"A'ed Abu Amro, of this iconic photo, was one of at least 21 reportedly shot by Israeli snipers today in #Gaza, while participating in a demonstration in support of a Palestinian Freedom Ship that set sail to challenge Israel's naval blockade," Huwaida Arraf, a Palestinian attorney and co-founder of the International Solidarity Movement, tweeted alongside the famous photo of Amro.
Mohammed Matter, who is also known as Abu Yazan is a founder of the Gaza Youth Breaks Out activist group, also shared photos of Amro and wrote on Facebook: "Remember him? He got shot today. They shot him because his photo was strong enough to bring Palestine back to the media. They shot him because he became an icon for the Palestinian nonviolent resistance."
Getty Images and a number of local outlets shared photos of Amro with injuries consistent with the reports as he was carried away on a stretcher. Anadolu Agency reported Monday that he had been shot in the leg and that his condition was "moderate," citing medical sources. Russia's RT outlet reported that he was recovering at a Gaza hospital, and quoted the Red Crescent Society as estimating that 230 Palestinians have been killed since protests began in March and 23,000 have been injured.
Amro's likeness was initially captured by Hassona on October 22 and the image spread rapidly across social media circles and media outlets, with many comparing the photograph to the Eugene Delacroix's classic Liberty Leading the People painting depicting the July Revolution against King Charles X of France in 1830. Others said it evoked the Biblical tale of David and Goliath, a common allegory for the conflict between stone-throwing Palestinians and heavily armed Israelis.
"If I get killed, I want to be wrapped in the same flag. We are demanding our right of return, and protesting for our dignity and the dignity of our future generation," Amro later told Al Jazeera. He said he was surprised at the attention his photo garnered as he went protesting with friends every Friday and Monday.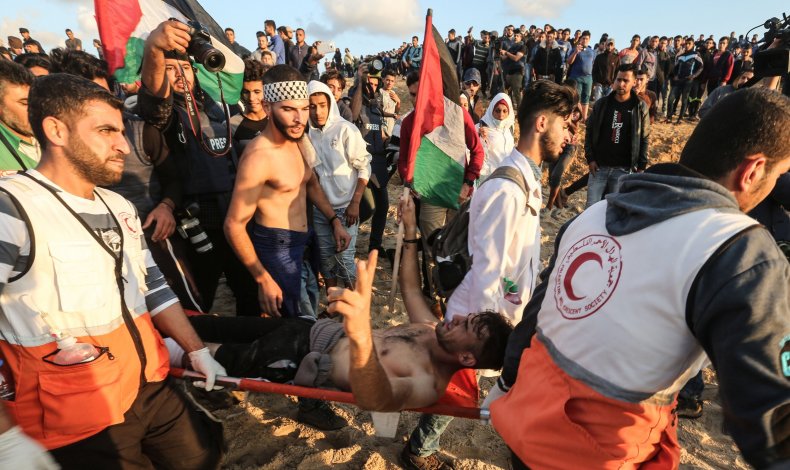 Since March, Palestinians have been demonstrating almost daily as part of two main movements: the "Great March of Return" demanding access to the lands they once inhabited prior to Israel's 1948 creation and subsequent Arab-Israeli wars, and "Break the Siege" calling for a lifting of Israel's blockade against Gaza, whose only other land border with Egypt is also closed. With little access to the outside, residents have complained of a deteriorating socio-economic situation.
The coastal Mediterranean strip is controlled by Palestinian Islamist movement Hamas, which the U.S. and Israel designated as a terrorist organization. The group has occasionally clashed with Israel, at times drawing a heavy military response. Israeli security forces have not commented on Monday's incident, but their spokesperson account reported an "Attempted stabbing attack at Elias Junction near Kiryat Arba, east of Hebron" in the West Bank.
"An IDF soldier saw a terrorist attempting to stab civilians and an IDF officer and shot him before anyone was hurt. The wounded terrorist was evacuated for medical treatment," the spokesperson tweeted.
Palestinian Protester in Famous Flag Photo Shot by Israeli Forces, Reports Say | World