Who Likes North Korea? Kim Jong Un Finds Grateful Fans in Gaza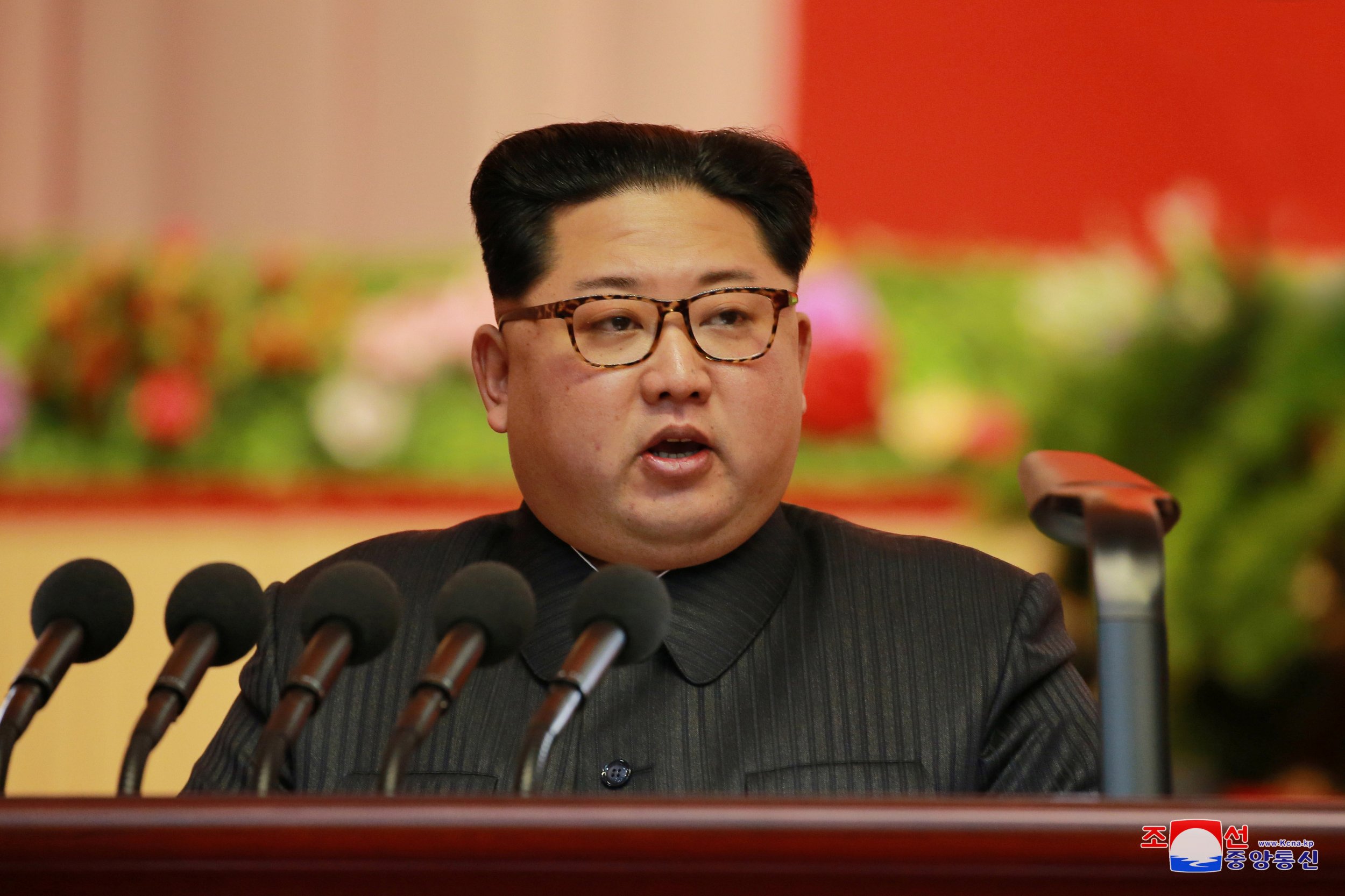 An unusual sight welcomes patrons of a shawarma restaurant in Gaza's Jabaliya refugee camp. A poster showing North Korean leader Kim Jong Un next to a North Korean and a Palestinian flag announces a special offer: an 80 percent discount to North Korean customers.
While there are no North Koreans in Gaza, the gesture is meant to show gratitude toward the country for condemning President Donald Trump's decision to recognise Jerusalem, a city holy to Jews, Muslims and Christians, as the capital of Israel.
"We are thanking [Kim] for these words," Rami Raba, one of the restaurant's owners, tells Newsweek by phone. He explained that the poster had a mostly symbolic meaning, to show the world there is someone strong enough to stand up and say "no" to the U.S.
Trump's decision, announced December 6, ignored the advice of U.S. allies like France and reversed decades of U.S. policy that saw rival claims over Jerusalem as destined to be resolved in negotiations between Israelis and Palestinians.
The decision was met with loud protests from Muslim leaders and sparked ongoing violent clashes between Palestinians and Israeli security forces in both Gaza and the West Bank, as Reuters reported.
Palestinians saw Trump's decision as a blow to their hopes of seeing East Jerusalem, which Israel unilaterally annexed in the 1967 Middle East War in a move not recognized internationally, as the capital of their future state and to the peace process as a whole.
For Raba, Trump's decision insults Palestinians. "We are looking for dignity, not for money; that's why we put up this advertisement," he said.
North Korea's foreign ministry added to the voices of condemnation, calling Trump a "dotard" who has shown the "true colors of the U.S." by ignoring the opinion of the international community.
"We, out of our external ideas of independence, peace and friendship, condemn strongly the U.S. action this time and express our firm support and solidarity with the Palestinians and other Arabian people in their just cause to regain their legitimate rights," a North Korean Foreign Ministry spokesperson said, quoted in the state-controlled news agency KCNA.
North Korea has a long history of warm relationships with Palestinian authorities, hosting one of their diplomatic missions in Pyongyang and exchanging messages on formal occasions.
To Raba, the North Korean message was stronger and more convincing than that of Muslim leaders like Turkish president Recep Tayyip Erdoğan.
"[Kim] is not a Muslim, a Christian or an Arab, he's not even in the Middle East, but he is supporting us," said Raba. "There's an Israeli embassy in Turkey, there's a Turkish embassy in Israel; they have a relationship between them. As a Palestinian I don't believe Erdoğan's words."
Kim is not the only person Raba wants to thank—he's also grateful to Trump who, he said, is proving the U.S. was never fully committed to bringing peace to the Middle East, despite years of trying to broker negotiations between Israeli and Palestinian representatives.
"Thank you Trump, because you showed the actual face [of the U.S.] to Palestinians," he said. "Trump has shown to the world [the U.S.] has been lying to the world for 25 years."