Palestinian Leaders: U.K. Government's Boycott Ban 'Empowers Israeli Occupation'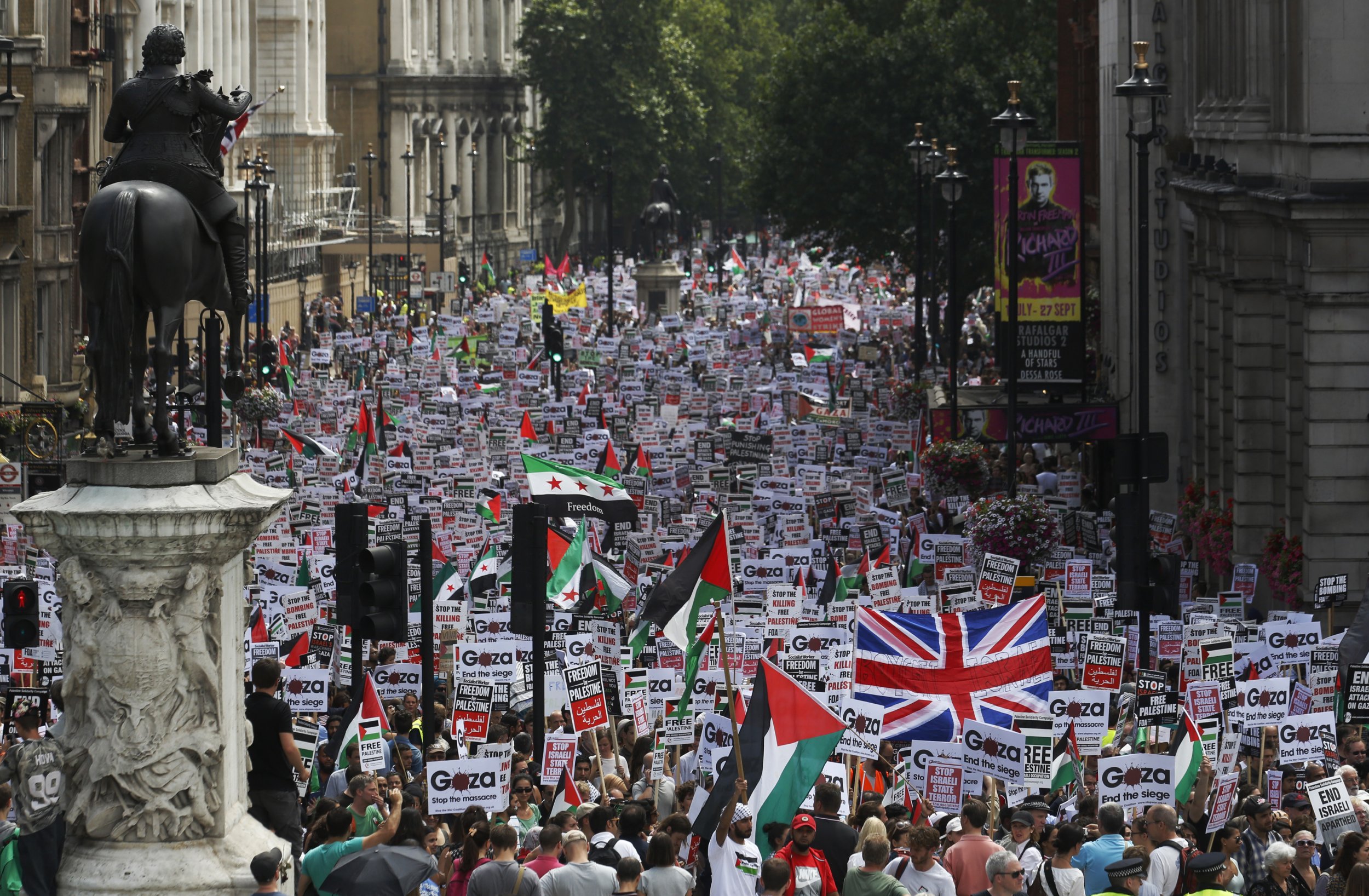 The British government's decision to ban local U.K. authorities and public bodies from boycotting Israeli suppliers was criticized Wednesday by Palestinian organizations calling for a reversal of its position as it "empowers Israeli occupation."
The British Cabinet Office said on Wednesday that boycotts by British public bodies were "inappropriate". Decisions to bypass Israeli products would breach the World Trade Organization's Government Procurement Agreement that ensures signatories do not discriminate between suppliers, the government said.
The details of the plan to prevent such boycotts are expected to be revealed by British Cabinet Office minister Matt Hancock when he visits Israel this week.
In a statement released to Newsweek by the Palestine Liberation Organization (PLO), Secretary-General Saeb Erekat and Hanan Ashrawi said that the decision of British Prime Minister David Cameron's government to punish bodies who impose boycotts sends "a message of impunity" to the Israeli government.
"This represents a serious regression in British policy and it would empower the Israeli occupation by sending a message of impunity," the statement, released after meetings with the British Minister for Middle East Affairs, Tobias Ellwood, reads. "In order to accommodate the Israeli occupation, the British Government is undermining British democracy and their own people's rights. Such a law would have prevented British citizens from taking peaceful actions against the South African apartheid."
The statement continues: "We strongly urge the British government to reconsider its positions and to rescind this regulation. This is not only a matter of law or politics, but also of moral responsibility."
The British government's decision will hamper the efforts of the U.K. arm of the wider Boycott, Divestment and Sanctions (BDS) movement, a global campaign that advocates applying economic and political pressure on Israel to achieve equal rights for Palestinians and an end to both the Israeli occupation of East Jerusalem and the West Bank and the Israeli blockade of the Gaza Strip.
"Rather than working to hold Israel to account for its ongoing human rights violations, U.K. ministers continue the arms trade with Israel and attack local democracy in order to shield it from any criticism," says Rafeef Ziadah, a U.K. spokesperson for the Palestinian BDS National Committee, in an email statement. "What sort of message does this send to U.K. companies like G4S and JCB that aid and abet Israel's violations of international law?"
The British government's decision may instead provide fresh impetus to the Israeli battle against such boycott campaigns, particularly after the European Union ruled in November 2015 that products made in Jewish West Bank settlements must be labeled as originating from occupied territory.
"We welcome the decision taken by the British authorities not to allow anti-Israeli initiatives at local level," an Israeli foreign ministry spokesman told AFP.
The British government said that such boycotts "undermine good community relations, poisoning and polarizing debate, weakening integration and fuelling anti-Semitism."
BDS has claimed a number of symbolic victories in its bid to replicate the apartheid-era campaign to isolate South Africa.
French multinational Orange ended its partnership with Israeli telecommunications company Partner in January; Ireland's biggest construction materials company CRH sold its 25 percent stake in Israeli cement firm Mashav Holdings last month and French infrastructure corporation Veolia sold off its final investment in Israel in September 2015.