Palestinians Set Fire to Joseph's Tomb Days Before Easter, Enraging Israel
An angry Israel said Palestinians vandalized Joseph's Tomb, a shrine located near Nablus on the West Bank, just days before Easter.
Pictures and video of the monument site during and after the attack showed what appeared to be fire damage, as well as damage to its stone lid, the BBC reported.
"Israel is committed to peaceful coexistence and to freedom of worship. Extremists must be shunned and condemned," Israel's Foreign Ministry tweeted Sunday.
Tensions between Israel and the Palestinians have been on the rise in recent weeks, resulting in deadly attacks. A shooting in Tel Aviv last week resulted in two people being killed and several others wounded. Another shooting, carried out by a Palestinian gunman in late March, killed five people in the Tel Aviv suburb of Bnei Brak.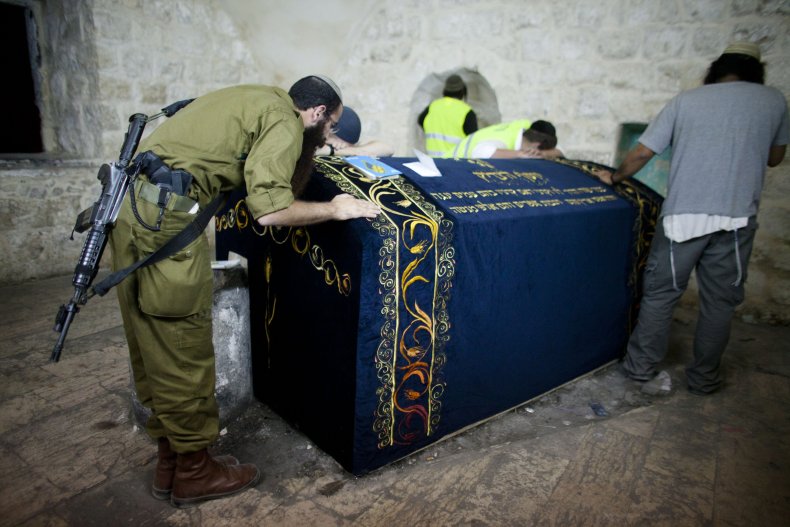 The vandalization of Joseph's Tomb prompted outrage among many in Israel. Prime Minister Naftali Bennett condemned the attack at the start of a Cabinet meeting Sunday, The Times of Israel reported.
"During the night, Palestinians destroyed Joseph's Tomb. Dozens of Palestinian rioters in a campaign of destruction simply violated a holy place for us, the Jews," Bennett said.
"They broke the tombstone on the grave, set fire to rooms in the compound. I saw the pictures and was shocked," he added.
The incident on Saturday came just over a week before Easter and less than a week before the start of Passover, which begins on the evening of April 15.
Opposition leader Benjamin Netanyahu, who served as prime minister until last year, also condemned the destruction in a tweet Sunday.
"This is a serious injury to an important and sacred place for the Jewish people, on the eve of Passover. The place must be restored immediately and peace and security restored," Netanyahu's tweet said.
In a video posted on Twitter by Israel's Foreign Ministry, the Palestinian attackers were allegedly seen trying to knock down a light fixture above the shrine. Part of the tomb's lid was also shown broken into pieces.
It is said that the biblical figure Joseph was buried at the site, the BBC reported.
A statement attributed to Israeli Foreign Minister Yair Lapid in the video read: "Attacking holy sites is attacking the heart of a people.…This is serious damage not only to the tomb itself, but to the deeply held feelings of the Jewish people."
The Foreign Ministry promised in its video that the perpetrators would be brought to justice.
Newsweek reached out to the Israel Defense Forces for updated information and comment.
Update 4/11/22, 5:16 p.m. ET: This story was updated with additional information and background.