Fugitive On Run for Threatening to Shoot Trump Posts Online He Has 'Mission to Complete'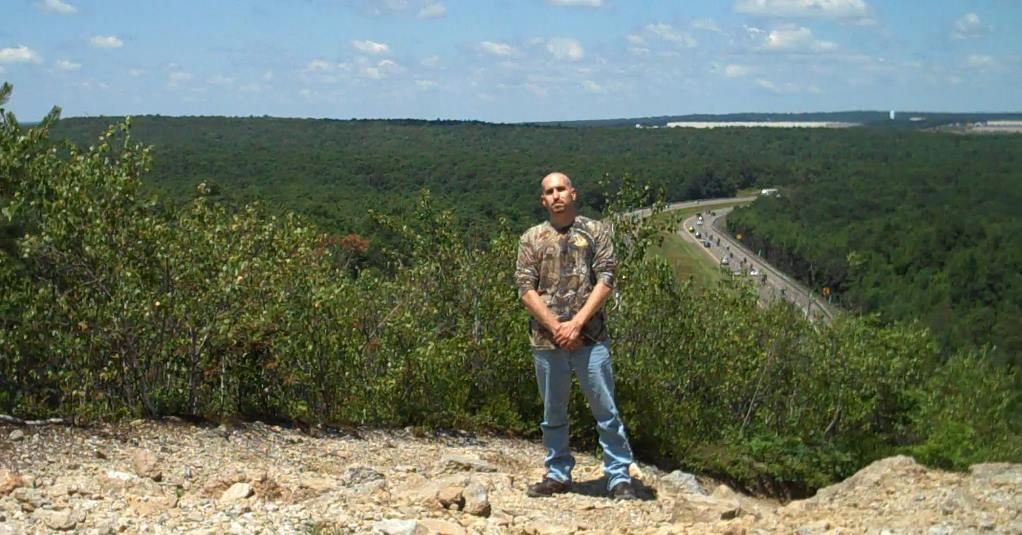 For more than 100 days Shawn Christy, a 26-year-old fugitive survivalist from Appalachia, has remained one step ahead of a dragnet trying to chase him down ever since he allegedly lodged assassination threats back on June 12 to "put a bullet" in the heads of President Donald Trump and Northampton County D.A. John Morganelli and use "full lethal force on any law enforcement officer that tries to detain me."
The multi-state manhunt—with a $20,000 bounty—is being led by U.S. Marshals and flanked by FBI and U.S. Secret Service to reel in the "armed and dangerous" Christy.
After a long silence, Christy apparently popped back on social media recently to proclaim he's keeping watch of those chasing him down and talking about him online, based on two posts on his Facebook account that his parents told Newsweek are from their son.
According to one direct message to his father Craig that is believed to have come from Shawn Christy's Facebook account, he explained that he was wounded and yet determined as ever to finish whatever he believes he's started.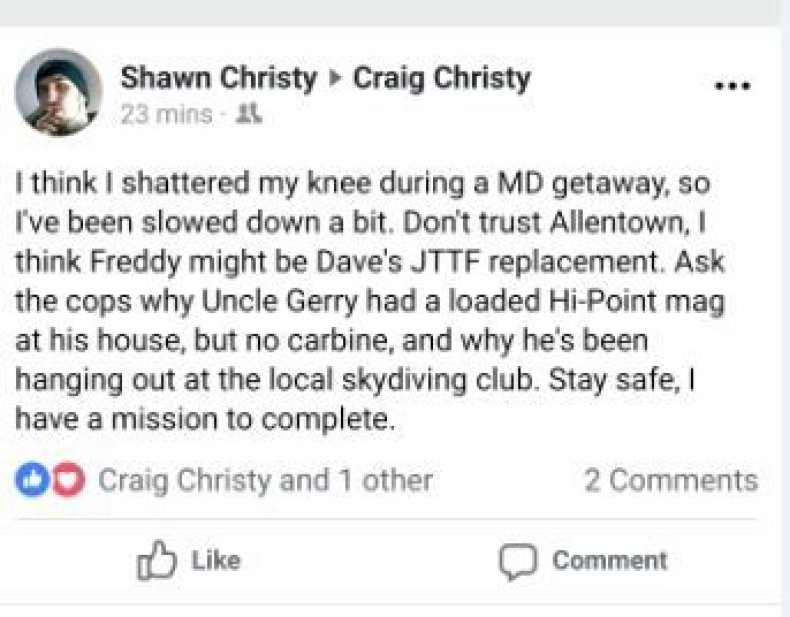 "I think I shattered my knee during a [Maryland] getaway, so I've been slowed down a bit," the September 13 post reads.
He warned his dad, "Don't trust Allentown…" and then ends the post ominously.
"Stay safe, I have a mission to complete."
According to a federal criminal complaint, Christy faces charges for transmitting in interstate commerce communications "threats to harm, injure, and kill a police chief, other law enforcement officers, and a district attorney and President Donald J. Trump."
Based on Newsweek's testimonials and interviews with Christy's family, it appears he plans to remain on the run until he gets his version of justice. For him,that can only come when the former mayor of his hometown and a local cop are arrested.
"He won't surrender unless former McAdoo Mayor Stephan Holly and McAdoo Police Officer Fredrick Lahovski are arrested for crimes against him," his father told Newsweek on Monday morning.
Both men were involved in a snowstorm fight that took place on March 15, 2017, when the then-McAdoo Mayor Stephan Holly claims he was ambushed by a hiking stick-wielding Christy.
The fight was captured on surveillance camera atop the town's borough office building.
But only Christy was arrested for the dustup and then was allegedly hit with a harassment charge for voicemail messages he left for Lahovski, police and court documents obtained by Newsweek show.
Christy was supposed to be present during a May 30 jury selection court hearing, but absconded and a bench warrant was put out for his arrest. His father Craig claims that his son stayed in the woods.
"He had gone bushcrafting," his father said. "He was coming back home, but he was told in a voice message that he didn't have to show up. We have the message still."
Once he learned about the warrant, Christy kept on the run and then allegedly posted the threats to the president and the prosecutor.
"He was staying out in the woods at that point when he put the threats up," Craig Christy said.
The father called the posts "pleas for help."
The pursuit to catch up to Christy has drawn on from there. It has involved a search party of officers raiding his parents' home back in June. And law enforcement has continued looking for him; crossing over at least six state lines from the Canadian border in New York down to Kentucky where he has allegedly repeatedly stolen cars and then ditched them.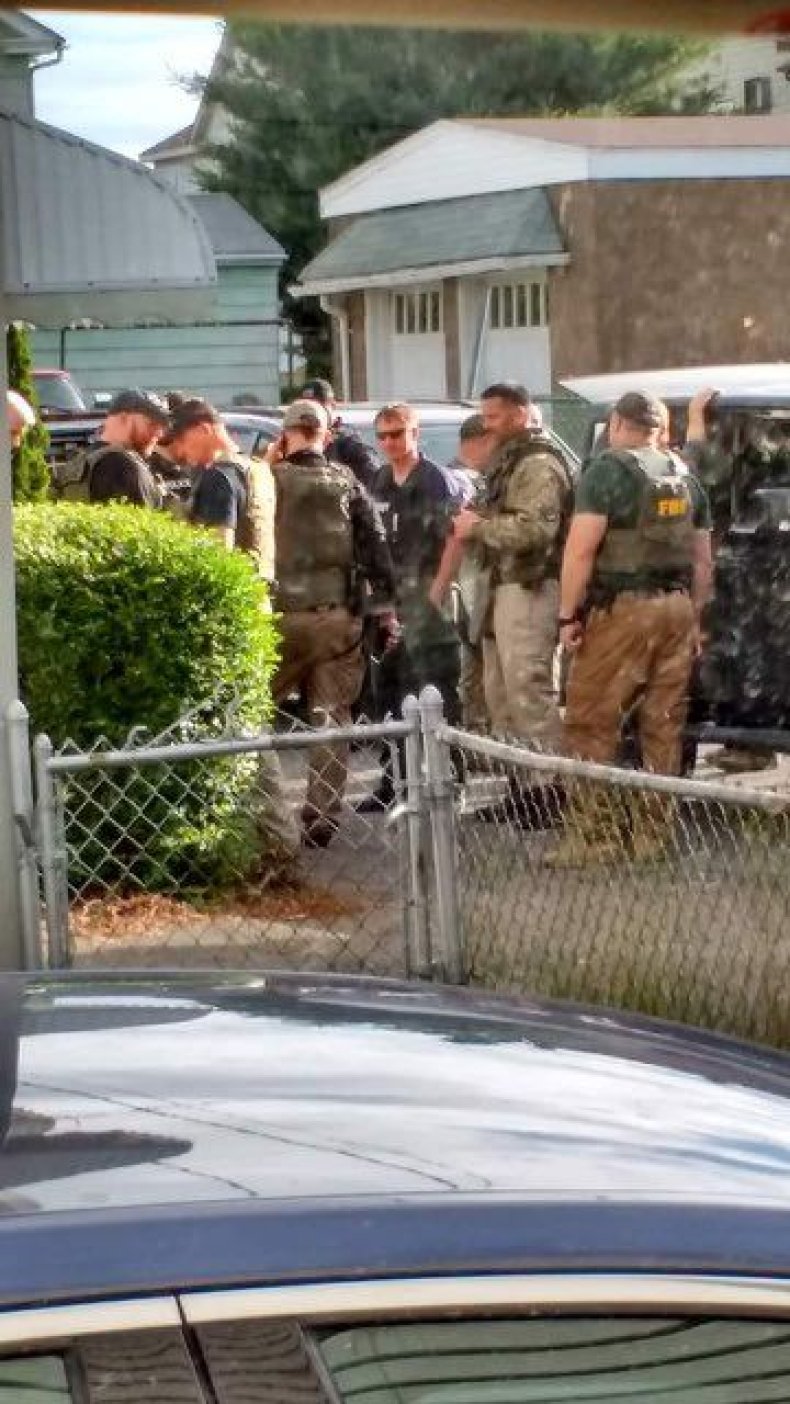 Late afternoon on Sunday, authorities say Christy smashed a stolen 2002 GMC Sierra 2500HD utility truck with Pennsylvania plates that he allegedly boosted at around midnight from Skitco Iron Works in Hazel Township.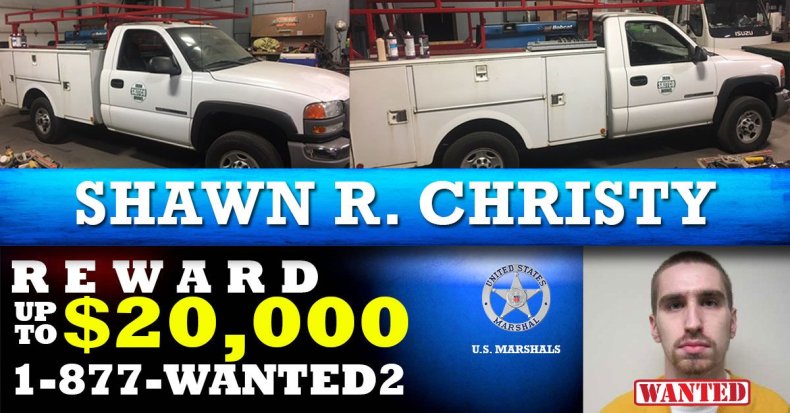 Ten days prior, Christy was accused of burgling the same business of a Beretta shotgun, 100 rounds of bullets, some toiletries, food and cash, according to Pennsylvania State Police and U.S. Marshals. When reached by Newsweek, a Skitco representative refused to answer any questions.
With the new wheels, Christy was reported to have steered the truck off Highway 71 near Jeffersonville, Ohio and "fled the scene… on foot," according to an Ohio State Highway Patrol release.
But it was September 4, one day before Christy allegedly ripped off the iron works company the first time, that he broke his radio silence and engaged over Facebook with a longtime rival and decorated Marine named Dakota Meyer.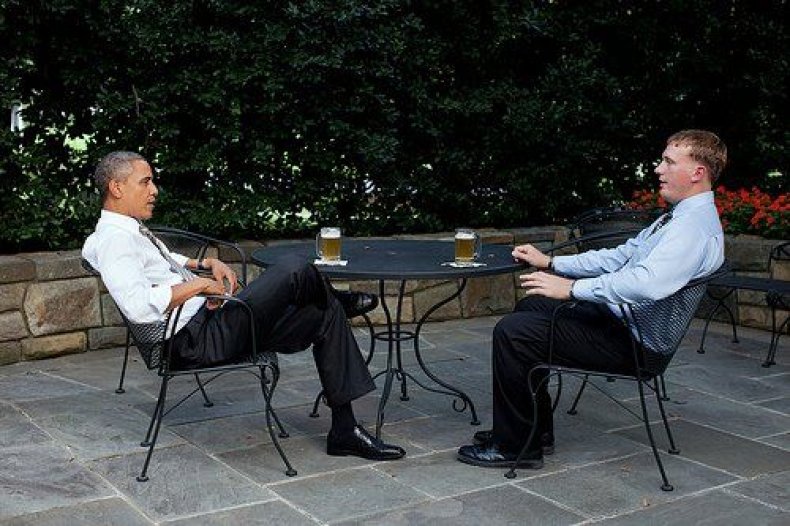 Christy—along with his then 47-year-old father Craig—was convicted of harassing the Alaska-based attorney for former vice presidential candidate Sarah Palin. The feud and the Christy's actions sent both father and son to prison and then probation terms.
Meyer was married to Bristol Palin, and according to Christy's mother Karen, her son merely wanted to get some questions answered.
"I think a lot of that is because he was just married to Bristol," she told Newsweek. "Dakota was in with the Palin crew, and one question Shawn has dealt with over the last 10 years is 'Why was he targeted by Sarah Palin?' 'Why did that happen?' I think that's part of a lot of the questions that I said Dakota would be able to handle."
But her son appears to have chosen to come out of the waits to chide Meyer.
"Dakota Meyer, it was really cute how you tried to set me up with a rifle that didn't work," according to Shawn's September 4 Facebook post shared with Newsweek by his parents.
He was referring to a break-in at Meyer's brother's Greensburg, Kentucky home on August 9 as documented byKentucky State Police.
Christy was named as the suspect for wielding a sledgehammer and cracking open a rear window at around 6:30 p.m. while nobody was home to help himself to food in the fridge.
"He must have been hungry," trooper Nick Hale told Newsweek.
The message marked the first time Christy's officially connected online since being labeled a fugitive.

The self-proclaimed "bushcrafter" (meaning an expert outdoorsman) who had already stolen three guns and ammunition from his uncle's home, U.S. Marshals confirmed, wrote in the post that he possessed copies of important financial documents belonging to Meyer and cryptically snickered: "I set you up bro, got you to play your hand."
Christy has apparently been fixated on the Palin family since 2011 when he believed he was corresponding as a 17-year-old with Palin herself and her daughter Willow, based on federal court documents reviewed by Newsweek as well as interviews with Craig Christy.
"He never showed me the texts, but we talked a lot about it," Craig told Newsweek. "It was a big thing in his life."
"Shawn is not the type to lie," he added.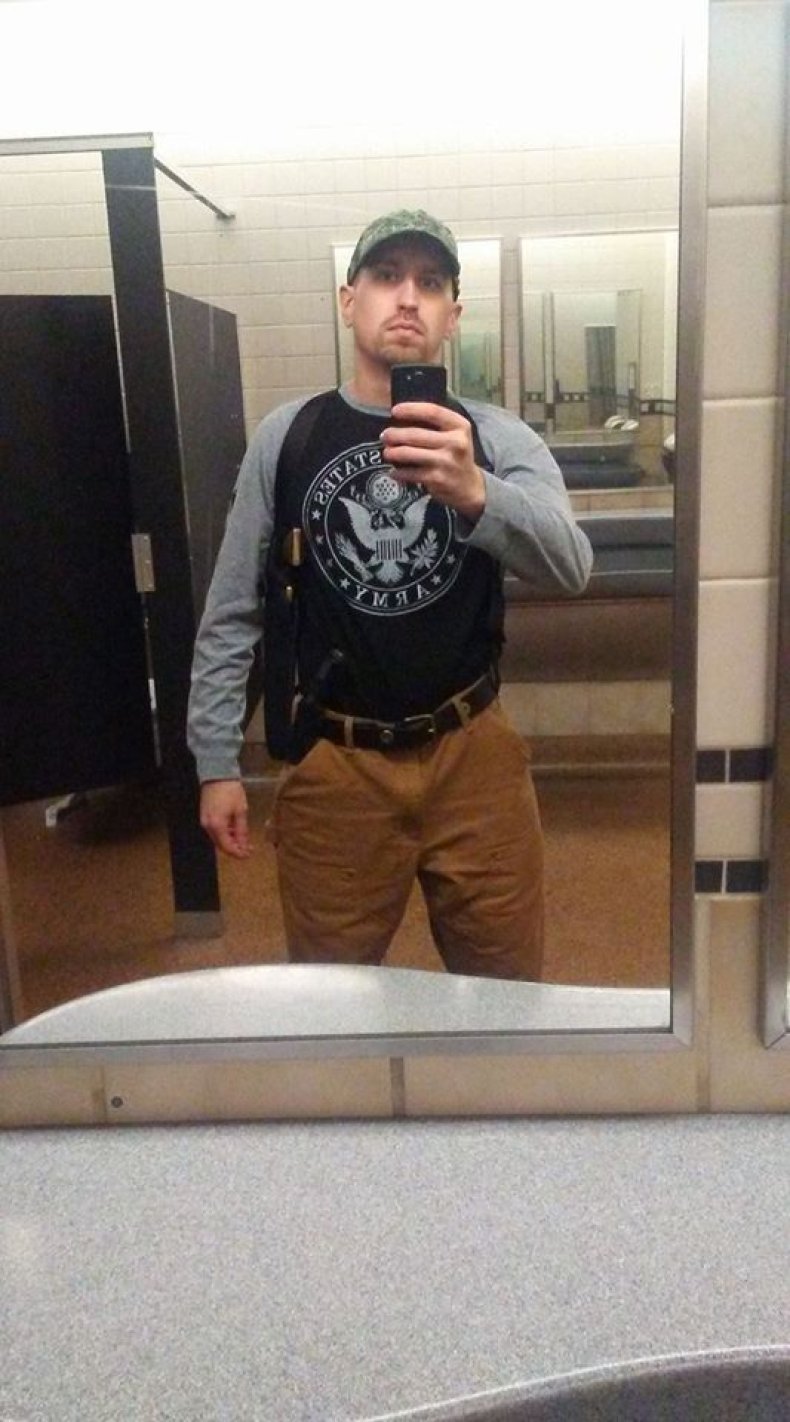 Shawn and his father shifted the crosshairs to Palin's attorney John Tiemessen. They sent a torrent of emails, placed nonstop phone calls and left vulgar voicemails that were used as evidence in court against them and led to their harassment conviction. Each served a year in prison and had to pay restitution.
After their son took off on the run, he attempted on August 7 to reach him and encourage the young man who is stricken with Lyme disease to surrender
The effort inadvertently rekindled Christy's row with Meyer. Meyer had just formalized a divorce to Palin's daughter Bristol. However crushed from the breakup, the dad seemed raring for a confrontation.
"I'm not the one sneaking around. I'll give him my location if he wants it… Where is Shawny poo at," according to a message seemingly sent by Meyer to Craig, and obtained by Newsweek in August.
Two days passed before Christy was captured on surveillance camera zipping away in a 2001 Jeep Grand Cherokee rural mail carrier truck he'd stolen from Meyer's brother's Kentucky home, Kentucky State Police confirmed. The stolen mail carrier was discovered on August 20 in Nitro, West Virginia, U.S. Marshals said. But there appeared to be a detente between the Christys and the Meyer—mainly that each was on the same page to apprehend him safely.
In an August 9 exchange between Craig Christy and Dakota Meyer, Craig asked the Medal of Honor recipient to work with him.
"Help me catch my son," he wrote him.
And Meyer responded: "I'm all about that before someone gets hurt."
But the peace didn't appear to last.
Meyer and the elder Christy went back at it on Facebook.
On September 4, Meyer wrote some choice words for the fugitive, which were later scrubbed.
"Stop being a bitch Shawn and tell me where to meet you," the reply to Shawn Christy's original Facebook post. "Stop running and let's make it simple. I'll share my location with you don't try to act like this is complicated or hard to find me you f---ing idiot."
Christy's screed on Facebook called out two of his McAdoo, Pennsylvania, neighbors and then went on to suggest that he stole goods from a local ice cream parlor in Tamaqua, Pennsylvania.
"I robbed the place, I never dumpster dive there," he wrote. "I don't make the rules, I'm just here to play the game."
Bringing Christy into custody has demanded a mix of perseverance and also delving into the woods to track him down.
'I can say without revealing too much information that there were times we've been close to him," Robert Clark from the U.S. Marshals Service told Newsweek, noting there is limited manpower. "This is a person who doesn't have to have human contact and can navigate his way and survive in the wilderness."