Palm Beach's Democratic Mayor Pushes Back Against Report Wealthy Got Florida's COVID Shots
The mayor of Palm Beach County is pushing back on CBS' 60 Minutes Sunday night report about COVID-19 vaccinations going to the wealthy in his district.
In a statement made Monday, Mayor Dave Kerner, a Democrat, said the information provided in the segment was "intentionally false" and claims that he offered to refute the report but was declined by the program.
"I watched the 60 Minutes segment on Palm Beach County last night and feel compelled to issue this statement. The reporting was not just based on bad information—it was intentionally false," the statement read. "I know this because I offered to provide my insight into Palm Beach County's vaccination efforts and 60 minutes declined."
CBS disputed Kerner's account to Newsweek, saying 60 Minutes asked him for an interview twice but he declined.
"As we always do for clarity, 60 MINUTES used the portion of the Governor's over 2-minute response that directly addressed the question from the correspondent," a CBS spokesperson wrote.
On Sunday, 60 Minutes reported that Florida's wealthy cut the line in the state's vaccine rollouts, saying Governor Ron DeSantis directed vaccines toward those communities and away from poorer ones.
Some of those individuals benefited from the vaccine pop-ups established in partnership with Publix grocery stores, which gave DeSantis' political action committee $100,000 just weeks before the governor announced the collaboration, according to 60 Minutes.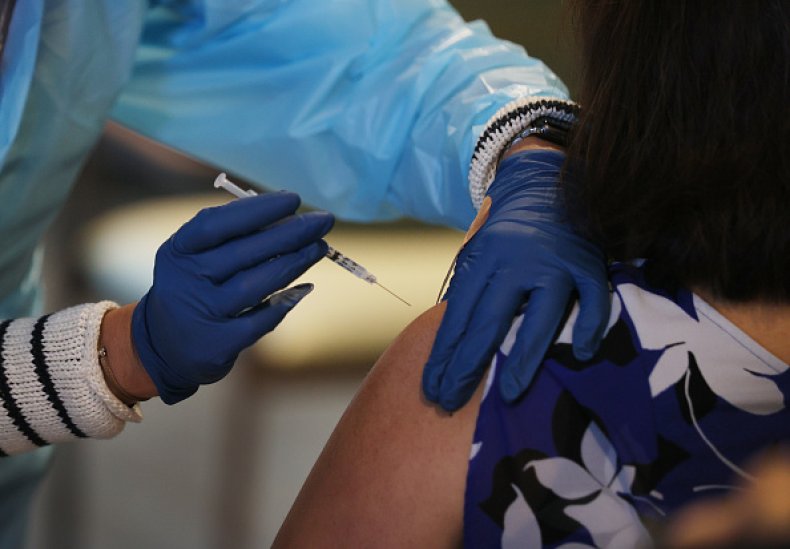 DeSantis pushed back on the report, calling it a "fake narrative" and saying that he had met with local officials to discuss options.
"We can do more drive-thru sites, we can give more to hospitals. We can do the Publix. And they said, 'We think that would be the easiest thing for our residents,'" DeSantis said.
Kerner corroborated DeSantis' claim that he had met with those in Palm Beach County ahead of time to help expand the state's vaccine rollout.
"They know that the Governor came to Palm Beach County and met with me and the County Administrator and we asked to expand the state's partnership with Publix to Palm Beach County," Kerner said in his statement. "We also discussed our own local plans to expand mass vaccination centers throughout the county, which the Governor has been incredibly supportive. We asked and he delivered. They had that information, and they left it out because it kneecaps their narrative."
"We have confronted this pandemic for over a year. Our residents, like all Americans, are tired. And the media is making it worse. They are hellbent on dividing us for cheap views and clicks. 60 Minutes should be ashamed."
In response to the governor and the mayor's remarks, a CBS spokesperson told Newsweek, "The idea we ignored their perspective is untrue."
"When Florida state data revealed people of color were vaccinated at a much lower rate than their wealthier neighbors, 60 MINUTES reported the facts surrounding the vaccine's rollout, which is controlled by the governor," the spokesperson wrote on Tuesday.
"We requested and conducted interviews with dozens of sources and authorities involved. We requested an interview with Gov. Ron DeSantis, he declined; We spoke to State Emergency Management Director Jared Moskowitz twice, but he declined to be interviewed on camera for our story until well after our deadline. The idea we ignored their perspective is untrue," the statement reads. "Counter to his statement yesterday, we also spoke on the record with Palm Beach County Mayor David Kerner. For over 50 years, the facts reported by 60 MINUTES have often stirred debate and prompted strong reactions. Our story Sunday night speaks for itself."
CBS is not the only one to refute Kerner's statement. Palm Beach County Commissioner Melissa McKinlay said that while she respected Kerner, his remarks were "NOT accurate."
McKinlay said DeSantis did not meet with everyone in the county, the meeting between DeSantis and Kerner was to be kept private, and that Kerner never asked for Publix vaccine distribution.
In his statement, Kerner thanked DeSantis for helping roll out vaccinations to more than 275,000 seniors in the county, which the mayor said accounts for more than 75 percent of its senior population.
"I am proud of how our country and state leadership have executed on this important mission, and the results speak for themselves," he concluded.
DeSantis has been heavily criticized for the state's vaccine rollout, not just due to claims that he directed shots toward Florida's wealthy, but because he broke from Centers for Disease Control and Prevention guidelines, announcing that after prioritizing healthcare workers and nursing homes residents, he would not vaccinate teachers and essential workers but the state's seniors instead.
Newsweek, in partnership with NewsGuard, is dedicated to providing accurate and verifiable vaccine and health information. With NewsGuard's HealthGuard browser extension, users can verify if a website is a trustworthy source of health information. Visit the Newsweek VaxFacts website to learn more and to download the HealthGuard browser extension.
Update: April 5, 2010, 3:40 p.m. This story was updated with comments from CBS and McKinlay.
Update: April 6, 2010, 3:41 p.m. This story was updated with further comments from CBS.