Pamela Anderson on Her Four Ex-Husbands: The Good, the Bad and the Ugly
Netflix's new documentary Pamela, A Love Story sees its subject, Pamela Anderson, look back at her life in all aspects, including her past romances.
The Playboy model speaks candidly about her marriages, of which she has had four, as well as her family life with sons Brandon Thomas and Dylan Jagger Lee.
Here is everything that viewers need to know about Anderson's personal life and what she has said about her exes.
Who Was Pamela Anderson Married To and What Has She Said About Her Ex-Husbands?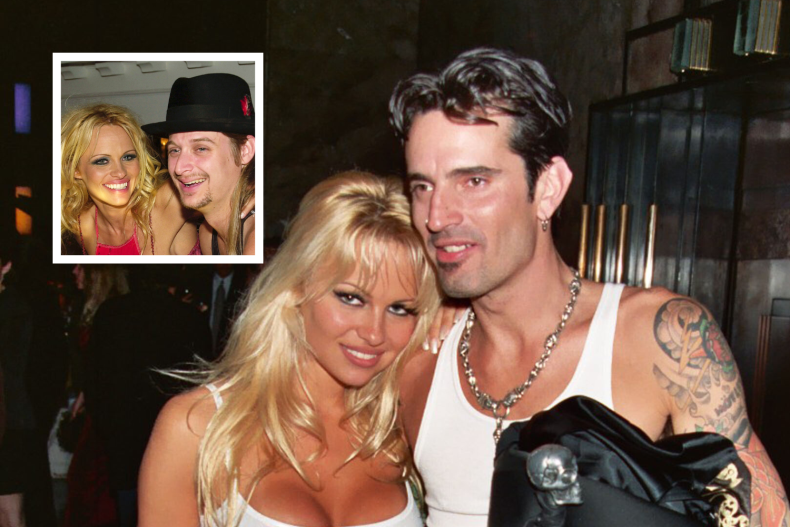 Anderson has previously been married to Mötley Crüe drummer Tommy Lee, with whom she shares her two children, musician Kid Rock (real name Robert James Ritchie), Rick Salomon, and most recently Dan Hayhurst.
Marriage to Tommy Lee
The Baywatch star and Lee were married from 1995 to 1998, and they wed after knowing each other for just four days.
They split after Anderson filed for divorce following a domestic dispute in 1998 that led to Lee being sentenced to six months in the Los Angeles County Jail for spousal battery. The former couple rekindled their romance on several occasions over the years, but have since gone their separate ways.
In 2018, Lee and his son Brandon allegedly had an altercation. Following this Anderson issued a statement claiming her ex-husband suffered from alcoholism.
She wrote in a since-deleted post on her personal website: "I pray Tommy gets the help he needs. His actions are desperate and humiliating. He is a disaster spinning out of control. ... I will never talk to Tommy again before he is sober and in his right mind. ... This is the Devil – This is the disease of alcoholism."
Despite this, in the new Netflix documentary Anderson admits that she feels Lee is the only person she was ever in love with, and that her failed marriages since then were because she "never got over not being able to make it work with the father of [her] kids."
Marriage to Kid Rock
Anderson was married to Kid Rock from July to November 2006. She reflected on their nuptials in an interview with Howard Stern earlier this year, saying she knew the marriage was a "mistake."
She said: "I feel like I just jumped into something because of Tommy and I did, because we had this incredible connection. But then you jump into something and it's like, 'Oh, it's not this incredible connection; it's just something else.' Then I slowly try and find my way out."
Marriage to Rick Salomon
Anderson and Salomon were married twice. They first wed in October 2007 before the model requested an annulment in February 2008. They then remarried in January 2014, but Anderson filed for divorce six months later.
People reported at the time that the former couple said in a statement: "Public divorces can be harsh and cruel – we apologize to our families and friends for any hurt and embarrassment we have caused – we have come to an amicable agreement and are moving on.
"There are private and personal family sensitivities to consider and we retract any hurtful comments made in haste and distaste. We wish each other and our families well."
Romance with Jon Peters
The model was reported to have been married to Jon Peters in 2020, however after they separated following a 12-day romance she issued a statement explaning that they had not been legally wed.
Her statement read: "Pamela Anderson was never legally married to Jon Peters (lifelong family friend) no hard feelings — no Marriage, no Divorce... just a bizarre theatrical lunch — Pamela has a good sense of humor about it."
Marriage to Dan Hayhurst
Anderson announced she had married her bodyguard, Hayhurst, in January 2021. They wed in secret in a Christmas Eve 2020 ceremony at her home in Vancouver Island, Canada.
In an interview with DailyMailTV at the time, she said of Hayhurst: "I'm exactly where I need to be—in the arms of a man who truly loves me.
"This is where my parents were married and they are still together. I feel like I've come full circle."
However, the couple divorced a year later. Their split was confirmed to Rolling Stone at the time.
Pamela, A Love Story Director on Pamela Anderson's Honesty About Her Romances
Ryan White, the director of Pamela, A Love Story told Newsweek how interesting it was to speak with Anderson about her personal life for the documentary, and how the film got its title.
"I think in a lot of ways Pamela charts her life by her partner at the time, because she's always been a serial monogamist, she's almost always been in a relationship in her adulthood up until now, up until the divorce she goes through in the middle of my film, and for the past year she has been single," White said.
"But, in a lot of ways, I think that's how she charts her life, she doesn't think in years, she doesn't think chronologically, but she can always say when you're asking her a question like 'oh, I was with Rick at the time, or I was with Bob,' who is Kid Rock, so she almost uses husbands and boyfriends as a way to chart her life.
"That's why we call it a love story because Pamela's life is lived with such romanticism, and I mean that in all of ways; just the way she sees the world in general, or the causes that she takes on, or her children.
"She's a very loving person and she puts herself out there fully, she's a mega celebrity [and] she was probably one of the most famous people in the world when I was growing up, so I guess I wondered how much of that is actually real. Like how truly open could she be to all of that?"
Pamela, A Love Story is out on Netflix now.