'Drag Race UK Vs The World': Pangina on How It "Took Days to Forgive Herself" After Exit
Pangina Heals was so devastated by her elimination from RuPaul's Drag Race UK Vs The World that it "took days" for her to "forgive herself", she told Newsweek and other outlets.
The latest episode of the competition show featured the most shocking result yet when Blu Hydrangea chose to send Pangina home.
Reflecting on her elimination, the Thai drag queen admitted that she felt "shame" and "embarrassment" over going home so early.
She explained: "I think it took me a couple of days before I actually forgave myself, because initially I just felt this pang of, like, shame, this level of embarrassment, because it wasn't about me it was the fact that I was representing my country and then people could be like, 'oh, you know, Thai queens are not talented.'
"And, after, I realised, 'b***h, you won two RuPeter badges, you were in the top this whole time, and then you left on a high note, forgive yourself already.'
"Then after that, it was all okay for me, because there's nothing that I could have done differently. Because I have no regrets. I would have not changed a thing.
"The way you see me on the show is exactly how I am in real life. So no regrets, I wouldn't change a thing. I'm good."
Pangina Heals Reacts to Her Shock Exit
Pangina's exit came as a shock to most Drag Race fans, especially given she was a frontrunner in the competition.
The moment was so upsetting that Pangina visibly broke down on stage, and she was later heard balling her eyes out backstage even as RuPaul ended the show with her signature "everybody say love" catchphrase.
While Pangina said she is "feeling okay" now the show is over, she admitted she couldn't watch the episode back because it was too difficult for her to experience once again.
"It's a traumatic experience. But, I'm okay me and Blue, like, we're fine and no hard feelings, we all signed up for this," she said.
Reflecting on the social media reaction to her exit, Pangina added: "I've seen certain clips of people cheering when I got eliminated, or enjoying the fact that I was losing my s**t on stage.
"And, yes, I can be upset about it, but the way I look at it, it's like, you're welcome for the entertainment! Because there's nothing that you can do if people just want to root for your downfall."
The Drag Race Thailand judge added that she "didn't hear a word" that RuPaul said to her following her elimination, and didn't even notice how upset she and Michelle Visage were to see her go.
"To be honest, I didn't hear a word [of] what Ru was saying after my name was called. Like, I went into an out of body experience.
"As you can see, my face was on the floor. I couldn't hear anything, but then afterwards the girls told me about it and they were like, 'you know everyone was crying?' Jujubee was crying so hard, it was like that lipsync she did with Raven [in All Stars Season 1].
"I wasn't aware of that but, you know, Clara [Amfo, who was a guest judge on the episode] reached out on Instagram, she was like 'you killed it' and she was so sweet. And she was such a great judge. So I was really thankful."
How Pangina Feels About Eliminating Jimbo and Lemon, and Why People Calling it Strategic are Wrong
Pangina also looked back at the decisions she made during the show, namely her decision to send home Lemon in the first week and Jimbo in the third week.
The queens are tasked with picking who from the bottom two they would send packing, and Pangina has been criticized for trying to be "strategic" by getting rid of those who were her toughest competition.
But, for Pangina, this was not the case at all as she simply chose to approach her decisions the same way she did when eliminating queens on Drag Race Thailand.
When asked if she found it frustrating that people would see it as strategic when she only did what she would have done on the spin-off show, she said: "Thank you. Oh my God, someone gets it! I'm sorry, I get excited.
"Literally how I judge on Drag Race Thailand was how I was sending the girls home. Do I agree with the bottom two in week 1? No... I didn't agree that Lemon had to be in the bottom two [with Janey Jacké].
"But in that case, with those two, I had to make a choice with what the other judges were saying. So maybe in that mentality of me being a judge that's how I chose.
"With Jimbo I thought he did the worst in the challenge. Period. So I have no regrets. Do I have to say sorry with sending someone home in a competition? Hell-to-the-f**king no.
"Do I feel that Blu has to apologise for sending me home? Same answer."
Pangina added that she didn't even see the decision of picking someone to go home as a game, or a way to eliminate someone who is a threat.
"I know myself well enough that I can't lie or apologise for something I know I did not do. I didn't think I was strategic because I was so innocent of playing this game," she explained.
"I don't even call it a game because for me, it's not a game it's a competition, and, so, I went in to this whole experience as someone very naive, I would say.
"I wasn't even thinking about strategy. I was just thinking very like, this is how it's going to be you did the worst you go home. Sorry about it."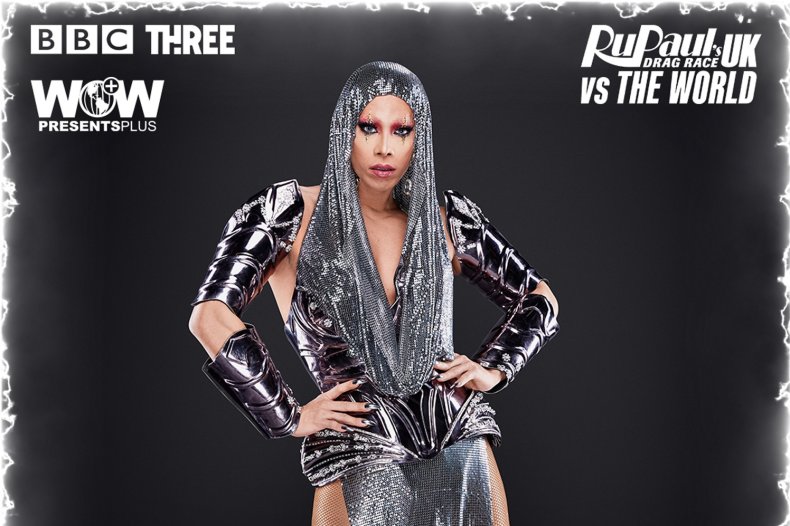 Pangina Heals on Blu Hydrangea's choice
In a similar way to how she feels about her choices of which queen needed to be eliminated each week, Pangina said she believed Blu had her reasons for choosing her and she didn't feel any resentment towards her.
In reaction to some calling Blu's move to eliminate her from the competition "strategic", Pangina said she "didn't know" and "didn't care."
"Whatever reason she has for eliminating me it's her reason and it's not important for me to find out," Pangina said. "Like, if you're looking at track record, then sure it's because I was doing really well.
"And she said to me, maybe it's on camera, maybe it's off camera, but she was like, 'you're probably gonna win this.' And so who doesn't want to win? I want to win. She wants to win. She has her reasons. And I'll respect that."
Blu has been faced with a barrage of negative comments since the episode aired, similarly to the criticisms and death threats Pangina has received.
She said that she and Blu had already spoken about the reactions ahead of the episode coming out, adding: "I think in the beginning, she was like, I'll be fine. It's okay. And then she was like, surprised. And I was like, told you girl.
"So I just wanted to make sure I made it clear, if you're mad don't send out hate just send me PayPal. Life is too short to be angry.
"There is no point whatsoever and Blu and I are okay, so why shouldn't you be okay? It's drag. It's a competition.
"Someone has to go home and, yes, unfortunately it was me and, yes, I was doing well. But just because I don't have a crown does not mean that I did not feel like a queen!"
Pangina Heals On 'Drag Race Thailand' Season 3 and Beyond
While to many RuPaul's Drag Race UK Vs The World was their first opportunity to see Pangina onscreen, the queen has appeared as a judge on Drag Race Thailand for two seasons, co-hosting alongside Art Arya.
Art has been a staunch supporter of her co-host since she was announced to be a part of the show, and Pangina joked that she hoped that Art "cries" when they watched the episode together.
Pangina added she hopes to continue to be a part of Drag Race Thailand when the show returns for a third season, and said she'd "speak English" the whole time so fans of RuPaul's Drag Race UK Vs The World wouldn't have to read subtitles.
She also reflected on which queens from the Thai spin-off she'd like to return for a different Drag Race show, like UK Vs The World.
"Let's be honest, number one, in order for the queen to compete on a platform like this with an English-speaking audience, we need the contestant to be able to have command of the English language," she said of the difficulties of having queens from Drag Race Thailand starring on the show.
"That's one of my main concerns, is I know I'm fluent in the language itself but to go to, for example, the UK, you guys have a sense of humour and slang."
"With that being said, I would say Dearis Doll, I would say Angele [Anang] though she won first place. I would say Bandit, I would say Mocha Diva, Genie, I would say Année Maywong... so those are a few of the ones I would nominate."
Pangina also reflected on the time she had on UK Vs The World and the way her appearance on the show would help influence queen Asian people around the world the same way Season 2 winner Raja did with her.
"I think I tear up every single time I see [a] message when someone says thank you for representing South-East Asia or the fact that you're queer, and you are of South-East Asian heritage, and you represent us so well.
"I feel like I'm not alone. That's like my message in life and growing up I didn't have that. So for me to be able to be that for someone is so much larger than being upset about picking a lipstick.
"This is a show that changes people's lives. And when you see someone like you that way that I saw Raja in her season, that ultimately changed and made me want to do drag, that is so much bigger than being upset about someone getting sent home.
"That for me is like the God's work, for being able to allow someone to inevitably in some way love themselves, or some way change their life, it's so powerful what this show can do.
"I don't think I'd be able to love myself this way if I wasn't able to do drag, I'm not able to be the Pangina [I am] today, a powerful self-loving human being that can translate that to other people if it wasn't for this show.
"For me to be able to complete that circle in a small way, not as an Asian person but also as a Thai person, or as a queer Asian Thai person. Have a Taiwanese person, that's so important to me."
RuPaul's Drag Race UK Versus The World airs every Tuesday at 9pm on BBC Three on TV and BBC iPlayer. The show also airs on WOW Presents Plus on Tuesdays at 4 p.m. ET/ 1 p.m. PT.