'Parasite' Actress Park So-dam Diagnosed With Cancer, Undergoes Surgery
Parasite actress Park So-dam has undergone surgery after being diagnosed with papillary thyroid cancer, according to a statement from her agency.
According to the statement, released on Monday by Artist Company, the 30-year-old screen star has pulled out of promotional duties for her new film, Special Cargo, after receiving the diagnosis during a routine health examination.
"As the long-awaited Special Cargo is about to be released, actress Park So-dam is also very sorry for not being able to be with the fans who have waited and supported them," the agency said, per the Manila Bulletin.
The agency added in its statement that the South Korean actress is still supporting the release of Special Cargo.
"Thank you once again to all the people who support Special Cargo and actor Park So-dam, and to the actors and crew of Special Cargo who are overcoming difficult situations together."
"Park So-dam will focus on her recovery so that she can greet you with a healthy image in the future, and Artist Company, her agency, will also do its best to help the actor recover her health," the statement concluded.
According to the National Cancer Institute (NCI), papillary thyroid cancer is a "cancer that forms in the follicular cells in the thyroid and grows in small finger-like shapes. It grows slowly, is more common in women than in men, and often occurs before age 45. It is the most common type of thyroid cancer."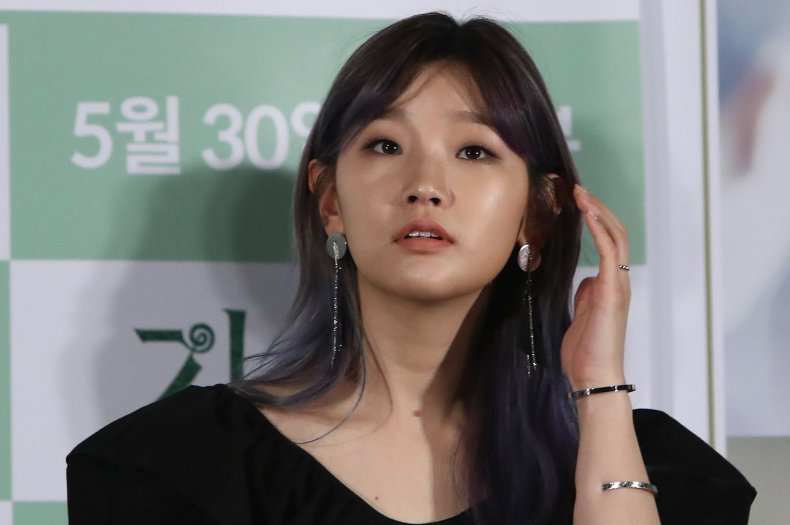 While Park rose to popularity following the release of her 2015 films The Silenced and The Priests, she was catapulted to international fame for her role in the critically acclaimed 2019 South Korean film Parasite, which scooped the prestigious Palme d'Or at the Cannes Film Festival and the Academy Award for Best Picture.
The Academy Award for Bong Joon-ho's movie marked the first time a non-English language film had picked up the coveted honor—a move that was decried by then-President Donald Trump, who admitted he hadn't watched the picture.
In an interview with Time, published in September 2020, Park revealed how the popularity of the comedy thriller changed her life.
"It was an experience that gave me a lot of pride in Korean culture and art," she said. "And because that memory is so unforgettable, it's become a driving force for me to work even harder as an actor.
"One of the most noticeable differences is the number of Instagram followers, messages and comments from overseas fans. I'd occasionally received supportive messages before, but it seems I'm receiving much more love after Parasite. That makes me very happy every day."
Addressing the possibility of a career in Hollywood, she went on: "I often think to myself that I don't want to be satisfied with being one of many Korean actors—that I'd like to work hard to be the best actor I can be.
"I received a lot of love and interest through Parasite. If opportunity permits, it would be an honor to work in Hollywood. (I will work harder, of course!)"