A parent bringing their Black son to a family wedding despite him expressly not being invited has sparked fierce debate online.
The parent shared their decision on Reddit under the username JusticeLears, as they explained their sister recently tied the knot, and every child of close relatives—apart from their own—was invited. Suspecting a racist motive, they brought the 9-year-old along in defiance, but their course of action hasn't been applauded by Redditors.
"I have a lot of siblings, they all have kids. All of my siblings got invitations for the whole family (so also kids), I just got an invitation for me (not my son, who is 9). The other kids are all ages 2-16, so my son's age doesn't stand out or anything. My son is black though (from my first marriage) and I am white," they posted on the AITA (AmItheA**hole) subreddit.
"My sister never liked broadcasting the fact that I have a black child, she never introduced him as her nephew etc," the Redditor continued. "So when I found out my son was the only uninvited child of the family, I decided to take him with me. We went, my sister was furious."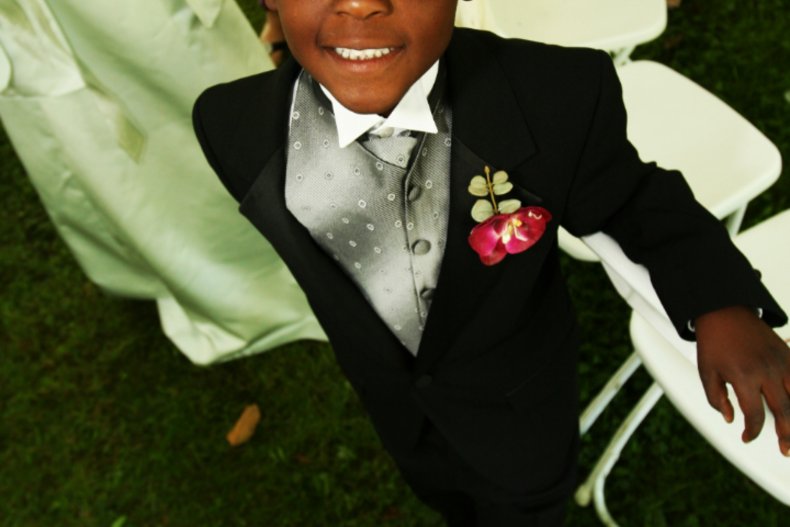 The parent claimed that their son did have fun at the wedding, but there was a backlash from the bride.
"My son played with the other kids, they were all well behaved, one glass was broken while they were playing but that's all," they wrote. "After the reception my sister told me I ruined her wedding and especially her wedding pictures and that she doesn't want to see either of us again."
The post, written on Sunday, has amassed more than 5,000 interactions, while the top comment received more than 14,000 upvotes alone.
It summed up the sentiment from most commentators, as Redditor Your-yogurt wrote: "ESH [everyone sucks here]. Your sister for being racist, and you for bringing a child into a situation where they could face violence for their skin color. You want to be defiant? Don't go to the wedding of a racist."
Pineapple1347 commented: "Yes, thank you. Why would you bring your child to your racist sister's wedding? ESH for sure."
XLostinohiox wrote: "Better yet, why would you go?"
Premodonna said: "A no show to the wedding and letting the family know why the op did not go the wedding would be a bigger statement of the systemic racism that seems to run through the family."
Alternative-Pea-4434 commented: "Was about to say this myself. I get OP's point of wanting to kind of stick it to his sister but the poor kid could've been picked on or she could have said something directly to him, which would've been worse than just not going."
Chiselmybrownpants wrote: "Exactly! Shouldn't of even entertained the thought of going in the first place. ESH."
Momma_tried378 replied: "Yep. Should've just stayed home. The son doesn't deserve that."
Sea_Beat8571 commented: "Agreed, and why you even want to associate with a family member who has made any sort of racist overtone about your child? They would be cut out of my life immediately."
While SelkirkSweetie added: "Your sister is a racist and you owe your son's safety and peace to keep him away from her and that family. EDIT: ESH."
The bride's actions were universally condemned, as Juwannawatchbravo replied: "I still can't believe people JUDGE A BABY on the color of their skin."
While it's not clear where the family in the Reddit post is based, racism remains an issue in the United States.
The chart below, provided by Statista, shows Americans' concern about civil rights in the U.S., with 26 percent of respondents between the ages of 18 and 64 saying they believe civil rights are an "important issue" in the country, down from 32 percent.
Figures published by Pew Research Center last year revealed nearly half—46 percent—of Americans say there is "a lot" of discrimination against Black people. That was the highest response in the category, with 30 percent seen targeting Hispanic people, 27 percent against Asian people and 14 percent against white people.
Newsweek reached out to JusticeLears for comment.
Has a wedding come between your relationship with a loved one? Let us know via mailto:life@newsweek.com. We can ask experts for advice, and your story could be featured on Newsweek.