Parent Cutting Vacation Short After In-Laws Barely Fed Son Cheered: 'Livid'
Online commenters have backed a man who cut short his holiday with his wife as soon as he discovered his son wasn't being fed properly by his in-laws.
In a post shared on Reddit earlier in January, under the username u/Throwra324546, the man said he married his wife months ago and since they didn't get to go on a honeymoon right away they planned a trip.
The man, who has a 9-year-old son from a previous relationship, was initially planning on leaving him with a trusted babysitter, but his wife insisted on leaving him with her parents. Even though he was hesitant at first, he eventually agreed.
The Stepfamily Foundation says that 1,300 new stepfamilies are formed every day in the U.S. and that over 50 percent of American families are remarried or recoupled. Moreover, 50 percent of the 60 million children under 13 in this country are living with one biological parent and that parent's partner.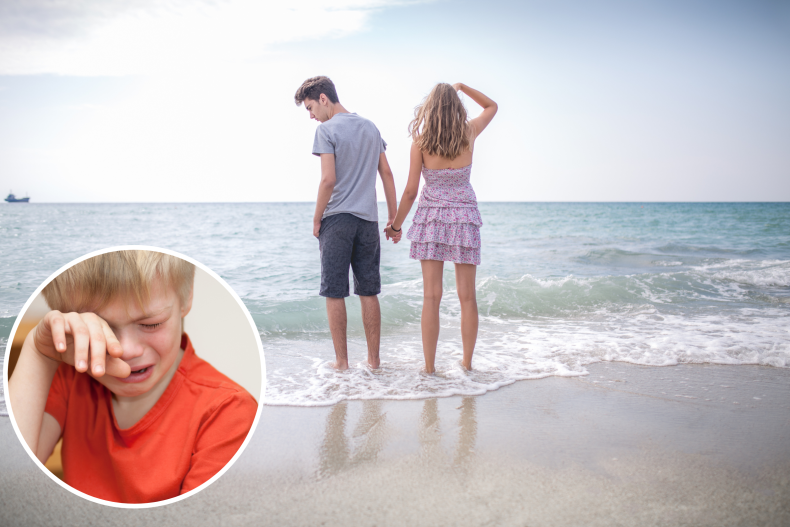 The Reddit poster said his son has some dietary restrictions because of some medical problems, so he left his in-laws a list of foods the boy is allowed to eat, which the babysitter usually follows without any problems. But his in-laws didn't accept this and just said his child was "spoiled."
He wrote: "The 4th day of the trip, he video called me and told me he'd been eating only snacks and hadn't eaten a warm meal in days. I was puzzled I asked if his grandparents didn't cook any of his regular meals on the list and he said no. They just gave him snacks.
"I was absolutely livid, especially after I contacted MIL and after she told me she wasn't a 'personal cook' and that it wasn't her fault I spoil my son," the poster wrote.
Angry at what he heard and worried for his son's health, the man cut the trip short and went home immediately.
"My wife was upset saying instead of cutting the long waited for trip short, I should've let the babysitter take care of feeding him. We had a fight and she told me that her parents owed me nothing and that I always ruin things for us. Now I ruined the trip she paid for," he wrote.
Jennifer Bohr-Cuevas, a clinical social worker on New York's Long Island, told Newsweek that the father was absolutely right to cut short his holiday with his new wife after learning that his child was not being fed according to the child's dietary restrictions.
"There are a wide range of reasons a kiddo's diet may be restricted," she said. "The restrictions could be due to medical reasons, food allergies or social choices. Perhaps the father should have followed his instincts to secure the trusted babysitter for his holiday."
According to Bohr-Cuevas, the step-grandparents crossed a boundary and probably created anxiety for the child. And they likely ruined any chance to bond with their new step-grandchild because of their careless ways.
"The dynamics between the father and [his] new wife are concerning," she said. "The new wife appears to be very controlling, by way of her insisting that her parents watch the child. She is very self-absorbed and has no empathy for the father and child regarding the dietary restrictions."
Bohr-Cuevas continued: "Going forward, this father must secure child care that is committed to respecting the child's food restrictions. Surrounding the child with people that will enforce and respect the child's food restrictions will create a calm and confident child."
The post was originally shared in the r/AmItheA****** subreddit, where users discuss their actions with online strangers. It has gone viral, receiving over 11,000 upvotes and 1,800 comments.
One user, urReplyisDumb, commented: "[Not the A******], you have made a serious mistake marrying this woman and it's your son who is going to suffer for it in the end."
FeeOverall1497 said: "Concur. She has no compassion for your son, and she doesn't fall far from the AH tree. Get out now. She's horrid. Her family will mistreat your kid every time she can."
Another user, Dlraetz1, wrote: "If you don't get divorced remember you can NEVER leave your son with your wife or her parent. They don't believe in his medical condition and aren't good people. Your son is Cinderella to them."
And MbMinx wrote: "[Not the A******]! I don't want to be alarmist, but this is not a good sign for your marriage. Your wife INSISTS you leave your son with her parents instead of his regular caregiver. Her parents REFUSED to follow your son's dietary plan. You hurry home to care for your son, and she fights, claiming YOU ruined the trip.
"You are SO FAR from being [the a******]. But your wife? Her family? None of them give a damn about your son. It's not going to get better... You and your son deserve better," MbMinx said.
Newsweek could not verify the details of the case and reached out to u/Throwra324546 for comment.
If you have a similar family dilemma, let us know via life@newsweek.com. We can ask experts for advice, and your story could be featured in Newsweek.