Parent Praised for Triggering 'Walk Out' of Child's Birthday Party
A parent found support after causing a "walk out" of a child's birthday party that her daughter was attending, garnering her a lot of sympathy given the circumstances.
The now-viral Reddit post, titled, "AITA for causing a walk out [at] a [3-year-old's] birthday party," has been upvoted 12,200 times since it was shared on June 12. Redditor @Preschoolpartydrama shared the post to the subreddit "Am I the A**hole," revealing her three-year-old was invited to a preschool classmate's birthday party that took place at an indoor playground.
According to Statista, a 2018 survey found that 29 percent of people spent more than $100 on a child's birthday. In addition, 31 percent spent between $51 and $100, and 24 percent spent between $31 and $50.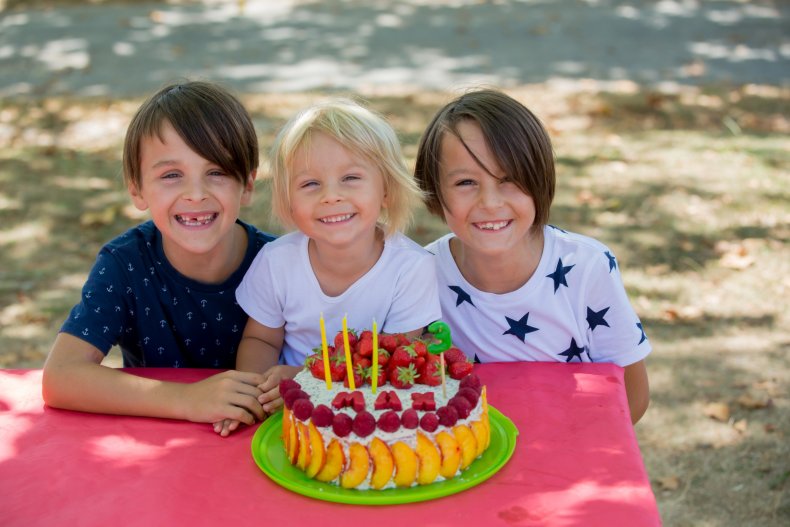 A Birthday Agenda
The original poster (OP) and her daughter arrived 10 minutes late as they got lost trying to find the spot, but they arrived at the exact same time as two other families, so it might have looked "planned."
Treasure Hunt
The birthday boy's mother was "clearly irritated" as they had missed a treasure hunt. There wasn't a schedule given, so the Redditor didn't realize it would be a "big deal" if they were 10 minutes late or she would've "rushed more."
Photo Shoots
The OP continued: "We all did make sure our kids wished the birthday boy happy birthday and [passed] him his presents, but they immediately ran towards the train ride once they were done. Turns out the mom wanted to organize a group photo shoot with the kids, so she was annoyed they ran off."
The children then had time to do what they wanted to for around 10 to 15 minutes before they had to follow the schedule they didn't know they had. The kids had two group rides, which also came with a "photo shoot" before every ride.
Again, the kids were then free to play for about five to 10 minutes before they had to do another "photo shoot" with the party cake. Next, the parents needed to take photos.
The OP revealed that her country still had indoor mask mandates, but they were told it was legal to have them off for the photos, and they were "ordered" to take them off.
Food & Dessert
Next, they had the cake cutting and another round of more photos before food was given out to everyone.
It hadn't been two hours, and they had four photo-taking moments, which took almost an hour of time. "My daughter didn't want to eat, and I could see she was losing it," the woman explained. "Especially, since [there] was a spread of beautifully decorated desserts that weren't offered to anyone at all, so I wouldn't let her touch them."
In a comment, the OP added: "They did serve the kids food and offered cupcakes and cake, but the fancy cookies on the dessert table [weren't] an option. So there's the dessert for eating and dessert for display, but my daughter wanted the display dessert too."
Enter: Meltdowns
She figured she should go before they ruined the party since there had already been two meltdowns by two other kids in the past 10 minutes, and she said she didn't want her daughter to be the third. However, the OP's daughter leaving "triggered" her two friends to ask to go as well, which in turn prompted even more children "demanding to leave."
"We did try to leave quietly, but my daughter's closest friends saw us and started yelling," the OP said. "I kind of expected it since the girls are in this inseparable phase where they have to do everything together."
"The party ended up getting cut short by 30 [minutes]," the OP wrote. "The mom is obviously p**sed with me, and I agree I did ruin the party, and I knew if my daughter leaves, there's a chance I'd trigger that snowball effect. And yes, I believe it's important not to expect society to cater to my child's whims, and it's my job as a parent to make sure she behaves, but I think she had been doing an amazing job not running off and doing her own thing."
The OP admitted she found the party "stressful" and "not fun at all," so she figured her child probably felt the same. "So am I one of those entitled moms here?" she asked.
Redditor Reactions: 'Set Up for Failure'
Over 1,100 comments poured in over the situation, and people are completely backing the OP for leaving the party when she did. One comment received 14,600 upvotes on its own.
"NTA [not the a**hole]," the Redditor said. "Probably an Insta mom looking for 'the perfect picture.' My 3-year-old would have destroyed that party long before that. You left to stop a meltdown. Your kid's emotional needs come before a Pinterest mom's photo shoot."
The OP did clarify that the mom isn't an influencer.
One Redditor was shocked, saying, "Wow. I have had birthday parties, and I have had three-year-olds, and I have attended birthday parties and have never demanded nor dealt with that much performance. NTA. They wanted a photo album, not a party."
Another user doesn't think anyone can expect kids to follow "an intricate plan" at three. "I just had my son's sixth party, and I let him and his friends basically run around until it was time for food," the Redditor said. "Then they ran around a bit more until it was time for presents. Then they ran around until it was time for his friends to go."
While one user wondered who expects toddlers to "follow a schedule," adding, "Might as well put 20 cats in a room and expect them to behave. And props to you for removing your child before the meltdown. That is responsible parenting, and it's becoming extremely rare."
A Redditor thinks having a schedule and photo shoots for three-year-olds is a "total set up for failure," insisting, "It's pretty funny when I imagine someone trying to herd a pack of three-year-olds. Let them be mad. The worst thing that could happen is that they don't invite you again, which would be a blessing."
Some people slammed the host in the scenario. "NTA, the birthday mom is an AH [a**hole] for scheduling threenagers with an agenda, which appears entirely in her head that most adults would find challenging. What the actual what. LMAO."
Another user mentioned that the woman "ruined" her own child's birthday party. "NTA. As others have pointed out the mom's expectations for three-year-olds were ridiculous," they said.
Newsweek reached out to Redditor @Preschoolpartydrama for comment.
This isn't the only viral moment involving kids. A woman was backed for banning her niece from the pool after a prank. A "racist" teacher was bashed for forcing a child to sit alone with "foreign" food. In addition, a "pathetic" grandfather was bashed for "bullying" his granddaughter.