Parent Punishing 'Disrespectful' Teen's Comment About Teacher's Son Cheered
A parent has been praised for not buying her daughter concert tickets after she teased her teacher in class.
In a viral Reddit post shared on the popular Am I The A**hole group, user throwaware_r0, explained her 16-year-old daughter Riley does not like her teacher, known as Ms. A.
She would regularly complain about the teacher, but the user pointed out that there was never an actual reason given why.
The Reddit user then said: "Well, I got a call from Riley while she was at school and she was begging me to pick her up. I arrived immediately but she refused to tell me what happened. She did crack eventually though.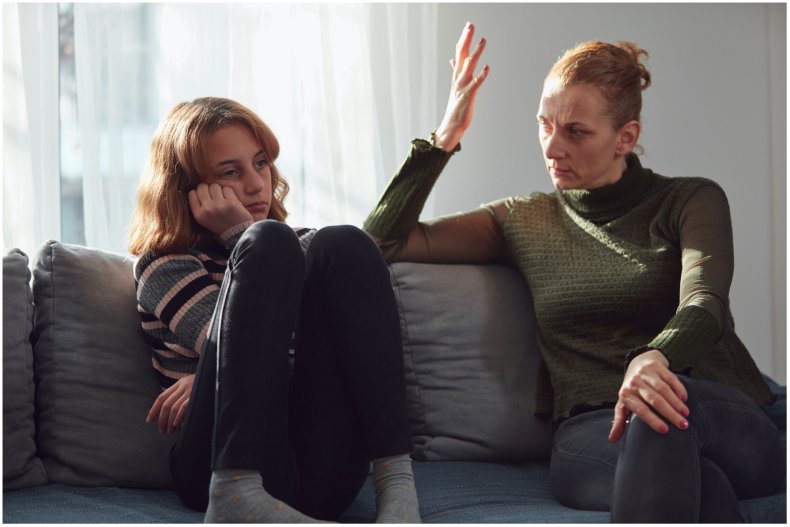 "She told me that Ms. A was having a conversation with another student and she mentioned one of her sons' names, so Riley quickly looked them up on social media and went up to her teacher and asked if he was her son.
"Ms. A said yes, hesitantly apparently, and then Riley started laughing and said some really mean things about her son. To be specific, she called him anorexic and skeleton-like."
The Reddit user continued: "Turns out, the boy did have anorexia. Ms. A got really upset and asked her to please work in the library for the remainder of the period.
"I was horrified and it was clear that my daughter was feeling apologetic but Jesus Christ? This was insanely disrespectful."
The commenter then said that Riley was grounded and demanded that she apologize to the teacher immediately.
Riley was also told that she would not be going to the concert.
The Reddit user said their husband agreed that Riley should be grounded, but that to deny her concert tickets was "overdoing it."
Since being shared on Wednesday, the post has attracted more than 12,900 upvotes and was commented on 1,400 times.
Many of those commenting praised the parent for taking the stance they did and were equally concerned about Riley's behavior.
One commenter, whose reply was liked 22,900 times, said: "NTA (not the a**hole). She made the comments with the intent to be hurtful. The fact that one was close to the truth is moot."
Another added: "Not only that, she almost certainly looked up Ms. A's son on social media with the express purpose of saying something hurtful to/about him. That's just so incredibly mean, it demands a strong response. NTA."
A third posted: "That girl needs help before she hurts everyone she dislikes and ruins her life as well. She is a bully, and I don't think this is her only victim."
Newsweek has contacted throwaware_r0 for comment.
According to the U.K.'s National Health Service (NHS), people with anorexia try to keep their weight as low as possible by not eating enough food or exercising too much, or both. It added this can "make them very ill because they start to starve."
The NHS states: "They often have a distorted image of their bodies, thinking they're fat even when they're underweight.
"Men and women of any age can get anorexia, but it's most common in young women and typically starts in the mid-teens."
If you or someone else is worried about anorexia, contact your doctor or the National Eating Disorder Association hotline at (800)-931-2237.