Parents File Lawsuit, Oppose Teachers Carrying Guns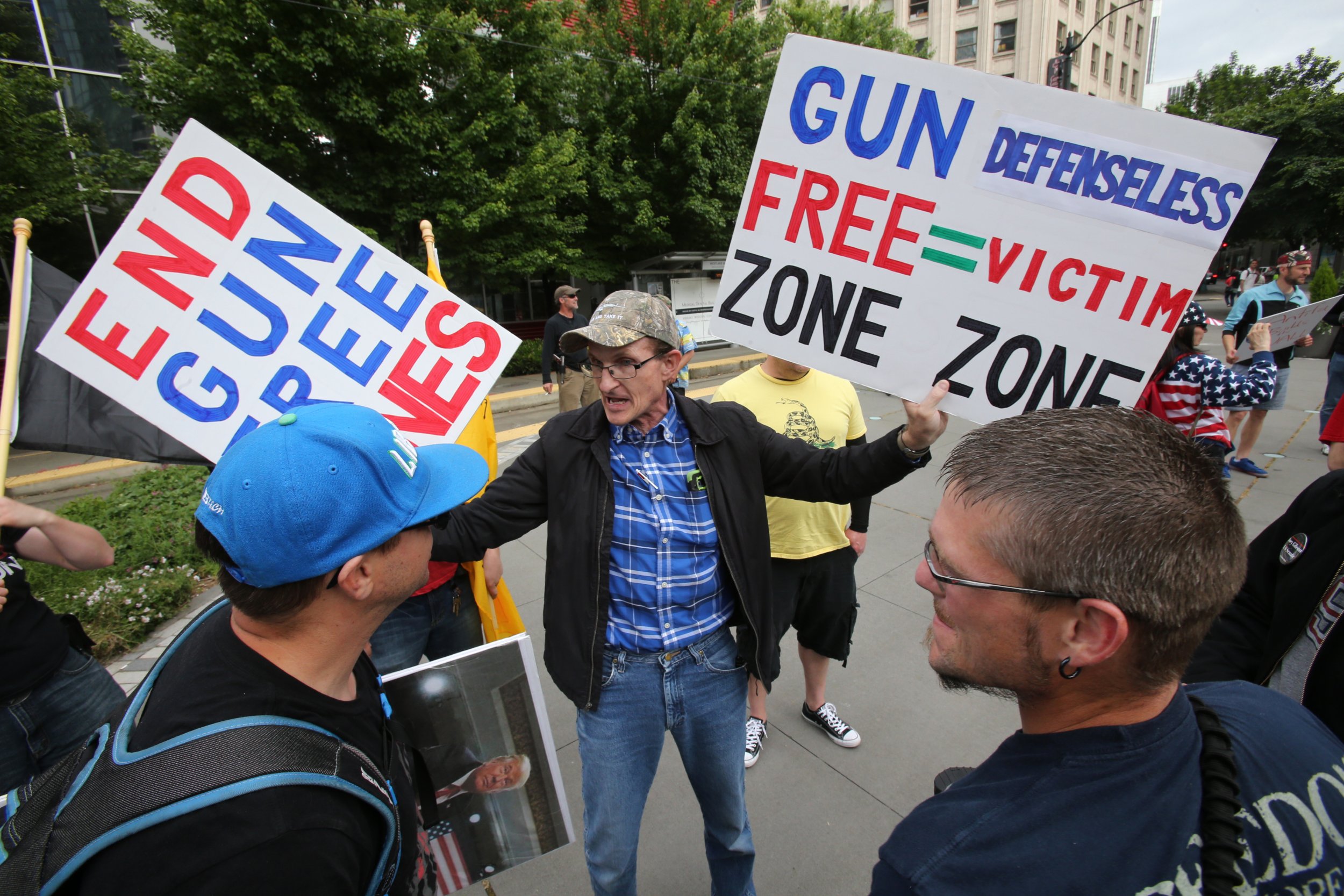 A public school district about 90 miles from Philadelphia is reportedly the first school system in Pennsylvania to let teachers carry weapons.
Teachers are already allowed to carry weapons in several states, including Texas, Missouri and Ohio, reports the Associated Press.
However, parents in the Tamaqua, Pennsylvania school district are filing a lawsuit to block the district from allowing teachers to carry guns in schools, according to the AP.
The lawsuit follows on the heels of the district teachers' lawsuit filed last November. In both cases, plaintiffs challenge a new policy that allows staff to carry guns in schools. The Tamaqua Area Education Association is the lead plaintiff in the earlier lawsuit.
Newsweek subscription offers >
However, the parents requested an injunction to stop implementation of the policy until a judge can rule on its legality, reports The Morning Call.
In the most recent challenge, three parents and one grandparent filed a lawsuit against the Tamaqua school board members, alleging the members have "endangered their community" when they approved a "manifestly illegal" policy to arm teachers and school employees, writes the AP.
"A teacher's role is to teach. We should not be putting those extra roles on a teacher when it's out of their scope," one of the lawsuit's plaintiffs, Holly Koscak, told reporters at a news conference Friday. Koscak's daughter is a sophomore in the school district.
Joining Koscak are co-plaintiffs Darrel Flack Jr., Angela Flack and Sara Thierer.
Newsweek subscription offers >
"So many parents and teachers have been vocal against this policy and have tried to work with the board to come to a better solution with many alternatives that have been proven safer, but were still ignored," Flack said. "My opinion on the policy is in no way anti-gun. I come from a family of avid hunters. But the school staff was hired to fulfill specific roles, none of those roles being armed security."
The Tamaqua Area Education Association criticizes Policy 705, which The Morning Call passed "unanimously and quietly" on September 18. The association maintains the new policy violates the Pennsylvania School Code.
The first lawsuit materialized a week after many teachers, parents, alumni and students opposed the policy at a special school board meeting. However, the board refused to drop the policy.
Union president Frank Wenzel said that carrying weapons is outside an educators' job description.
"As teachers, counselors and other education professionals, we are trained to provide a high-quality education to our students, not to carry or use firearms in dangerous situations," said Wenzel said in a statement to The Morning Call. "This is a bad policy for a lot of reasons, but we are challenging it in court because we believe it is illegal."
Furthermore, Pennsylvania School Code permits trained law enforcement personnel to carry firearms in schools. The teachers' lawsuit alleges that the recently adopted policy ignores "state law and allows school employees who do not have state-required training or experience to carry and use firearms."
Reportedly, the Tamaqua school board has said School Resource Officers are ineffective and expensive. They referenced the armed guards in the February 14, 2018 shooting at Marjory Stoneman Douglas High School in Parkland, Florida, in which 17 died.
The school board has argued against SROs as expensive and ineffective, citing school shootings such as the one in Parkland, Fla., where armed guards were unable to stop the carnage.
The American Federation of Teachers and the National Education Association, the two largest organizations of education professionals in the U.S., have repeatedly rejected the idea of arming teachers.
Parents File Lawsuit, Oppose Teachers Carrying Guns | U.S.