Paris Attacks Survivors Create Support Network: 'It's a Bit Easier to Be Sad'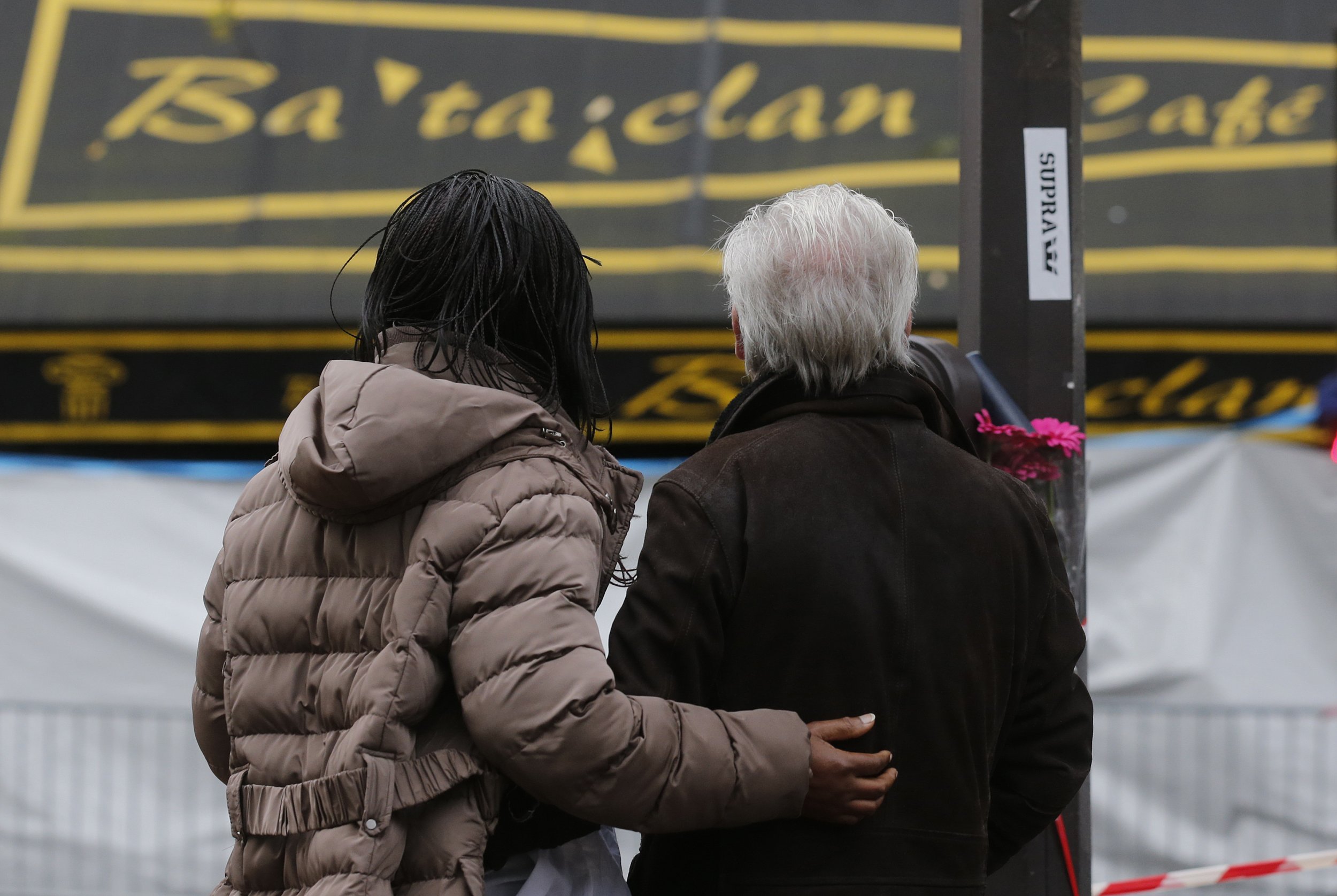 Arthur had seen Eagles of Death Metal perform around 10 times when he went to the Bataclan in Paris on November 13. "I would not have missed it," he says. The show was off to a good start. "They are a very good live band. The singer is very good, the opening act is very good, the venue is cool.... It should have been perfect."
An estimated 1,000 or more people were at the concert hall that night when assailants attacked it and other locations around Paris.
Arthur now volunteers as a spokesman for Life for Paris, which formed weeks after the attacks as a loose association of survivors and is now an official organization that offers support and information to some 500 members.
Two weeks after the attacks, Maureen Roussel, who attended the Bataclan show that night, posted on Facebook the suggestion that people who were affected come together and support one another. "We are more than 1,000," she wrote, "more than 1,000 people for whom things will never be exactly the same.... It's huge. In this misfortune, our chance is to be many. I think that it is important to transform this into force."
She continued, "The world has shown its support by the slogan 'Pray for Paris.' Continuing that, I propose to create Life for Paris, an association for dialogue and to support all people who survived the events [to] find a place."
"The idea was just to say, Let's get together and let's heal together," says Arthur. (He requested that Newsweek not print his last name because he does not want his name to appear in search engine results as always affiliated with the attacks.)
Roussel first created a Facebook group, which became so popular that she and Caroline Langlade, a fellow survivor, made a separate private group for survivors, their families and emergency responders involved in the aftermath of the attacks. In January, Life for Paris launched a website, and on the two-month anniversary of the attacks it registered as an official organization. It plans to relaunch the website this month with even more information.
Vetting members to confirm that they are survivors or family members of emergency responders, Arthur says, is "a very sensitive issue." Most people who were closely affected have documentation with the police, he says. For family members, admission to the association is on a case-by-case basis.
The Life for Paris creators decided to name it in English instead of French so that it would seem more inclusive. "Those attacks were covered worldwide, and they touched people from many, many, many countries," Arthur says, adding that its members come from 10 or so countries.
The association estimates that roughly 80 percent of its members are survivors, and of those, around 90 to 95 percent were at the Bataclan.
The members of Life for Paris meet regularly for drinks and to share stories about how they are coping. They share information online about recovering from trauma and sometimes visit art exhibitions or even concerts together. "Sometimes people post, 'Oh, I'm going to that show, I feel a bit afraid. Is anybody from the group going as well?' And people go together and [have] that kind of a strength of not being alone," Arthur says.
Lydia Vassallo, who was at the Bataclan and joined Life for Paris early on, tells Newsweek via Twitter that through these get-togethers she's realized that the survivors share an important connection.
"It's complicated to do things with people who weren't there that night, because we have to pretend all the time," she says. "Nobody else can understand better what we are going through than the survivors. We learn to enjoy life a bit more every day. There is a bond between us we can't explain, but it's there. Like we knew each other for so long. We don't need to hide. It's like love, but even stronger."
Vassallo and many other Life for Paris members plan on attending the Eagles of Death Metal concert at the L'Olympia theater in Paris on February 16, when the band resumes the tour it had cut short. The band offered free tickets to people who attended the November show.
"I think that concert is going to be a turning point," Arthur says.
However, not everyone seems ready to move on. Arthur says he's met people who survived the attacks "who still do not deal with it at all, who just don't want to think that happened to them for real, and who just say…'I'm just a witness, I'm not a victim.'"
He says he thinks about what happened constantly and has to take medication to sleep. He remembers falling to the Bataclan floor in the chaos during the attack and crawling to an exit. "I crawled over some bodies. I don't know if those people were dead or playing dead," he says.
"None of us is healed, and none of us is very stable," he adds. "What is really reassuring is to see it's the same for other people. You don't want to be sad, but it's a bit easier to be sad when you see other people are sad for the same reasons."